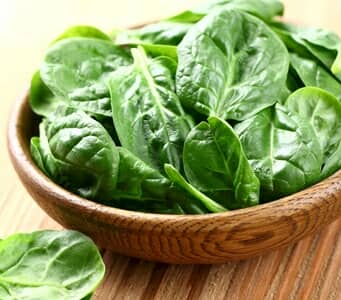 Not only is spinach delicious to eat, it's one of the most powerful health-boosting vegetables you can choose. First off, spinach is an excellent source of calcium that not only boosts bone and tooth health, but also helps you maintain healthy blood pressure levels.
The benefits of eating spinach also include the important antioxidants vitamins C and E, which reduce the oxidative stress in your body and benefit the cardiovascular and pulmonary systems. And this leafy green nutritional powerhouse is also rich in the antioxidant lutein, which is found in beneficial HDL cholesterol and may prevent LDL cholesterol from oxidizing and promoting heart disease.
In addition to the above laundry list of health benefits of eating spinach, it will also help protect you from macular degeneration, the leading cause of blindness in the United States today.
That's because the heart-healthy lutein in spinach also helps protect the delicate macular cells in the eye from the effects of the sun's ultraviolet rays. Studies have confirmed that a diet high in spinach and other lutein-rich green vegetables might also reduce the risk of cataracts by protecting against free radical damage in the epithelium and cortex of the lens of the eye.
Getting More Green In Your Diet
Incorporating the health benefits of eating spinach into meals is easy to do. Spinach is a great substitute for lettuce. Just swap out the lettuce for spinach in your next salad. You can also add spinach to omelets, add it to smoothies, and even to soups. Just make sure that whenever you cook spinach, or any veggie for that matter, have at least a mouthful or two of it raw while you prepare it, since you'll get more health-enhancing live enzymes from eating it raw.