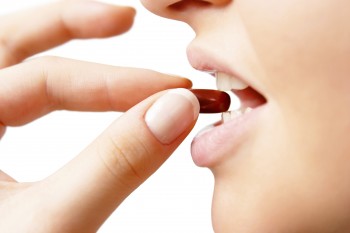 Diet and nutrition has a powerful influence on skin health. In fact, skin can reflect how healthy we are and even reveal illness. So I wouldn't be surprised if by now you're wondering if nutritional supplements can help improve your skin from the inside out.
The answer is yes!
Here are a few recommended by Dr. Susan Lark – Author, Physician, and Professor at Stanford Medical School.
Alpha Lipoic Acid (ALA) for Beautiful Skin
Alpha lipoic acid (ALA) is a particularly powerful antioxidant. If you're wondering why you should add another antioxidant to your health regimen, you should know that each antioxidant has effectiveness in its own particular area of tissue damage, and the best results are seen when a combined antioxidant approach is taken. ALA, which is known as the "universal antioxidant," works in both the fat- and water-soluble parts of your cells and is known to scavenge more types of free radicals than any other known antioxidant.
As you may know, free-radical damage and sun damage go hand in hand. In one study, researchers looked at the effects of ALA and other antioxidants on women with sun-damaged skin. They gave the women either a supplement that contained ALA, vitamin E, vitamin C, and lutein, or a placebo. After two months, the women who took the antioxidant-rich supplement had lower levels of free radicals in their blood, as well as better skin hydration. The clear result was healthy, beautiful skin.
Try 25 mg of ALA daily.
L-Hydroxyproline to Produce Collagen
L-hydroxyproline is a fermented form of the amino acid proline, which is the major component of skin collagen. It's believed to work by boosting collagen production and supporting your skin's ability to absorb and hold moisture, which improves skin texture and appearance. I think it is integral to a healthy skincare regimen.
A good dosage is 500 mg of L-hydroxyproline or 1,000 mg of proline daily. Be sure to take proline with an equal amount of vitamin C, which the proline needs to produce collagen.
Olive Pulp Extract to Prevent UV Damage on Skin
Olive pulp extract is rich in antioxidant polyphenols, particularly hydroxytyrosol. Like ALA, hydroxytyrosol is a powerful antioxidant with high free-radical–scavenging activity. Research on healthy people given oral doses of olive pulp extract showed that the antioxidant capacity of their blood plasma increased as the dose increased. In animal studies, this valuable agent has been shown to help prevent UV damage to the skin and to maintain the healthy skin.
Take 100 mg of olive pulp extract daily.
Additional Healthy Skin Supplement Options
In a six-month, double-blind, placebo-controlled, randomized study of 80 healthy, postmenopausal women, supplementation with the following well-known nutrients resulted in significant improvements in skin density (as measured by ultrasound); wrinkles around the eyes, the mouth, and on the forehead; blotchiness; and wrinkles, sagging, and dark circles under the eyes.
• Vitamin A (as beta-carotene), 5,000–25,000 IU daily • Mineral-buffered vitamin C, 1,000 mg daily, in divided doses • Citrus bioflavonoids, 1,000–3,000 mg daily • Vitamin E, 400–1,600 IU daily • Lutein, 5–15 mg daily • Lycopene, 5–10 mg daily • Grapeseed extract, 25–50 mg daily • Ginkgo biloba, 120 mg once or twice a day
NOTE: Women with certain medical problems, such as high blood pressure and insulin-dependent diabetes, should begin taking vitamin E at lower doses, starting with 100 IU per day and slowly increasing the dose to the recommended levels.
Now It's Your Turn: What supplements do you take for healthy skin?
You May Also Be Interested In