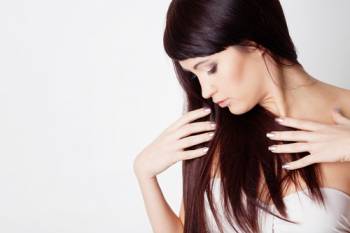 Weak and brittle hair can have many causes: vitamin and mineral deficiencies, hormonal imbalances, aging, and overexposure to chemicals, styling products, and the environment (UV rays, anyone?).
The surest way to restore your hair's natural luster is to correct the underlying problem—but that can take a good amount of time as you wait for new, healthy hair to replace strands that are dry and split. An effective interim solution? Use your facial moisturizer as a hair treatment.
Using Trilane as a Hair Treatment
Of course, I'm not talking about any moisturizer. I specifically recommend using Trilane, which includes squalane oil. Though the squalane oil in Trilane comes from a plant source, it also is produced naturally by our skin cells and liver. In the body, squalane has detoxifying and antioxidant properties, and acts as a barrier to protect the skin from moisture loss and environmental toxins.
As a hair treatment Trilane can replenish lost moisture and improve the appearance of split ends. Simply apply it according to your needs:
1. On damp hair, before blow drying, to provide your hair with conditioning protection and to help with creating a sleek look.
2. On the ends of hair that appear dry and split for improved texture.
3. On wet hair in the shower instead of your regular conditioner. Do not rinse off and allow to air dry for a thorough moisturizing treatment.
4. As part of your hair protection regimen, by applying before heading to the pool, beach, or outdoors to prevent dryness.
You can use Trilane as a hair treatment every couple days or once a week, depending on your conditioning needs. As a styling product, it can be used every day.
Continued regular usage will result in stronger, shinier, and softer hair.
Now It's Your Turn: What oils have worked well to condition your hair?
You May Also Be Interested In