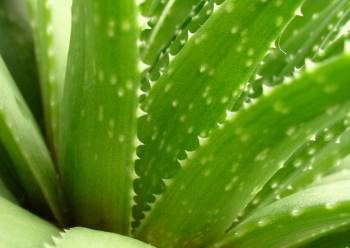 A large body of research documents the use of the Aloe vera plant for a variety of dermatological conditions, including rashes, acne scars, dermatitis, psoriasis, and wound healing. A case history published in 1935 described the use of Aloe vera gel on a woman whose radiation burns would not respond to conventional medical treatments. The gel produced complete, scar-free healing within five weeks.
Other investigators have revealed an almost perfect match between what Aloe provides and what the skin needs when it is damaged or irritated. When applied to the skin, Aloe reduces the scaliness, itchiness, and extent of seborrhoeic dermatitis; prompts the remission of psoriasis; relieves poison ivy; helps heal chronic leg ulcers; and speeds healing after dermabrasion.
Best Ways to Use Aloe as a Skin Treatment
For mild poison ivy rash:
Cleanse the area with warm water, pat it dry, and apply Aloe gel several times a day to keep the rash moist. For moderate or severe poison ivy, see your doctor.
For seborrheic dermatitis or psoriasis:
Apply Aloe gel several times a day to keep the affected area moist. If the area is extensive, take 250 mg of stabilized Aloe powder two to four times a day with a glass of water, 30 minutes before meals. This takes longer to work, but the long-term results may be better. For more severe cases of psoriasis or seborrheic dermatitis, see your doctor.
For other skin conditions:
Use Aloe to treat your skin from the inside out. Take 2–4 ounces of Aloe juice per day, mixed with either water or juice or blended in a smoothie.
Now It's Your Turn: How have you used aloe in your skincare regimen?
You May Also Be Interested In