Item #VWL01
Dr. Kulreet Chaudhary
Veda Lean
Finally...a weight management formula designed to address the reasons it's so difficult to take off the extra pounds.
What You Get With REFILL & SAVE
Ongoing Savings + FREE Shipping
Exclusive Offers + Free Samples
Flexibility — Update or Cancel Anytime
Additional Product Details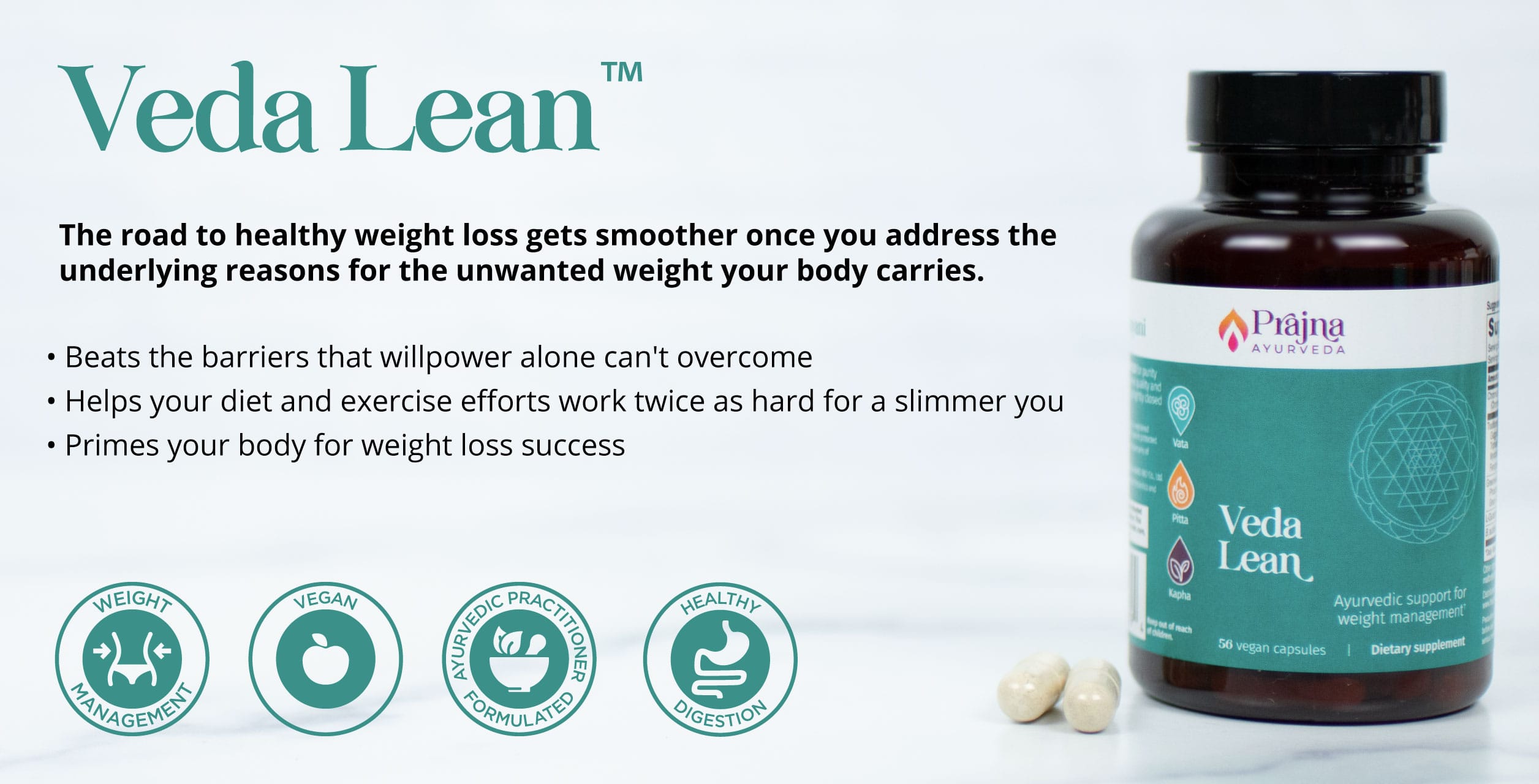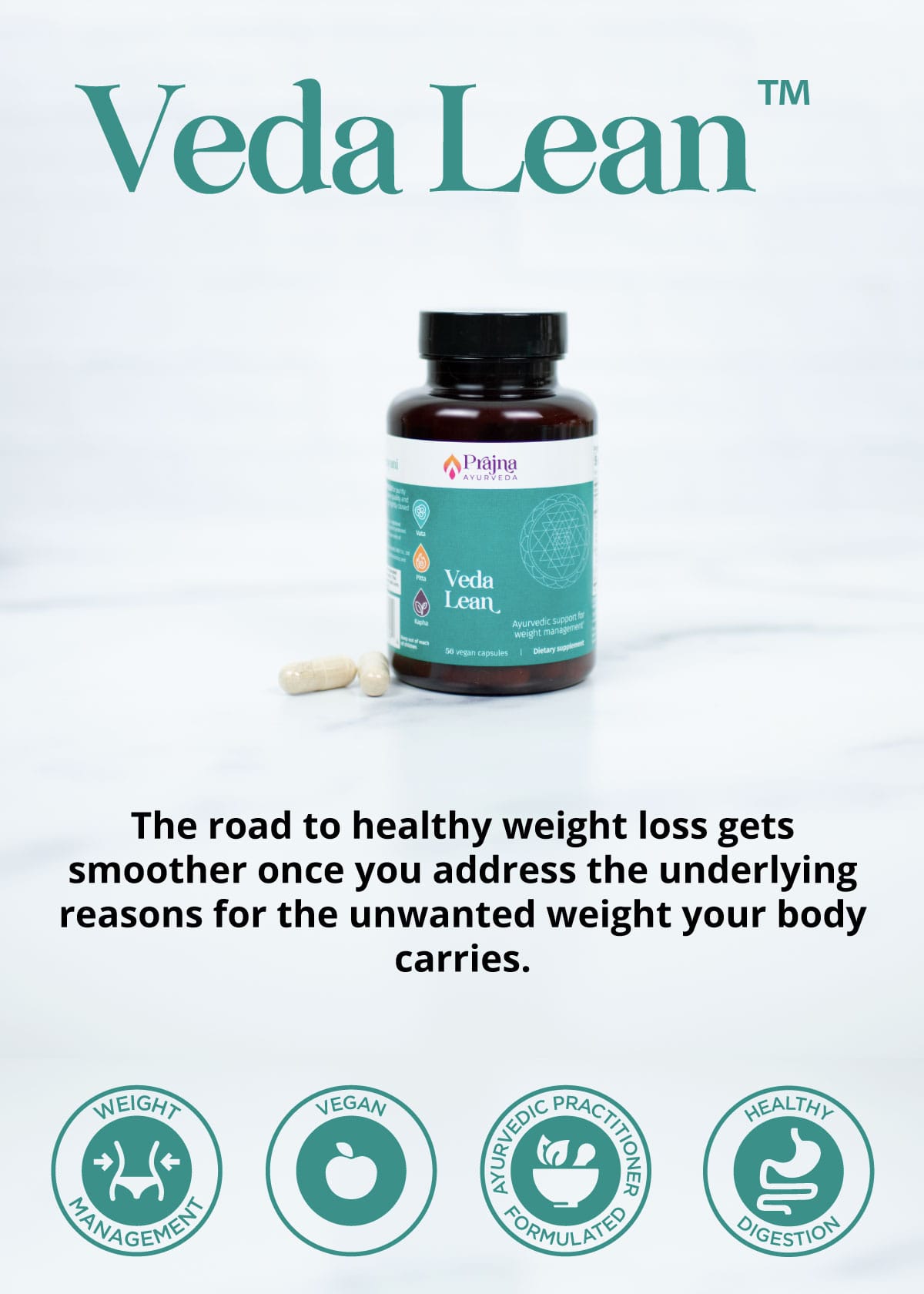 "There is a myth that weight loss is strictly the result of willpower, but nothing could be further from the truth. Weight gain results from your body being in an unhealthy state and weight loss is the result of correcting that state. Veda Lean sheds the light on successful weight management by addressing the underlying, often invisible, obstacles to weight loss through a combination of modern science and ancient wisdom. It's a smarter solution for weight loss and overall good health."


Dr. Kulreet Chaudhary
Neurologist and Ayurvedic Practitioner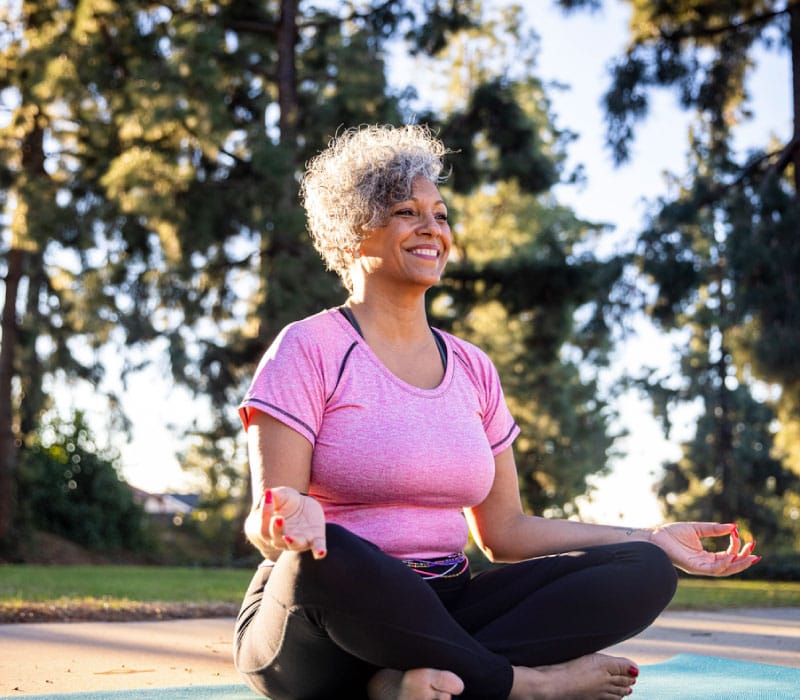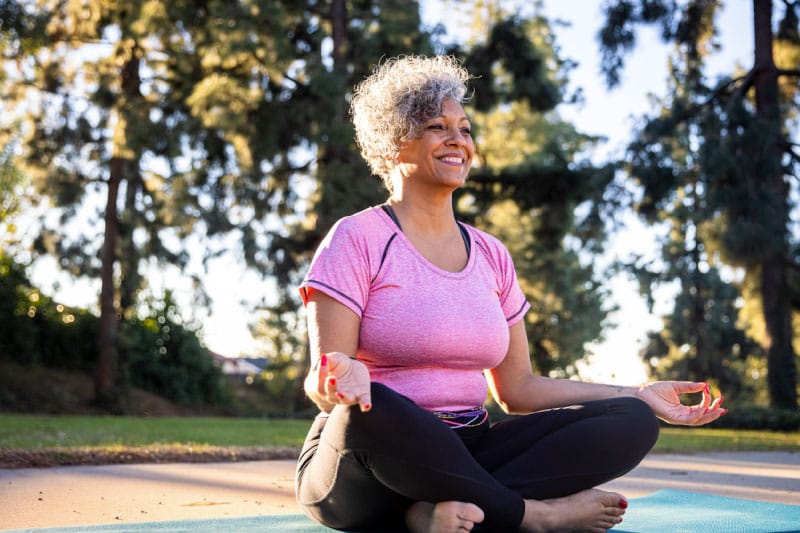 You can eat the right foods, follow a good exercise routine, and still not lose weight. It's disheartening, and discouraging, but Dr. Chaudhary wants you to know that it's also not your fault.
According to ancient Ayurvedic tradition, unless your body is in a healthy, balanced state and is ready to respond to the hard work you're putting in, your weight loss efforts will not be successful. That's where Veda Lean comes in.
Veda Lean uses Ayurvedic herbs, coupled with clinically studied nutrients, to prime your body for weight loss success. Soon your waistline and love handles will start to disappear, and your body will be leaner. Reduces
waistline and
"love handles" Supports
extended weight management
over 24 weeks* Provides
2X the
weight loss* Promotes
healthy blood
sugar levels Boosts
gut health and
digestion
*When paired with exercise and a calorie-restricted diet



Veda Lean was developed on the Ayurvedic principle that a strong gut-brain connection is essential for good health and for a healthy weight. By combining the traditionally used herbs that Dr. Chaudhary uses in her own practice with clinically validated herbal extracts studied for the impact on weight management, Veda Lean targets and overcomes the barriers that makes losing weight so difficult.
Amplify weight loss with this secret weapon
An extremely powerful green tea extract called Greenselect® Phytosome® increases weight loss in a safe, clinically researched way by using the fat-burning power of phytosomes. Not only does Greenselect fire up your metabolic health, but in clinical trials test subjects lost twice as much weight as compared to diet and exercise alone. Even better, along with diet and exercise, they lost inches on their waistlines. And enjoyed fantastic support for blood sugar, blood pressure, triglycerides, and cholesterol.
Support your glycemic response to maintain healthy blood sugar, lean body mass, and less body fat
In addition to Greenselect, the formula includes a clinically studied ingredient for healthy blood sugar support called Chromax®. It's a highly stable form of the important mineral chromium. Clinical studies show it helps support glycemic control as well as lean body mass and less body fat.
Enjoy remarkable better digestion
Ayurveda's preferred probiotic, B. subtilis is the fundamental probiotic strain that Nature intended to live in your digestive tract and keep you healthy. But not just any form of B. subtilis will do. Veda Lean contains a very specific form called DE111® that's backed by a gold-standard clinical study showing its efficacy for improved regularity, bowel movements, and fewer bouts of constipation and diarrhea.
Combat effects of free radicals and boost antioxidant activity
Glutathione is an incredibly powerful antioxidant found in every cell in your body. The most effective form, called Setria® L-glutathione, is one of the only reduced-form glutathiones available today, which means that your body is better able to benefit from its tremendous antioxidant benefits. This, of course, leads to overall good health.



What sets Veda Lean, and all of the products included in the Veda Wellness line, apart from other products is how they are formulated, integrating Ayurvedic practices and modern science in a completely new way. Every formula blends traditionally used herbs with standardized and clinically proven extracts to provide you with the health-boosting benefits you want, but without needing to consume a mountain of powder or swallow a bunch of pills.
The word Veda means "wisdom" or "knowledge" and refers to the ancient wisdom passed down through the ages. In Sanskrit, Ayurveda means "the science of life" and is the knowledge of health and healing that is based on maintaining balance between the body and the mind, and with the world around you.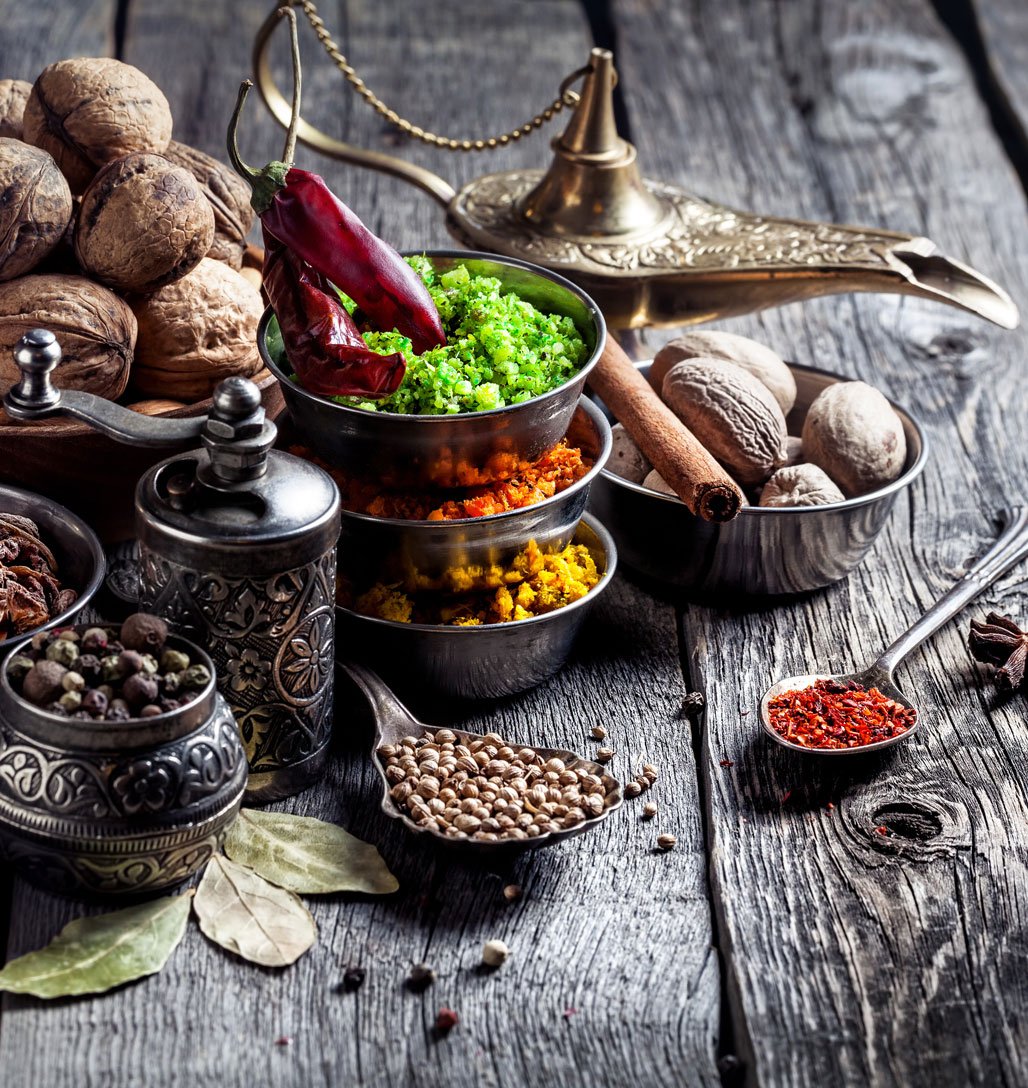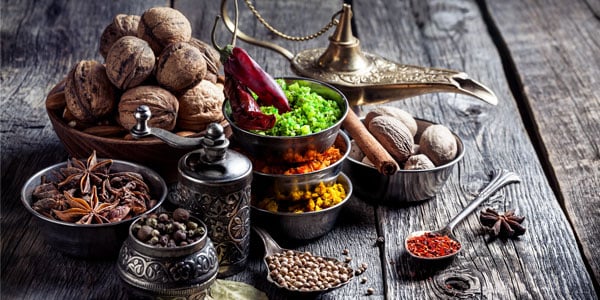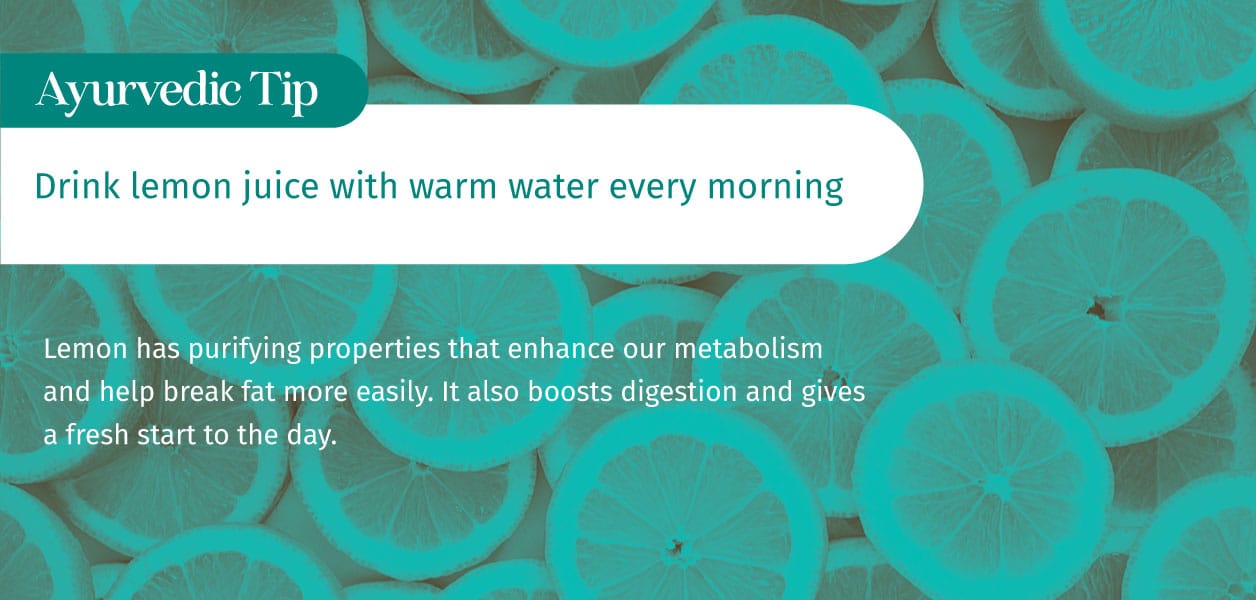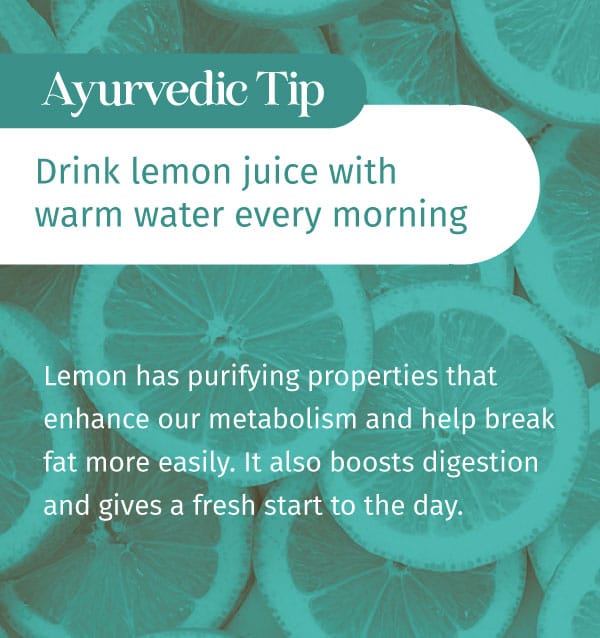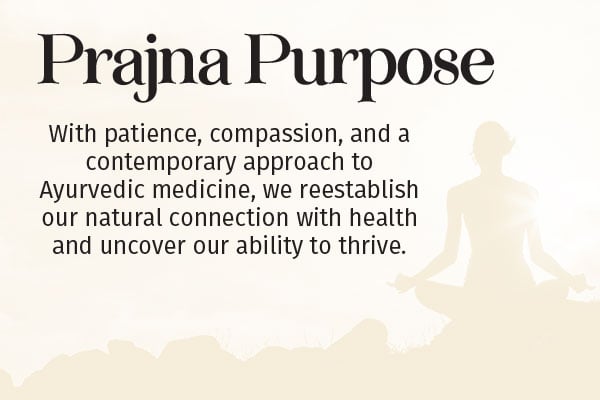 Prajna Ayurveda provides everything you need to be successful and thrive in a way that fits your lifestyle and health needs, and meets you exactly where you are. You'll feel balanced and full of life, energy, and pure joy!
Prajna Ayurveda provides everything you need to be successful and thrive in a way that fits your lifestyle and health needs, and meets you exactly where you are. You'll feel balanced and full of life, energy, and pure joy!

Ongoing
Support
You'll receive guidance, education, and easy-to-embrace recommendations from Dr. Chaudhary.

Dosha-Balancing
Guidance
Learn how to harmonize YOUR unique mind-body type for a healthy and happy life.

Access to the Prajna
Ayurveda Community
We'll connect socially to support and encourage each other, and have a safe space to learn and grow.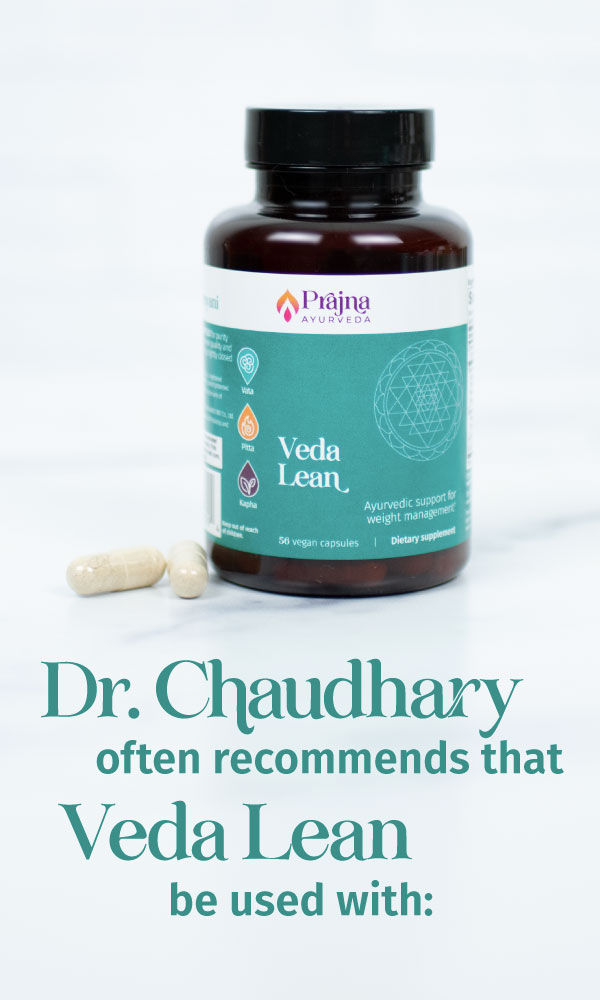 Ingredients and Dosage
Suggested Use: Take 1 vegan capsule twice daily with a meal.
Serving Size: 1 Vegan Capsule
Servings Per Container: 56
Ingredient
Amount Per Serving
% DV
Chromium (as chromium picolinate)
(Chromax®)
100 mcg
286%
Traditional Ayurvedic Blend
Guggul Extract (oleo-gum resin), Organic Triphala Powder [Amla (fruit), Belleric Myrobalan (fruit), Chebulic Myrobalan (fruit)], Fenugreek Extract (seed), Cinnamon Extract (bark)
300 mg
*
Greenselect® Phytosome®
Phosphatidylcholine (from sunflower)
Green Tea Extract (leaf, decaffeinated)
150 mg
*
L-Glutathione (from fermentation)(Setria®)
50 mg
*
B. subtilis (DE111®)
500 Mil. CFU
*
*Daily Value (DV) not established.
Other ingredients: Rice hulls, hypromellose, sunflower lecithin, maltodextrin, silica
Precautions: Consult a health care practitioner before use if you are pregnant or nursing, have a serious medical condition, or use any medications.
Keep out of reach of children.

Gluten Free

Soy Free

Dairy Free
Science and Quality
Greenselect® Phytosome® Green Tea Extract (300 mg)
Greenselect Phytosome is a standardized, decaffeinated green tea extract (19-25% catechins, 13% EGCG) in a phospholipid complex delivery system for enhanced bioavailability.
In a 2009 multi-center clinical trial, 100 men and women between the ages of 25 and 60, who were 20-40% over their ideal weight, were randomly divided into 2 groups. One group was given a calorie-restricted diet, while the other group was given the same diet plus 300 mg of Greenselect Phytosome for 90 days to determine its effects on weight loss. Women followed a 1,350 calorie/day diet, while men were allowed 1,850 calories each day. At the end of the trial, in the Greenselect group, participants lost on average up to 30 pounds in 90 days. Those following the calorie-restricted diet alone lost an average of 10 pounds. The men in the Greenselect group also experienced a 12% reduction in waist circumference.1
In a 2013 24-week randomized, placebo-controlled, and single-blind clinical study, 98 men and women between the ages of 45 and 55 were randomly divided into 2 groups. One group was supplemented with 300 mg of Greenselect Phytosome along with a calorie-restricted diet and exercise regimen, while the other group only followed a calorie-restricted diet and exercise regimen. Women followed a 750 calorie reduction and men followed a 1,000 calorie reduction. At the end of the study, participants saw significantly reduced weight, BMI, waist circumference, fasting glucose, triglycerides, plasma free radicals, and systolic and diastolic blood pressure compared to the placebo group. Participants taking Greenselect Phytosome lost an average weight of 26.01 lbs. compared to 13 lbs with diet and exercise alone. At baseline, the Greenselect Phytosome group had an average weight of 194.88 lbs. and after 24 weeks an average weight of 168.87 lbs., which was a reduction of 26.01 lbs. At baseline, the placebo group had an average weight of 195.99 lbs. and after 24 weeks an average weight of 182.98 lbs., which was a reduction of 13.01 lbs. Greenselect Phytosome supplements, with exercise and caloric restriction, also significantly increased HDL cholesterol compared to the placebo group.2
Chromax® (chromium picolinate) (200 mcg)
Chromium is an essential trace element that is required for normal fat and carbohydrate metabolism and healthy glucose tolerance. Chromium may help promote normal insulin sensitivity by playing a role in insulin-binding sites on cells, which allow for normal transport of glucose into cells for energy.
Chromax is a highly bioavailable patented form of chromium clinically studied for body composition, blood glucose and cholesterol.
In a double-blind, placebo-controlled study participants who supplemented with 200 mcg chromium picolinate for 26 weeks had significantly greater increase in lean body mass compared to the placebo group.3
Research at 200 mcg also suggests that chromium supplementation helps promote insulin efficiency and maintains normal blood glucose.4
Bacillus subtilis (DE111®) (1 Billion CFU)
DE111 Bacillus subtilis are soil-based organisms (often referred to as SBOs or spore-forming bacteria). Centuries ago, we got plenty of these SBOs from our diet, because our foods were grown in rich, organic, living soil. But today's overfarmed and nutrient-stripped soil has become almost sterile, which makes getting these SBOs in a supplement important. Their spore coating makes them incredibly resilient, so they can actually survive the harsh acid in your stomach, which means they can efficiently be delivered to their desired location: the intestines. Ordinary probiotics typically disintegrate before even making it to your intestines!
In a double-blind, placebo-controlled randomized study, 50 adults took 1 billion CFU of DE111 B. subtilis daily for 90 days. The subjects consuming the B. subtilis saw a significant increase in normal stools based on scoring according to the Bristol Stool Chart by days 75–90 compared to placebo. The results indicate that DE111 consumption promotes stool regularity, digestive health, improved bowel movements and healthy intestinal transit while improving occasional constipation or diarrhea.5
Ayurvedic Health Blend
(Guggul Extract (Commiphora mukul, oleo-gum resin), Organic Triphala Powder (fruit), Fenugreek Extract (seed), Cinnamon Extract (bark) (600 mg daily)
Dr. Chaudhary is an expert at combining both modern science and the ancient science of health known as Ayurveda. Guggul, triphala, fenugreek and cinnamon are her preferred ingredients. Guggul in particular has been traditionally used to support a healthy weight.
Setria® (L-Glutathione) (100 mg)
Setria L-Glutathione is a tri-peptide consisting of 3 amino acids: glutamate, cysteine, and glycine. When choosing a glutathione supplement, it is important to make sure it is in "reduced" form, because "reduced glutathione" is the form that has the highest antioxidant activity.6 Setria L-Glutathione is in this "reduced" form.
1Di Pierro F, et al. Altern Med Rev. 2009;14(2):154-60.
2Belcaro G, et al. Evid Based Complement Alternat Med. 2013;(2013):1-7.
3Bahadori B. Acta Med Mustriaca. 1997;(24):185-87.
4Anderson RA, et al. Diabetes. 1997;(46)11:1786-91.
5Cuentas AM, et al. J Prob Health. 2017;5:189.
6Facts for Consumers About Setria Glutathione. Unpub.
Product Quality
Manufactured to exacting standards using highest quality raw materials
Produced in accordance with our strict Standard Operating Procedures (SOPs) that meet those set by the FDA's Good Manufacturing Practices
Every batch tested to verify purity and potency specifications are met
Quality assured with our Triple-Testing Philosophy™
Backed by our 100% satisfaction guarantee
Product reviews and ratings are provided for informational purposes only and reflect solely the views and opinions expressed by the individual contributors and not those of Healthy Directions LLC. Healthy Directions LLC neither verifies nor endorses any claims made in these reviews and ratings.