Item #VES01
Dr. Julian Whitaker
Vision Essentials
The original premier solution for eye support with 20 mg of Lutemax 2020 lutein
What You Get With REFILL & SAVE
Ongoing Savings + FREE Shipping
Exclusive Offers + Free Samples
Flexibility — Update or Cancel Anytime
Additional Product Details
Vision Essentials shields, nourishes, and supports your precious eyes
With 20 mg of Lutemax® 2020 lutein, plus 14 additional ingredients specifically formulated for comprehensive eye health, you can be assured Vision Essentials®covers the most important areas of your eyes, giving them the support they need.
Dr. Whitaker developed his original Vision Essentials® formula over two decades ago with a revolutionary approach to eye health—a combination formula with ingredients at researched levels shown to support all aspects of eye health.
A lot has changed since 1996—including the fact that doctors are now realizing the importance of supplements for eye health. And it seems that eye health products are everywhere these days. But buyer beware—unfortunately meager dosages and lesser quality ingredients are hidden in many of today's eye formulas…and that just won't cut it.
Good vision health depends on a wide spectrum of supportive ingredients
With Vision Essentials, you get 20 mg of an advanced form and quality lutein—clinically validated Lutemax 2020 lutein—which delivers researched levels of lutein as well as 4 mg zeaxanthin isomers and 1 mg meso-zeaxanthin. These three carotenoids are some of the most beneficial ingredients to support eye health, especially when it comes to safeguarding your eyes from the potential effects of blue light exposure and supporting the health of your macular pigment.
You also get vitamin C, N-acetyl L-Cysteine, Setria® Glutathione (the body's "master antioxidant"), and the exceptional firepower of antioxidants in the Berry Vision Complex.
Shielding, nourishing, and supporting your eyes is as critical as ever due to the constant exposure to blue light emitted from digital devices like smartphones, computers, tablets, and e-readers. This bombardment is virtually everywhere nowadays—and no matter your age, it is vital to supplement with the proper ingredients known to nourish your eyes.
Research establishes importance of shielding eyes against blue light exposure
Formulated by OmniActive Health Technologies, Lutemax 2020 lutein is leading the charge with their eye health and blue light research. Unlike generic lutein included in most supplements, the clinically validated Lutemax 2020 in Vision Essentials is an advanced form of lutein plus zeaxanthin isomers. Check out their eye-opening research:
In one double-blind, placebo-controlled study, healthy young adults were given a placebo or 20 mg Lutemax 2020 lutein with 4 mg of zeaxanthin isomers for six months. Supplementation with Lutemax 2020 resulted in significant reductions in occasional headache frequency, eyestrain, eye fatigue, critical flicker fusion frequency, contrast sensitivity, disability glare, photostress recovery, and improved macular pigment optical density (MPOD) and sleep quality.1
More stellar supporting ingredients for robust antioxidant benefits
In addition to the robust nourishment of Lutemax 2020 lutein, Vision Essentials includes Setria® Glutathione, a patented form of glutathione—the body's "master antioxidant." A beneficial supporter of multiple processes in the body, glutathione works in tandem with other antioxidants to protect against free radicals and help support general health.
Importantly, the glutathione in Vision Essentials is the most active form; so, in addition to the precursor, N-acetyl L-cysteine (NAC), you get excellent support for healthy glutathione levels. These two ingredients are vital for fighting oxidative stress. Aside from helping increase glutathione levels, NAC is well absorbed in the gut and is easily converted into circulating cysteine, one of the three amino acid components of glutathione. Many researchers now feel it is the body's premier antioxidant, essentially controlling free radicals that may contribute to damaged cells.
And the Berry Vision Complex combines the exceptional antioxidant firepower of bilberry, black currant, maqui berry, and goji berry for a powerhouse formula of comprehensive eye health support and protection from free radicals.
Vision Essentials also includes taurine and vitamin C to provide antioxidant support. And, lycopene and zinc go even further to support your eyes from free-radical damage. Coenzymes like zinc need copper to function properly, so this mineral was also included in Vision Essentials, plus copper is a co-factor essential for several oxidation-reduction reactions and acts as an antioxidant to scavenge free radicals.
1Stringham JM, et al. Foods. 2017;6(7):47.
Ingredients and Dosage
Doctor's Suggested Use: Take 4 capsules once daily with a meal.
Serving Size: 4 Capsules
Servings Per Container: 30
Ingredient
Amount Per Serving
% DV
Vitamin A (as beta carotene)
1,500 mcg RAE
167%
Vitamin C (as ascorbic acid)
100 mg
111%
Zinc (as oxide)
25 g
227%
Copper (as chelate)
2 mg
222%
Taurine
600 mg
*
Berry Vision Complex

Black Currant Extract (fruit), Maqui Berry Powder (Aristotelia chilensis, fruit), Goji Berry Extract (Lycium barbarum, fruit), Bilberry Extract (fruit)

300 mg
*
Carrot Powder (root)
260 mg
*
N-Acetyl L-Cysteine
260 mg
*
Schisandra Extract (berry)
160 mg
*
Lutein (from marigold flower) (Lutemax®2020)
20 mg
*
L-Glutathione (from fermentation) (Setria®)
20 mg
*
Zeaxanthin Isomers (from marigold flower; containing a minimum of 1 mg of meso-zeaxanthin) (Lutemax® 2020)
4 mg
*
Lycopene (from tomato fruit)
3 mg
*
*Daily Value (DV) not established
Other ingredients: Microcrystalline cellulose, gelatin, magnesium stearate, silica
Precautions: Consult a health care practitioner if you are pregnant or nursing, have a serious medical condition, or use any medications.
Setria® is a registered trademark of KYOWA HAKKO BIO Co., Ltd.
Lutemax® 2020 is a trademark of OmniActive Health Technologies, Ltd.
Due to the nature of these ingredients, color variation may occur.
Science and Quality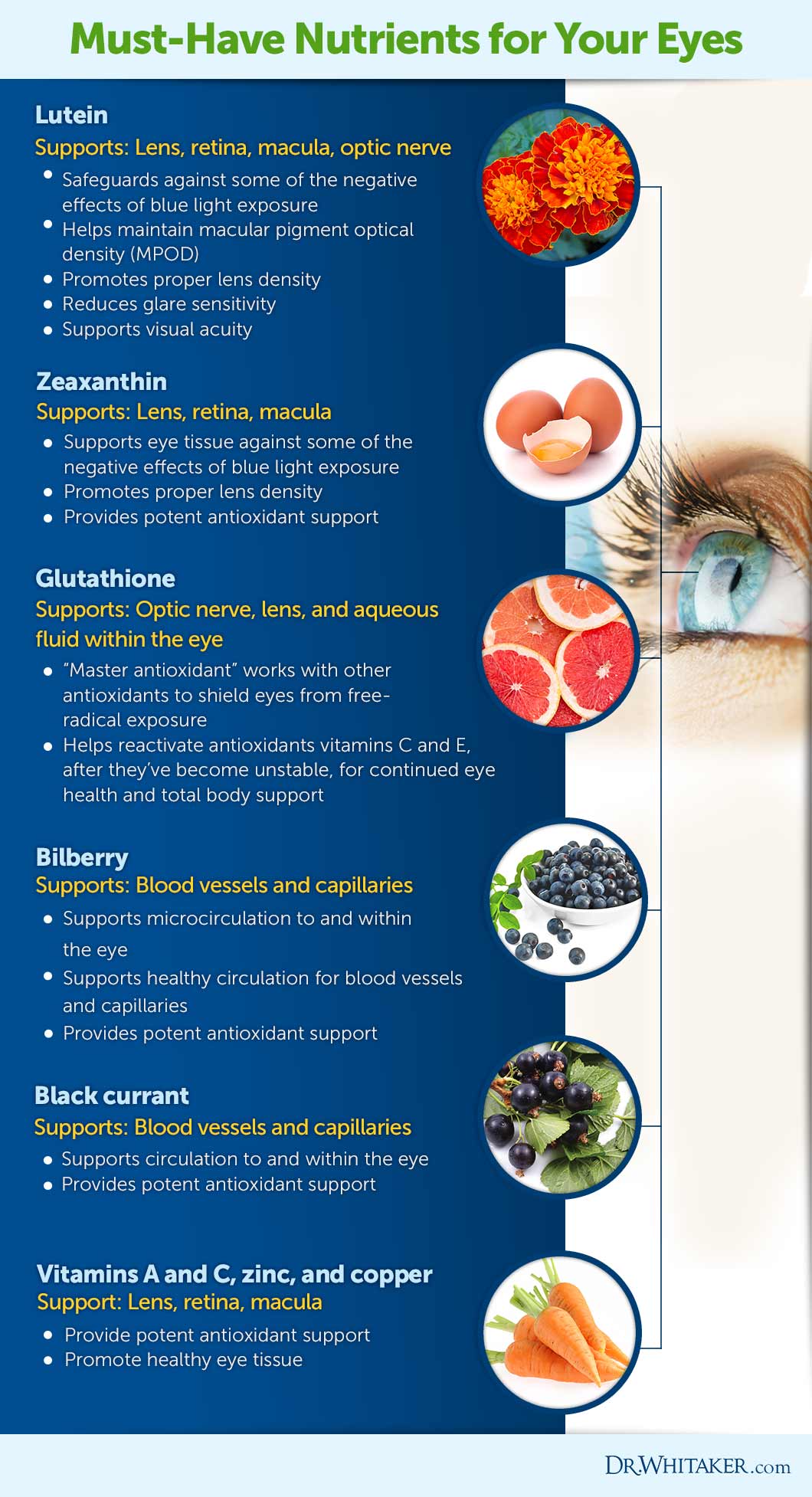 ---
Product Quality
Manufactured to exacting standards using highest quality raw materials
Produced in accordance with our strict Standard Operating Procedures (SOPs) that meet those set by the FDA's Good Manufacturing Practices
Every batch tested to verify purity and potency specifications are met
Quality assured with our Triple-Testing Philosophy™
Backed by our 100% satisfaction guarantee
Product reviews and ratings are provided for informational purposes only and reflect solely the views and opinions expressed by the individual contributors and not those of Healthy Directions LLC. Healthy Directions LLC neither verifies nor endorses any claims made in these reviews and ratings.