See for Yourself!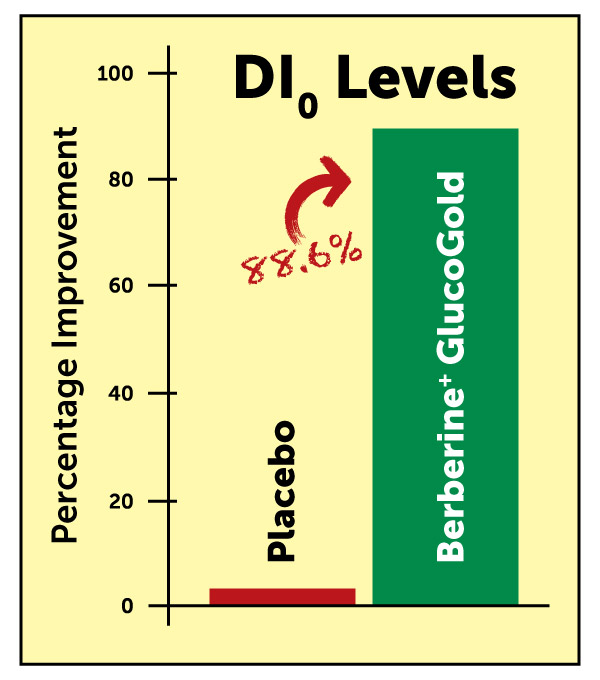 Good blood sugar health is not just about the level of sugar in your blood—it's also how your body reacts to the sugar. DIo is an advanced marker that an increasing number of scientists believe is one of the most critical measurements of blood sugar balance. It measures pancreatic beta-cell function, which tells you how your body is actually responding when glucose enters your bloodstream. And the remarkable study on the final formula for Berberine+ GlucoGold showed over an 88% improvement in DIo.
Actual Stories.
Amazing Results
Happy and energized! "I am very pleased with the effectiveness of this product. Now instead of needing a nap after lunch, I feel energized."*—Willa J.
Getting great results! "Very satisfied with the results [Berberine+ GlucoGold] has given me. So glad I ordered because of the results I'm seeing."*—Theresa W.
Worked wonders! "This product has been outstanding in [supporting] my blood sugar. I'm very impressed. It has worked wonders."*—Jonathan D.
*Individual results will vary but typically occur in 1-3 months. Berberine+ GlucoGold is intended to help blood sugar levels already in the high normal range.
100% Money-Back
Guarantee

We only use the finest ingredients and every ingredient is inspected, rigorously tested for quality, and combined with care using the latest technology.
If you change your mind for any reason, call within 90 days and you'll promptly get a full refund.
You will not find a better-made, more helpful supplement anywhere!