Item #DAD01
Dr. David Williams
Daily Advantage® Max Packs™
Exclusive combination of nutrients support your immune and total body health
What You Get With REFILL & SAVE
Ongoing Savings + FREE Shipping
Exclusive Offers + Free Samples
Flexibility — Update or Cancel Anytime
Additional Product Details
No ordinary multivitamin.
4 unique complexes for total-body nutrition and emotional well-being.
Mood &
Cognitive
Function
Physical
Strength &
Balance
2 Convenient
Daily
Packets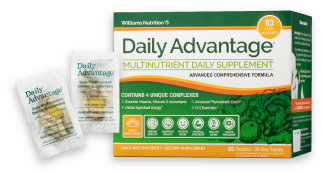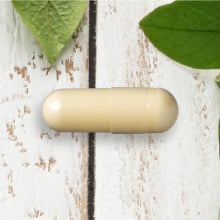 Essential Vitamins, Minerals & Antioxidants
Incredible head-to-toe support with core vitamins, minerals, and antioxidants everyone needs: the B-vitamin family for healthy homocysteine levels, cardiovascular health, and L-cysteine hydrochloride for inflammatory support, plus CoQ10 and additional nutrients to support healthy cellular function.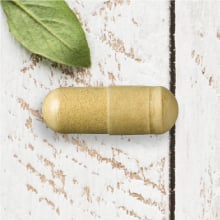 Advanced Phytonutrient Shield®
In addition to the antioxidants that are well known for their tremendous free-radical-fighting capacity, you get a "VIP list" of super-nutrients, including resveratrol to support cardiovascular health, pomegranate—traditionally used throughout history—and olive fruit extract—traditionally used to support a healthy cardiovascular system.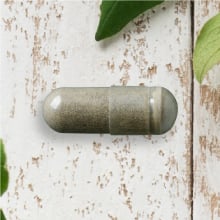 Herbal Superfood Energy™
Plant and herbal extracts that are brimming with micronutrients. Dr. Williams includes spirulina, a freshwater blue-green algae that he considers nature's "most perfect food." You'd be hard-pressed to find these superfoods in any ordinary multivitamin.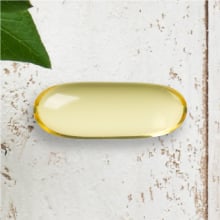 O-3 Essentials®
Easy to absorb combination of 540 mg EPA and 360 mg DHA helps support healthy blood pressure, endothelial function, cholesterol, and triglycerides—all vital to your overall cardiovascular health! Plus, it supports eye health.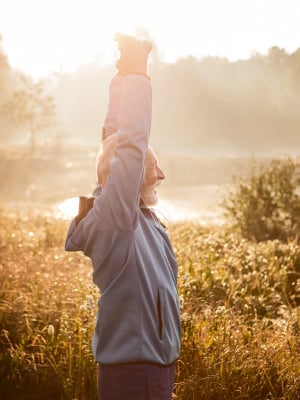 Everything you need for immune health, emotional well-being, and total body support
The exclusive combination of nutrients in Daily Advantage arms your body with total nutrition that provides benefits for your cells, organs, and tissues—essentially, throughout your body. Here are all the outstanding health benefits you get with Daily Advantage.
Broad-spectrum nutrition
Immune system balance
Mood and cognitive function
Strong, healthy bones
Cholesterol, blood pressure, and cardiovascular health
Healthy aging
Physical strength and balance
Healthy inflammatory response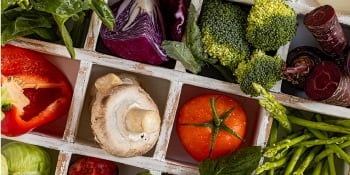 With 63 powerful nutrients, Daily Advantage sets the foundation for good health now and for many years ahead. Each day you get the benefits of a strong vitamin and mineral foundation, head-to-toe antioxidant protection, unique herbs and superfoods, and heart health supporters.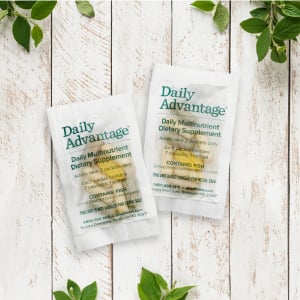 You'll love the ease and convenience of 2 daily packets

Head-to-toe support! 2 packets a day give you the recommend dosages for optimal health benefits

Fresh! Individually sealed, labeled, and dated to ensure freshness

Convenient! Great for on the go. Slip them in your pocket or purse

Easy & Affordable! Proper nutrients and dosage are ready to go. No mixing and matching that would cost you a fortune
For over 20 years, no other daily multivitamin has come close to Daily Advantage
Dr. Williams has gone to the ends of the earth to uncover powerful ways to maximize your immune and overall health. Daily Advantage goes far beyond the ordinary multivitamin. It features powerful traditionally used ingredients from around the globe that you won't easily find in stores, and they're certainly not in other multivitamins out there. The right multivitamin sets the foundation for your health now and for many years ahead. The wrong one will do nothing but waste your money. Daily Advantage is the easiest way to feel incredibly healthy without breaking the bank.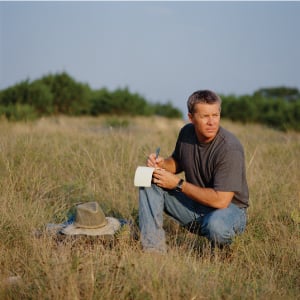 Ingredients and Dosage
Doctor's Suggested Use: Take 2 packets daily—1 packet with morning meal and 1 packet with midday or evening meal.
1. Essential Vitamins, Minerals & Antioxidants
Serving Size: 4 Capsules
Servings Per Container: 60
Ingredient
Amount Per Serving
% DV
Vitamin A (as beta carotene, retinyl palmitate)
1,687 mcg RAE
187%
Vitamin C (as ascorbic acid, mineral ascorbates)
500 mg
556%
Vitamin D (as cholecalciferol)
50 mcg (2,000 IU)
250%
Vitamin E (as d-alpha tocopheryl succinate, mixed tocopherols)
45 mg
300%
Thiamine (as mononitrate)
25 mg
2,083%
Riboflavin (as riboflavin, riboflavin-5-phosphate)
25 mg
1,923%
Niacin (as niacinamide, niacin)
65 mg NE
406%
Vitamin B6 (as pyridoxine HCI, pyridoxal-5-phosphate)
30 mg
1,765%
Folate
340 mcg DFE (200 mcg folic acid)
85%
Vitamin B12 (as cyanocobalamin)
50 mcg
2,083%
Biotin
150 mcg
500%
Pantothenic Acid (as calcium pantothenate)
75 mg
1,500%
Choline (as bitartrate)
50 mg
9%
Calcium (as carbonate, citrate, malate, ascorbate)
500 mg
38%
Iodine (from kelp stem and leaf)
50 mcg
33%
Magnesium (as oxide, aspartate, ascorbate)
250 mg
60%
Zinc (as chelate)
10 mg
91%
Selenium (as selenomethionine)
100 mcg
182%
Copper (as chelate)
1 mg
111%
Manganese (as aspartate, ascorbate)
5 mg
217%
Chromium (as polynicotinate)
100 mcg
286%
Molybdenum (as chelate)
50 mcg
111%
Inositol
50 mg
+
L-Cysteine Hydrochloride
25 mg
+
Trace Mineral Complex chloride, magnesium, sulfate, sodium, potassium, lithium, boron

25 mg
+
Para-Aminobenzoic Acid (PABA)
15 mg
+
Silica (from horsetail extract aerial parts)
13 mg
+
CoQ10 (from fermented yeast)
5 mg
+
Alpha Lipoic Acid
5 mg
+
Boron (as chelate)
500 mcg
+
Vanadium (as chelate)
75 mcg
+
+ Daily Value (DV) not established.
Other ingredients: Gelatin, microcrystalline cellulose, magnesium stearate, silica
2. Herbal Superfood Energy™
Serving Size: 2 Capsules
Servings Per Container: 60
Ingredient
Amount Per Serving
% DV
Spirulina (from algae)
300 mg
+
Turmeric Powder (rhizome)
100 mg
+
Eleuthero Powder (root)
90 mg
+
Ashwagandha Extract (root)
50 mg
+
Green Tea Extract (leaf)
50 mg
+
Asian Ginseng Extract (root)
40 mg
+
Rhodiola Extract (root)
40 mg
+
Turmeric Extract (rhizome)
25 mg
+
Ginger Powder (rhizome)
25 mg
+
Eleuthero Extract (root)
25 mg
+
Pancreatin (from porcine tissue)
25 mg
+
Ox Bile
25 mg
+
Betaine Hydrochloride
10 mg
+
Lipase (from Aspergillus niger)
5 mg
+
Cellulase (from Trichoderma reesei)
5 mg
+
Maltase (from Aspergillus oryzae)
5 mg
+
Protease (from Aspergillus oryzae)
5 mg
+
Amylase (from Aspergillus oryzae)
5 mg
+
+ Daily Value (DV) not established.
Other ingredients: Microcrystalline cellulose, gelatin, magnesium stearate, silica
3. Advanced Phytonutrient Shield®
Serving Size: 1 Capsule
Servings Per Container: 60
Ingredient
Amount Per Serving
% DV
Blueberry Extract (fruit)
50 mg
+
Cranberry Extract (fruit)
50 mg
+
Pomegranate Extract (fruit)
40 mg
+
Sweet Cherry Extract (fruit)
40 mg
+
Olive Extract (fruit)
25 mg
+
Quercetin
25 mg
+
Citrus Bioflavonoids (from lemon, orange, lime, tangerine, grapefruit) (fruit)
20 mg
+
Rutin
5 mg
+
Trans-Resveratrol (from Japanese knotweed root)
4 mg
+
Tocotrienols (from palm oil)
1 mg
+
Lutein (from marigold flower)
1 mg
+
Lycopene (from tomato fruit extract)
500 mcg
+
+ Daily Value (DV) not established.
Other ingredients: Microcrystalline cellulose, gelatin, magnesium stearate, silica, maltodextrin
4. O-3 Essentials ®
Serving Size: 1 Softgel
Servings Per Container: 60
Ingredient
Amount Per Serving
% DV
Calories
10
Total Fat
1 g
<2%†
Cholesterol
10 mg
3%
Fish Oil
1 g
+
EPA (eicosapentaenoic acid)
270 mg
+
DHA (docosahexaenoic acid)
180 mg
+
† Percent Daily Value based on a 2,000 calorie diet.
+ Daily Value (DV) not established.
Other ingredients: Gelatin, glycerin, water, tocopherol (preservative), sunflower lecithin, lemon oil
CONTAINS: FISH (anchovy, sardine)
Precautions: Consult a health care practitioner before use if you are pregnant or nursing, have a serious medical condition, or use any medications. Do not exceed two (2) packets daily.
Keep out of reach of children.
Science and Quality
Healthy individuals supplemented with an antioxidant cocktail (vitamins C, E, and beta carotene) showed an increased resistance to oxidation.1
Supplementation with vitamins C and E is associated with healthy blood vessels as suggested in a long-term study.2
In one study, healthy women, ages 58–67, were given vitamin D, as well as 1,000 mg calcium carbonate. After 2 years, the women experienced support for their bone density.3
A controlled study found that supplementing with B6, folic acid, and B12 helped to promote normal homocysteine levels.4
A study published in 2000 suggests that supplementation with 30 mg of quercetin may help to inhibit LDL cholesterol's susceptibility to oxidation in men.5
Consumption of omega-3 fatty acids, especially those from fish and fish oil, is associated with healthy eyes.
Omega-3 fatty acids appear to support cardiovascular health through multiple pathways: promoting normal triglyceride levels, supporting nitric oxide production, and supporting the heart muscle.6
---
1 Woodside JV, et al. Atherosclerosis. 1999;144(2):419–27.
2 Salonen RM, et al. Circulation. 2003;107(7):947–53.
3 Baeksgaard L, et al. Osteoporos Int. 1998;8(3):255–60.
4 Venn, BJ, 2003
5 Chopra M, et al. Clin Chem. 2000;46(8 Pt 1):1162–70.
6 Kris-Etherton PM, et al. Circulation. 2002;106(21):2747–57.
Product Quality
Manufactured to exacting standards using highest quality raw materials
Produced under our own SOPs that meet FDA GMPs
Every batch tested to verify purity and potency specifications are met
Quality assured with our Triple-Testing Philosophy™
Backed by our 100% satisfaction guarantee
Product reviews and ratings are provided for informational purposes only and reflect solely the views and opinions expressed by the individual contributors and not those of Healthy Directions LLC. Healthy Directions LLC neither verifies nor endorses any claims made in these reviews and ratings.