Item #VRT01
Dr. Kulreet Chaudhary
Veda Rescue®
Veda Rescue® is a simple way to gently cleanse, nourish and balance your gut for health digestion and regularity. When it comes to your overall health and happiness, a healthy gut is everything.
• Daily support for a healthier and happier gut
• Better digestion and regularity
• Supports immune health year round
• Less stress from nagging digestive issues
100% Triple-Testing Guarantee
When it comes to quality, we don't just talk the talk…we walk the walk. Healthy Directions adheres to stringent quality standards and a unique Triple-Testing Philosophy™ that EXCEEDS industry Good Manufacturing Practice (GMP) and FDA requirements to deliver safe, superior products every time.
90-day Money Back Guarantee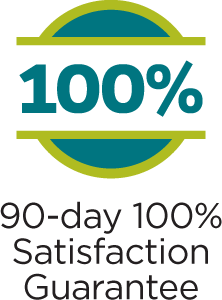 Every nutritional supplement purchase from Healthy Directions is protected by our 100% satisfaction guarantee. If for any reason the product does not meet your expectations, simply call within 90 days for a full refund of the product price. It's that simple. On occasion, certain non-supplement products may be guaranteed differently, with additional benefits or restrictions. In these cases, the applicable guarantee will be highlighted before you make a purchase.
What You Get With REFILL & SAVE
Ongoing Savings + FREE Shipping
Exclusive Offers + Free Samples
Flexibility — Update or Cancel Anytime
Additional Product Details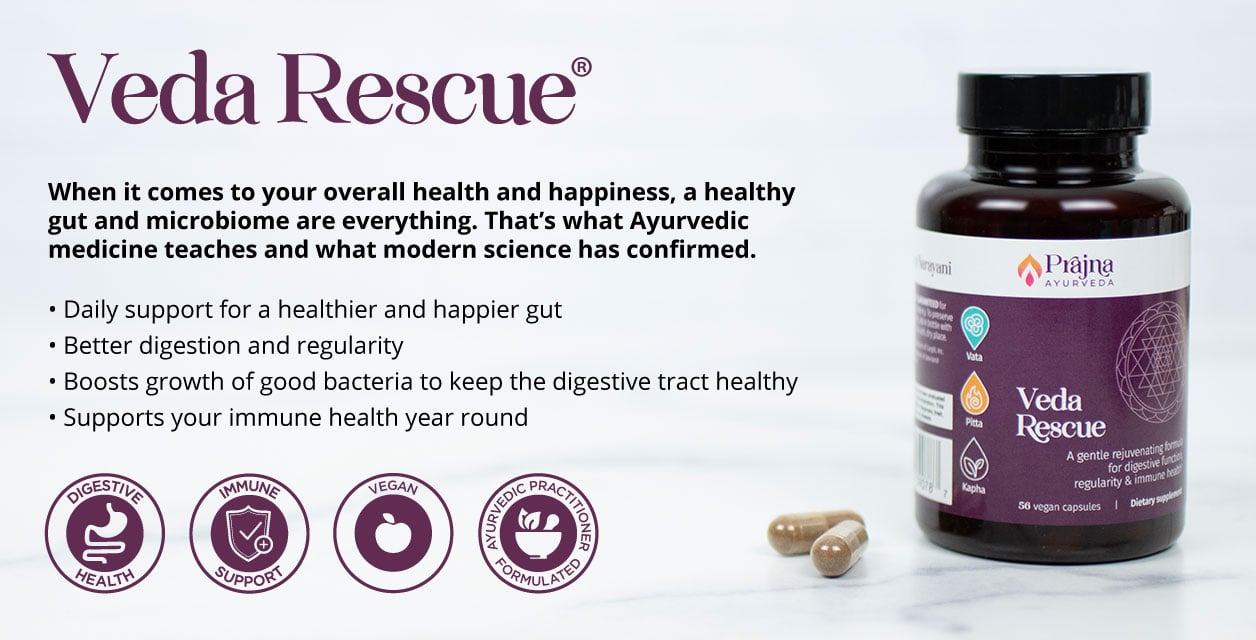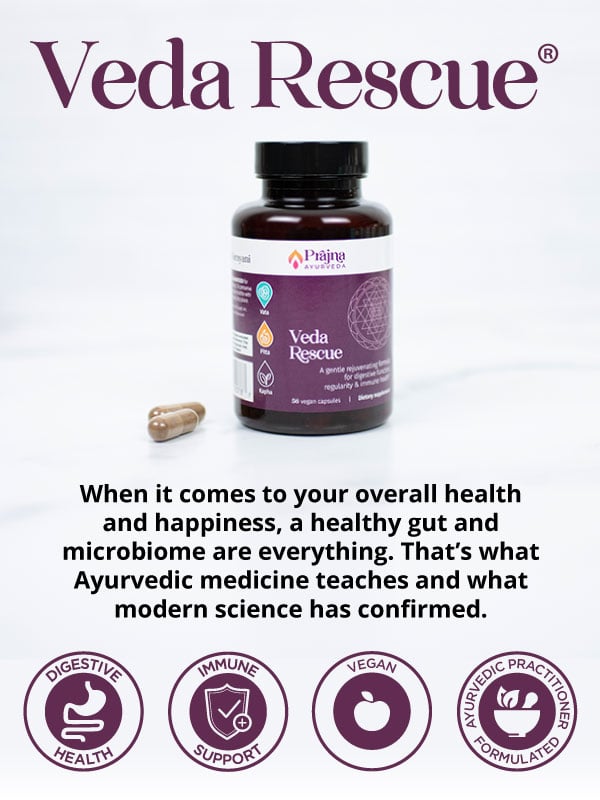 "Every day our bodies and minds are overstressed with endless 'To Do' lists and the crazy pace of modern life. And no matter how healthy we eat… how much yoga we practice… or how many billions of probiotics we take… it can become overwhelming. We could all use a nightly 'reset button' to help us recover from the busyness of the day. That's what Veda Rescue provides — a simple, nightly reset that helps you wake the next morning feeling rejuvenated, cleansed, nourished, light, and balanced."


Dr. Kulreet Chaudhary
Neurologist and Ayurvedic Practitioner Promotes good bacteria & digestive tract balance Supports digestion and regularity Supports immune health Supports overall health & wellness


You simply cannot separate your digestive and emotional health. They are undeniably connected.
In Western medicine, scientists talk about the microbiome. In Ayurvedic medicine, practitioners talk about agni.
In Ayurveda, agni means 'fire' and the strength of our agni determines our healthspan. The digestive fire in our gut governs our ability to process what we ingest, fuel our cells, and even help us digest (process) the impact our emotions have on us.
Agni supports so many facets of our physical and emotional health that when it is impaired or out of balance, we notice it—first in the state of our digestion and then in how we feel overall.
Healthy Digestion and Healthy Agni Start with Triphala
Triphala is an ancient herbal blend comprised of three berries. The combination of these berries has a wonderfully healing and nurturing effect that supports a healthy gut and healthy digestion.
The three high-antioxidant berries comprising Triphala (which is translated as "three fruits" in Sanskrit) are Haritaki, Amalaki, and Bibhitaki. They are the foundation for a clean, healthy digestive tract and a rejuvenated and vibrant you!
Haritaki is the fruit of the myrobalan plum tree that's been one of the most revered and prized digestive remedies in India for over 5,000 years.
Amalaki trees are small with fern-like leaves that are absolutely lovely. They bear a bonanza of berries about the size of a quarter, and those berries are pure GOLD for your digestion.
In Ayurvedic scriptures, bibhitaki is loosely translated to mean "fearless" and is one of the most celebrated tonics in Sanskrit medicinal texts.
Enjoy more regularity with Ayurveda's preferred probiotic...
A "dirty" probiotic that leads to fewer bouts of constipation and diarrhea, B.subtilis is a soil-based probiotic strain that Nature intended to live in your digestive tract and keep you healthy. Veda Rescue contains a very specific form of b.subtilis called DE111®.
DE111 is more stable than most probiotics and is able to withstand tough manufacturing processes, as well as the acidic environment of your gut. As a result, it reaches exactly where it's needed and delivers meaningful benefits.
In addition, DE111 is backed by gold-standard clinical studies showing its efficacy for improved regularity, bowel movements, fewer bouts of constipation and diarrhea, and a brighter, happier mood every day.
An ancient gold-standard immune + microbiome supporter that is 8,000 years old
EpiCor® is a postbiotic that acts as a prebiotic to nurture our gut microbiome. Said more simply, it gives your immune system a kick in the gut. Supported by six published, human clinical trials and seven published pre-clinical trials, when taken daily EpiCor® acts like a vitamin for your immune system and can help ensure that you have healthy days ahead.


What sets Veda Rescue® and all of the products included in the Veda Wellness line apart from other products is how they are formulated, integrating Ayurvedic practices and modern science in a completely new way. Every formula blends traditionally used herbs with standardized and clinically proven extracts to provide you with the health-boosting benefits you want, but without needing to consume a mountain of powder or swallow a bunch of pills.
The word Veda means 'wisdom' or 'knowledge' and refers to the ancient wisdom passed down through the ages. In Sanskrit, Ayurveda means "the science of life" and is the knowledge of health and healing that is based on maintaining balance between the body and the mind, and with the world around you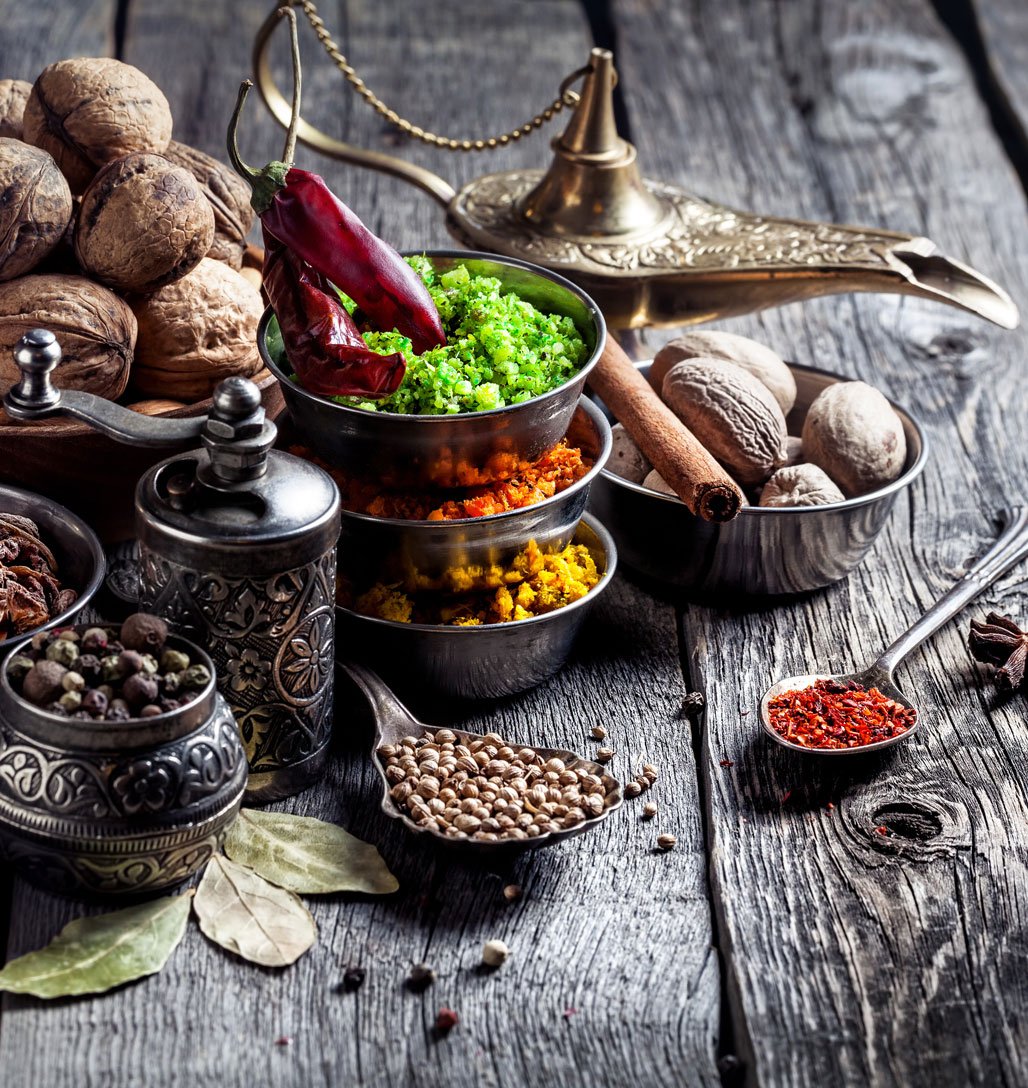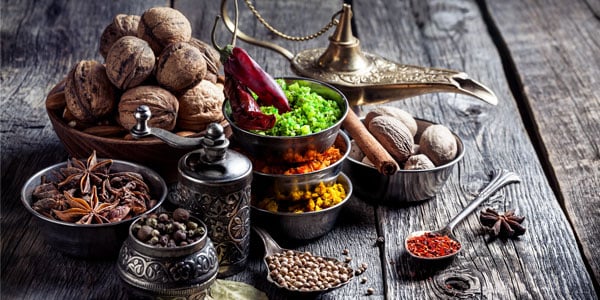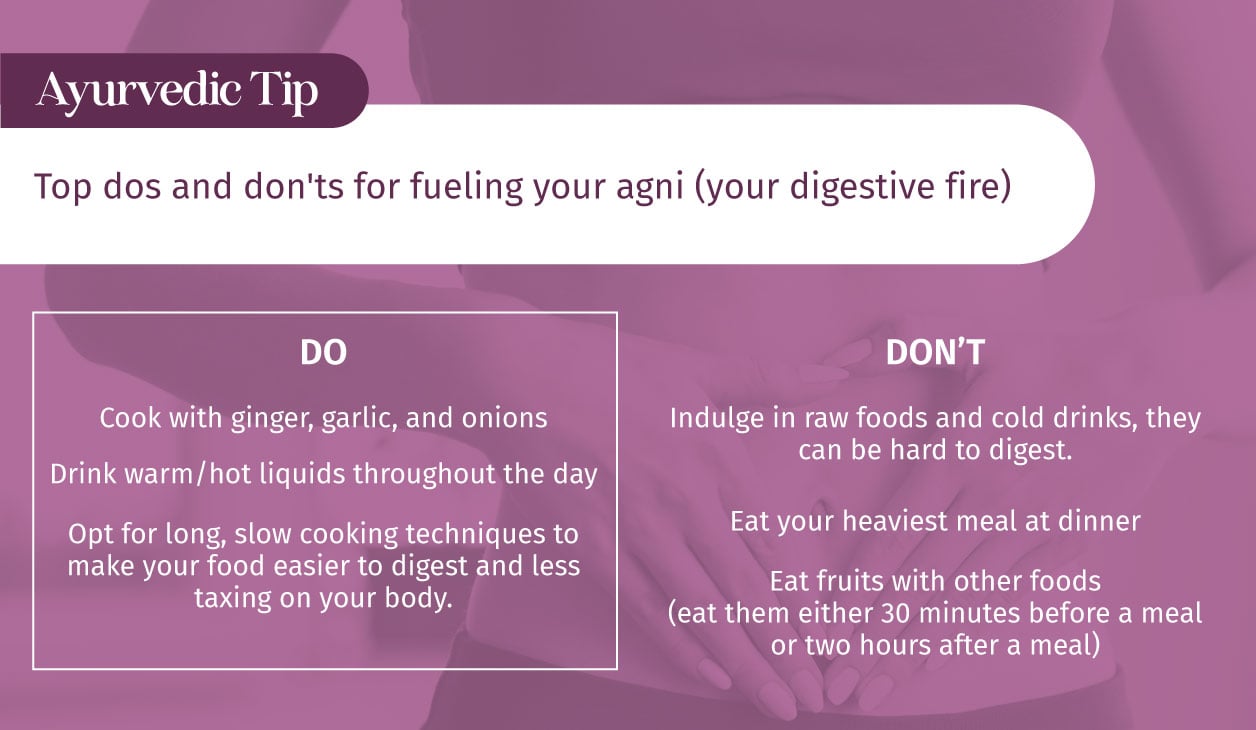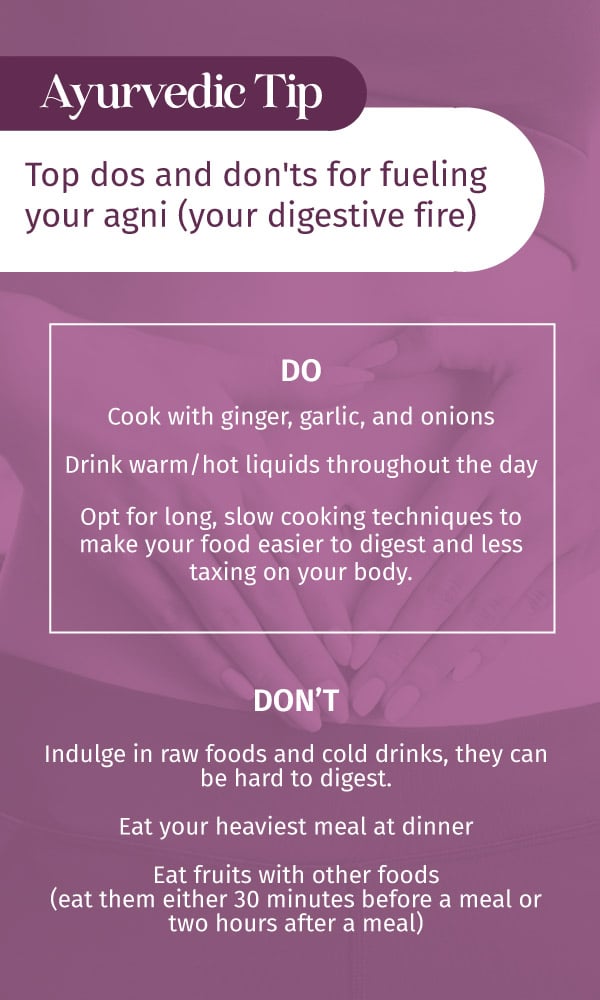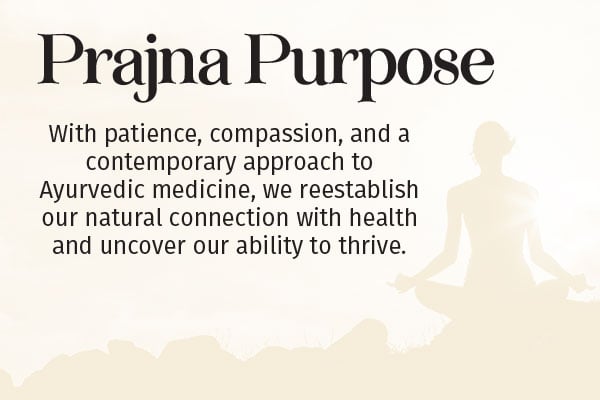 Prajna Ayurveda provides everything you need to be successful and thrive in a way that fits your lifestyle and health needs, and meets you exactly where you are. You'll feel balanced and full of life, energy, and pure joy!
Prajna Ayurveda provides everything you need to be successful and thrive in a way that fits your lifestyle and health needs, and meets you exactly where you are. You'll feel balanced and full of life, energy, and pure joy!

Ongoing
Support
You'll receive guidance, education, and easy-to-embrace recommendations from Dr. Chaudhary.

Dosha-Balancing
Guidance
Learn how to harmonize YOUR unique mind-body type for a healthy and happy life.

Access to the Prajna
Ayurveda Community
We'll connect socially to support and encourage each other, and have a safe space to learn and grow.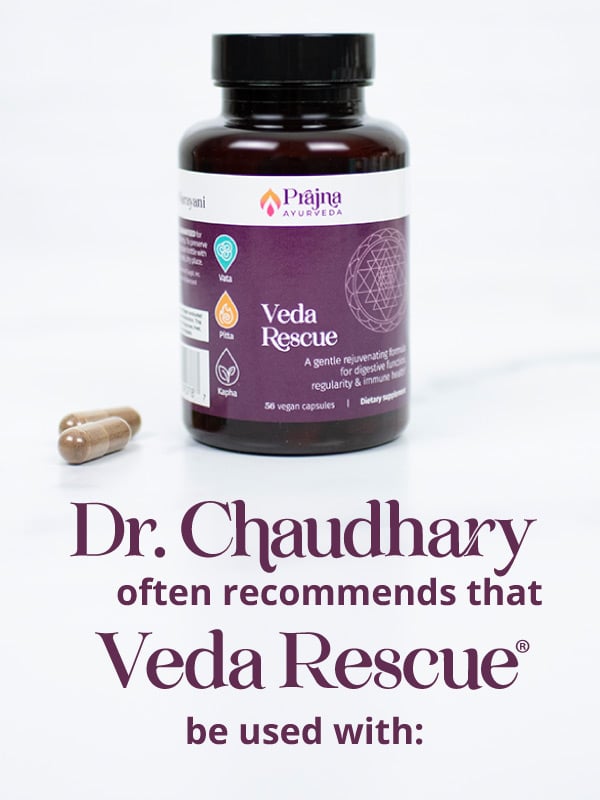 Ingredients and Dosage
Suggested Use: Take 2 vegan capsules 30 minutes before bed.
Serving Size: 2 Vegan Capsule
Servings Per Container: 28
Ingredient
Amount Per Serving
% DV
Triphala Blend
Triphala Extract [Amla (fruit), Belleric Myrobalan (fruit), Chebulic Myrobalan (fruit)], Organic Triphala Powder [Amla (fruit), Belleric Myrobalan (fruit), Chebulic Myrobalan (fruit)]
600 mg
*
Yeast Fermentate (from Saccharomyces
cerevisiae)(EpiCor®)
500 mg
*
B. subtilis (DE111®)
1 Bil. CFU
*
*Daily Value (DV) not established.
Other ingredients: Hypromellose, rice hulls, silica, rice dextrin
Precautions: Consult a health care practitioner before use if you are pregnant or nursing, have a serious medical condition, or use any medications.
EpiCor® is a registered trademark of Cargill, Inc.
DE111® is a registered trademark of Deerland Probiotics and Enzymes, Inc.
Keep out of reach of children.
Science and Quality
Triphala extract (400 mg) + Triphala powder (600 mg)
Prajna's triphala extract honors traditional Ayurvedic practices by using whole fruit powder and combining it with an extract from the fruit of the plant to provide a higher amount of beneficial actives than the whole fruit powder alone.
Animal studies provide evidence that triphala's biological mechanisms may be due to its antioxidant properties and effect on the inflammatory response. (Rasool, M. 2007 & Srikumar, R., 2006)
EpiCor (500 mg)
EpiCor® is a dried yeast fermentate blend containing prebiotic fiber, nutrients, antioxidants, and other metabolites. It's well-researched and the subject of several clinical studies that show it provides support for a healthy immune system and may provide relief from common digestive concerns. Fermentate, sometimes called dried yeast fermentate, is a fermented health ingredient that supports the immune system and the gut microbiome.
Works rapidly to support immune function (improved measures in as early as 2-hour post dose) May support immune health by supporting healthy levels of sIgA, a marker of immune health1
Helps support upper respiratory tract health and nasal health against daily environmental/seasonal challenges1
Fortifies the immune system and supports the body's defense mechanisms year-round
1
Supports healthy antioxidant defenses against daily environmental/seasonal challenges.2
Supports general health and vitality and healthy stress levels in those with GI concerns3
Supports digestive health and confers prebiotic benefits by helping to balance the gut microbiome3
Improves stool consistency and bowel movements and alleviates occasional GI discomfort3
Bacillus subtilis (DE111®) (1 Billion CFU)
DE111 Bacillus subtilis are soil-based organisms (often referred to as SBOs or spore-forming bacteria). Centuries ago, we got plenty of these SBOs from our diet, because our foods were grown in rich, organic, living soil. But today's overfarmed and nutrient-stripped soil has become almost sterile, which makes getting these SBOs in a supplement important. Their spore coating makes them incredibly resilient, so they can actually survive the harsh acid in your stomach, which means they can efficiently be delivered to their desired location: the intestines. Ordinary probiotics typically disintegrate before even making it to your intestines!
In a double-blind, placebo-controlled study, 50 participants who took GutGard for 30 days saw a reduction in bloating, belching and nausea as well as reduced feelings of fullness after meals.3
In a double-blind, placebo-controlled randomized study, 50 adults took 1 billion CFU of DE111 B. subtilis daily for 90 days. The subjects consuming the B. subtilis saw a significant increase in normal stools based on scoring according to the Bristol Stool Chart by days 75–90 compared to placebo. The results indicate that DE111 consumption promotes stool regularity, digestive health, improved bowel movements and healthy intestinal transit while improving occasional constipation or diarrhea.4
1Jensen G.S., et. al. J Med Food. 2011; 14(9):1002-1010
2Pinheiro I., et. al. BMC Comp Alt Med. 2017;17:441
3Moyas, M.A., et. al. Adv Ther. 2009;26(8):795-804.
4Cuentas A M, et al. J Prob Health 2017; 5: 189.
Product Quality
Produced in accordance with our strict Standard Operating Procedures (SOPs) that meet those set by the FDA's Good Manufacturing Practices
Every batch tested to verify purity and potency specifications are met
Quality assured with our Triple-Testing Philosophy™
Backed by our 100% satisfaction guarantee
FAQs
What is Ayurveda? Ayurveda is the traditional medical system of India and one of the oldest surviving healing systems in the world (at least 5,000 years old). "Ayu" means life and "veda" means knowledge, so Ayurveda is the knowledge of life. It's based on the philosophy that good health depends on the balance between the mind, body, and spirit. Ayurveda deepens your connection to who you are and aligns you with the natural world. The practice of Ayurveda is a journey towards greater self-awareness and balance so you're able to make healthier decisions about your life.
What is a dosha and how do I know what mine is? The doshas—Vata, Pitta, and Kapha—are the foundation of Ayurveda. They're the energies that govern our mind and body. Think of them as your own personal blueprint, a map to yourself. We're all made up of a combination of these three energies and by knowing your dosha, you take the guess work out of what diet and lifestyle changes to make to achieve desired health and life goals. To learn more about doshas, and which dosha type you are, you can read Dr. Chaudhary's article "What is Your Dosha?"
What are Adaptogens? Adaptogens are certain herbs or mushrooms thought to have health benefits that can help how our body and mind manages fatigue, stress, and feelings of anxiousness. They are used in Ayurveda to help balance and strengthen the body and mind.
Where are the ingredients sourced? We take great care in sourcing all of our ingredients so that they meet our stringent quality, safety and purity standards. Our Prajna Ayurveda traditional use whole powders are sourced from responsible growers in India and are organically grown without any pesticides or chemical fertilizers.
5. When can I begin to see results with some of the products? The beauty of these Ayurvedic herbs is that you will know when they begin working. With regular use, most people should notice an improvement and noticeable benefits over time. Dr. Chaudhary suggests that you give any new regimen, including dietary and lifestyle changes, at least 90-days to work effectively on your body and mind to achieve a healthy balance.
Can I use more than one herbal product at once? Yes, you can. In general, herbs work very well together. The Prime Collection herbs in particular were personally selected by Dr. Chaudhary to be a part of her Prime Method program and specifically selected for their balancing effects on the body and mind to help achieve the desired health goals.
Do your products use the whole Ayurvedic herb or standardized extracts, and what is the difference? It was important to us that we honor the traditional practice of Ayurveda and include the herb in whole powder form in all of our products, as this is the composition in which they exist in nature. Science has also made it possible to create concentrated extracts of the whole herb, so combining the traditionally used whole powders with the standardized extract, we can ensure quality and potency so that you get all of the intended health benefits of the herb, without taking a lot of pills.
How should I store my product? All products are shelf-stable and should be stored in a cool and dry environment without any exposure to direct sunlight. You can store your products on your kitchen counter or wherever is convenient for your daily use.
What is the best time of day to take the product? All products are designed for gentle daily use, and with the exception of Triphala which is best to take 30 minutes before bed, can be taken morning and/or evening with a meal.
How do you ensure product safety? Healthy Directions adheres to stringent quality standards and a unique Triple-Testing Philosophy™ that meets all industry Good Manufacturing Practice (GMP) and FDA requirements to deliver safe, superior products every time.
Is it normal to have gas and bloating and hyper-acidity after taking Triphala? Yes, this is very common for someone who has a lot of excess Kapha (gas/bloating) and excess Pitta (hyperacidity/constipation/stickiness), especially as the stagnant dosha imbalances are being reharmonized.
Have a question that you don't see answered here? Please contact us at [email protected]
Product reviews and ratings are provided for informational purposes only and reflect solely the views and opinions expressed by the individual contributors and not those of Healthy Directions LLC. Healthy Directions LLC neither verifies nor endorses any claims made in these reviews and ratings.