Item #OQR02
Dr. Stephen Sinatra
Omega Q Plus 100 Resveratrol
Omega-3s and 100mg of CoQ10 deliver advanced support for heart health and healthy aging…great for statin users!
What You Get With REFILL & SAVE
Ongoing Savings + FREE Shipping
Exclusive Offers + Free Samples
Flexibility — Update or Cancel Anytime
Additional Product Details
Advanced cardio and healthy aging support with 100 mg of CoQ10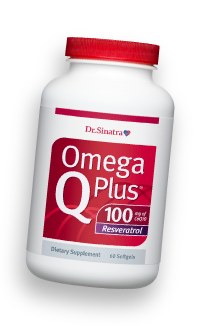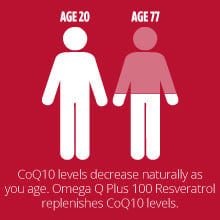 100 mg Highly Bioavailable CoQ10
Features 100 mg of highly absorbable Hydro Q-Sorb CoQ10 to energize cells and replenish depletions caused by statin medications, boost muscle CoQ10 concentration, and increase cellular energy production.
Based on a June 2019 Consumer Survey of Omega Q Plus product consumers with 104 responses, 88% of customers report that their Omega Q Plus product has more benefits than CoQ10 alone!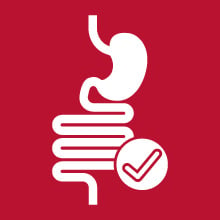 Highly Bioavailable Heart Nutrients
Combines heart healthy DHA from CalaMarine omega-3 oil, trans resveratrol, and Crominex 3+ chromium, PLUS a full 100 mg of absorbable Hydro Q-Sorb CoQ10. This formula is manufactured and triple tested in the USA, in a GMP-certified facility using clinically validated ingredients from around the globe.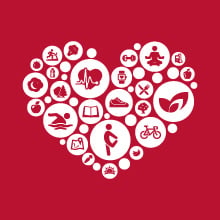 Advanced Healthy Aging
Healthy aging starts at the cellular level. Omega Q Plus 100 Resveratrol includes nutrients and antioxidants that help keep your cells healthy, including in your heart, brain, eyes, and even your skin.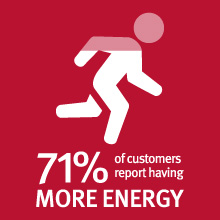 BONUS: Energy and activity levels soar!
Remarkable advanced cardio and healthy aging support, PLUS 71% of customers also report having MORE ENERGY and 7 out of 10 felt MORE ACTIVE since taking their Omega Q Plus, based on a June 2019 Consumer Survey of Omega Q Plus family product customers with 143 responses.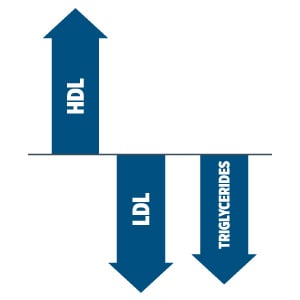 An advanced form of the essential mineral chromium, "secret weapon" Crominex 3+ is a huge innovation for your heart and your blood sugar!
Crominex 3+ chromium is clinically shown to support healthy total cholesterol, LDL cholesterol, and triglycerides, healthy endothelial cells, nitric oxide production, and even blood sugar levels. Plus, it helps support healthy glutathione levels (your body's master antioxidant).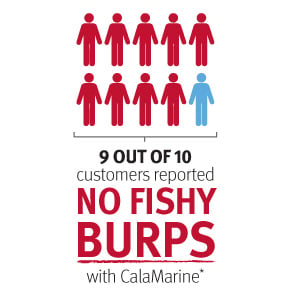 Naturally richer in DHA Omega-3s for heart and overall health…without the stink!
CalaMarine oil contains heart healthy DHA and EPA omega-3s, the critical omega-3s your cardiovascular system needs. Plus, 9 out of 10 customers reported no fishy burps with CalaMarine!*
Plus, it is clean-tasting and sustainably caught in the pristine deep ocean waters of South America.
*July 2015 Qualtrics Consumer Survey of CalaMarine product users with 118 responses.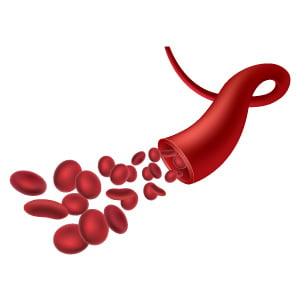 Resveratrol for healthy blood flow and combating oxidative stress, and a perfect partner to help CoQ10 support healthy aging.
A great antioxidant for all-around healthy aging. At the dose in Omega Q Plus 100 Resveratrol, trans resveratrol supports healthy blood flow.
Formulated by Integrative Cardiologist Stephen Sinatra, M.D.
A true pioneer, Dr. Sinatra spent more than 40 years in clinical practice, including serving as an attending physician and chief of cardiology at Manchester Memorial Hospital, then going on to formulate his advanced line of heart health supplements. His integrative approach to heart health has changed the lives of hundreds of thousands.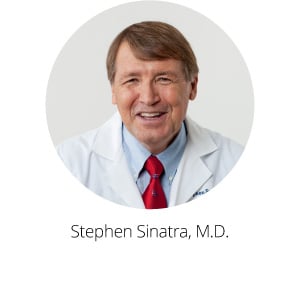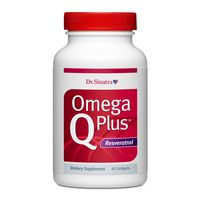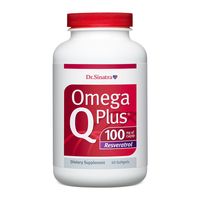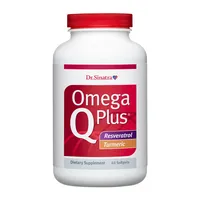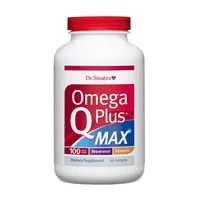 Advanced cellular support
Additional support for statin users
Turmeric for a healthy inflammatory response
Comprehensive, all-in-one cardio support
Ingredients and Dosage
Doctor's Suggested Use: Take 2 softgels once daily with a meal.
Serving Size: 2 Softgels
Servings Per Container: 30
Ingredient
Amount Per Serving
% DV
Calories
20
Total Fat
1.5 g
2%*
Cholesterol
<5 mg
2%
Vitamin B6 (as pyridoxine HCI, pyridoxal-5-phosphate)
30 mg
1,765%
Folate
680 mcg DFE
(400 mcg folic acid)
167%
Vitamin B12 (as cyanocobalamin)
500 mcg
20,833%
Chromium (as Crominex® 3+ chromium stablized with Capros® standardized Amla Extract (fruit), PrimaVie® purified and standardized Shilajit)
400 mcg
1,143%
CalaMarine® Oil Concentrate (from squid)
1,250 mg
‡
DHA (docosahexaenoic acid)
350 mg
‡
EPA (eicosapentaenoic acid)
200 mg
‡
L-Carnitine Fumarate
174 mg
‡
Coenzyme Q10 (as ubiquinone)(Hydro Q-Sorb®)
100 mg
‡
Trans Resveratrol
30 mg
‡
* Percent Daily Values are based on a 2,000 calorie diet.
‡ Daily Value (DV) not established
Other ingredients: Gelatin, gamma-cyclodextrin, glycerin, medium chain triglycerides, yellow beeswax, dicalcium phosphate, purified water, sunflower lecithin, mixed tocopherols (preservative), annatto (color) suspension in sunflower oil, silica, lemon oil, microcrystalline cellulose
Precautions: Consult a health care practitioner if you are pregnant or nursing, have a serious medical condition, or use any medications.
Keep out of reach of children.
Crominex® 3+, Capros® and PrimaVie® are registered trademarks of Natreon, Inc.
Calamarine® is a registered trademark of Pharma Marine AS.
Hydro Q-Sorb® is a registered trademark of Tishcon Corp.
Science and Quality
Hydro Q-Sorb® CoQ10
A highly absorbable form of CoQ10, Hydro Q-Sorb provides antioxidant support and helps protect your cellular structure from oxidative damage by free radicals. Not only does it help support healthy blood pressure and cholesterol*, it promotes cellular energy production in the mitochondria, your cells' power plants. A single dosing study suggests that 30 mg Hydro Q-Sorb CoQ10 is more bioavailable than regular, powdered CoQ10.1 Research shows it also supports healthy skin and smoothness in women.
Naturally richer in DHA CalaMarine® omega-3 oil
Calamari is naturally high in DHA, an omega-3 fatty acid that is the second most abundant structural lipid in the human body. Other omega-3 dietary sources like salmon, cod, anchovy and sardine are more abundant in EPA. Tuna is the primary source for supplemental DHA yet is more difficult to obtain and is being depleted and overfished at an alarming rate.
Crominex 3+
In a 12-week placebo-controlled study, participants were given either 400 mcg of Crominex 3+ or a placebo for 12 weeks. What they found is that the group given Crominex 3+ showed support for several important heart health markers:2,3
Triglycerides*
HDL cholesterol*
LDL cholesterol*
C-reactive protein (a critical inflammatory marker—this is SO important!)*
Endothelial function—the cells responsible for healthy blood flow*
Studies have also shown that Crominex 3+:
Improves glutathione production, your body's "master antioxidant"
Helps to increase nitric oxide production
Plus, it helps your body to process glucose (blood sugar) and supports healthy insulin sensitivity.* This is important for your heart.
Trans resveratrol
The trans resveratrol in Omega Q Plus 100 Resveratrol is a 100% pure form of resveratrol that provides antioxidant support and supports blood flow. And, when paired with Hydro Q-Sorb CoQ10, it helps support healthy aging.
Resveratrol can help support a healthy inflammatory response4
Resveratrol supports healthy levels of CRP, an inflammatory marker
Trans-resveratrol supports endothelial function
Supports healthy flow-mediated dilation5
---
1 Keiji T, et al. Nutr Res. 2006;26:503-8.
2 Usharani P. et al. 2013.
3 Usharani P. et al. 2017.
4 Tome-Carneiro, J. et al. March 2013.
5 Wong RXH et al. 2011.
* Healthy support for levels already within the normal range
These statements have not been evaluated by the Food and Drug Administration. This product is not intended to diagnose, treat, cure, or prevent any disease.
Product reviews and ratings are provided for informational purposes only and reflect solely the views and opinions expressed by the individual contributors and not those of Healthy Directions LLC. Healthy Directions LLC neither verifies nor endorses any claims made in these reviews and ratings.