Item #ORT01
Dr. Stephen Sinatra
Omega Q Plus Resveratrol and Turmeric
My GOLD STANDARD for advanced heart health and healthy aging with resveratrol and turmeric
What You Get With REFILL & SAVE
Ongoing Savings + FREE Shipping
Exclusive Offers + Free Samples
Flexibility — Update or Cancel Anytime
Additional Product Details
Delivers "gold standard" support for a healthy inflammatory response, healthy aging, and more!
If I've learned anything throughout my four decades as an integrative cardiologist, it's that most people are trying to manage not just one heart health concern, but several.  And I've often shared my own opinion of how maintaining a normal inflammatory response is THE most important thing you can do to maintain heart and overall health. In fact, it tops the list as part of my 7 most important markers for supporting heart health.
While my top-selling Omega Q Plus® Resveratrol formula does a great job addressing these heart health markers, Omega Q Plus Resveratrol and Turmeric goes one huge step further—giving you inflammatory-balancing ingredients.
Plus, I've added Crominex® 3+ for added cardio support and blood sugar support.*
Tackles multiple heart health concerns in 1 formula
With Omega Q Plus Resveratrol and Turmeric, you now have one high-quality omega-3 supplement that brings in ALL the heavy hitters when it comes to heart health.  You're getting heart healthy DHA from CalaMarine® omega-3 oil, highly bioavailable HydroCurc® turmeric, and resveratrol—in your body's preferred form!—Crominex 3+ chromium, PLUS 50 mg of absorbable Hydro Q-Sorb® CoQ10. In fact, we surveyed customers about their experience with their Omega Q Plus products. And the results were remarkable…
More than 8 out of 10 reported better heart health check-ups!1
7 out of 10 reported having more energy2
9 out of 10 said it's one of the most important supplements they take2
Plus, customers reported great support for cholesterol health3, felt more active2 and thought their Omega Q Plus product had more benefits than either CoQ104 or Fish Oil5 alone.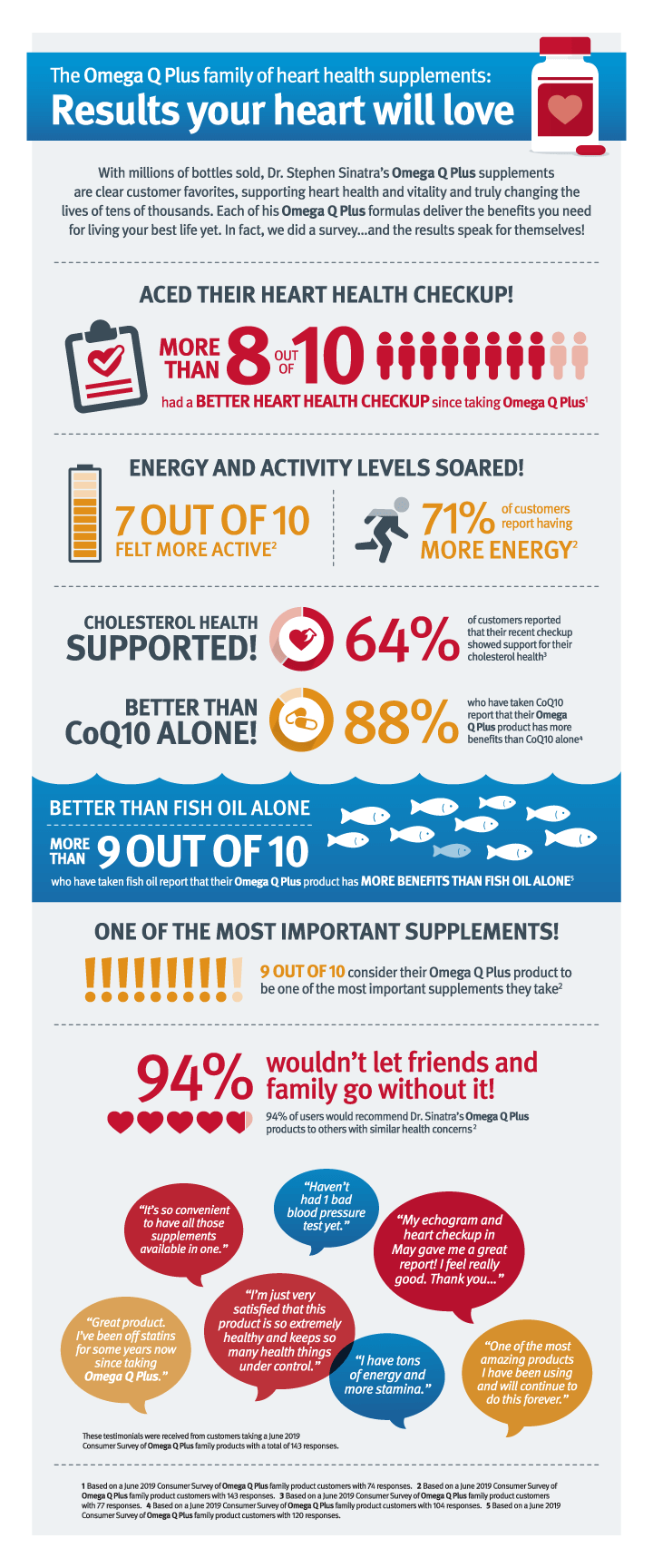 With every dose, you're addressing my 7 Golden Keys to Great Heart Health
A healthy inflammatory response, including CRP levels—a critical inflammatory marker!
Healthy cholesterol*
Healthy triglycerides and homocysteine levels*
Healthy blood flow and blood vessels*
Healthy blood pressure and blood lipid levels*
Boost in ATP energy
Reduction of oxidative stress
Advanced cellular support to help you age well
Aging well is something we all want to do, which is why we try to eat right, and make smart lifestyle decisions.  But healthy aging really starts at the cellular level. The ingredients in this formula do everything right to help support our goals by helping to keep the cells in your body healthy, including in your heart, brain, eyes, and even your skin. It's the best combination I've found for healthy cellular energy, support against oxidative stress, brain and cognitive health, as well as eye and skin health.
Provides even MORE cardio + blood sugar support
I've taken this comprehensive formula one more giant step forward by adding Crominex® 3+ chromium, which is clinically shown to support healthy cholesterol and triglycerides, LDL cholesterol and triglycerides, healthy endothelial cells, nitric oxide production, and even blood sugar support.* 
Plus, more and more research is showing that Americans have widespread blood sugar concerns, which can ultimately end up having an impact on your heart health. The combination of Crominex 3+ and your body's preferred form of resveratrol in Omega Q Plus Resveratrol and Turmeric provides outstanding support for healthy insulin sensitivity, blood sugar levels, and so much more!* Keep reading to learn what makes this form of chromium so remarkable!
Effective nutrients combine for gold standard support
Omega Q Plus Resveratrol and Turmeric brings together highly bioavailable forms of the key nutrients I've found to be most effective in my 40+ years as an integrative cardiologist—and the science is truly impressive. 
50 mg of Hydro Q-Sorb® CoQ10— Cardiologists often call CoQ10 the "wonder nutrient" because it fuels your cellular power plants. This is especially important for your heart—a muscle that requires huge amounts of oxygen and energy to function. Plus, CoQ10 acts as a potent antioxidant—hunting and destroying free radicals throughout your body.
That's why I've included a patented, cutting-edge form of CoQ10 called Hydro Q-Sorb, that is 3 times better absorbed than powdered CoQ10 and up to 7 times better absorbed into your cells. Research also shows that CoQ10 helps support a healthy inflammatory response and blood pressure and cholesterol—all vital to your overall cardiovascular health! Plus, healthy skin and skin smoothness in women.
Clean CalaMarine® Omega-3 Oil—the discovery that makes ordinary fish oil obsolete
CalaMarine omega-3 oil is naturally richer in DHA than ordinary fish oil! And a clinical study shows that omega-3s with DHA support your blood pressure, total cholesterol, LDL cholesterol, triglycerides, and CRP levels.* Omega Q Plus Resveratrol and Turmeric is a great way to boost your omega-3 levels for overall health.
CalaMarine oil isn't sourced from fish, it's extracted from deep-water calamari (squid). This is good news on many fronts. For one, they are an extremely eco-friendly, sustainable source of omega-3 fatty acids. Plus, 9 out of 10 CalaMarine users reported no fishy burps!**
Trans Resveratrol— Resveratrol is a powerful polyphenol antioxidant for all-around healthy aging, but what really impresses me are its cardiovascular benefits. At the dose in Omega Q Plus Resveratrol and Turmeric, my recommended trans resveratrol supports healthy blood flow, measured by significant improvements in flow-mediated dilation—which measures your arteries' ability to respond to changes in blood pressure. Plus, it supports a healthy inflammatory response, LDL and CRP levels, insulin sensitivity, and glycemic control. Studies also show a significant increase in adiponectin levels, a great indicator of healthy blood sugar and blood lipids.*
HydroCurc® Turmeric— This is a highly absorbable form of turmeric for healthy and powerful antioxidant support against oxidative stress. But to get all the amazing benefits of turmeric, you'd typically need to take a hefty amount. That's because turmeric is notoriously difficult for your body to absorb—so many supplements don't do much good.The great news is that the LipiSperse® technology behind HydroCurc® makes it 320% more absorbable than other forms of turmeric and is more highly concentrated with TWICE the amount of curcuminoids as my original formulas, so you get HUGE benefits without taking mega amounts of pills!
Crominex® 3+—An advanced form of the essential mineral chromium, Crominex 3+ is a huge innovation for your heart and your blood sugar! More bioavailable than other forms of chromium, Crominex 3+ is easier for your body to absorb. Plus, it's completely safe and is not known to oxidize like other forms of chromium can. The research is extremely impressive with Crominex 3+, showing improvements in cholesterol levels, triglycerides, CRP levels, endothelial function and blood flow.* It also helps to increase nitric oxide production for blood vessel health and improved production of glutathione—your body's master antioxidant. But the benefits don't stop there! Crominex 3+ also helps your body break down glucose—something more and more Americans are struggling with.
Gold standard support in just 2 softgels a day
Every nutrient in this omega-3 with CoQ10 formula has a specific purpose, contributing to a remarkable, long list of benefits. It tackles the major markers of optimal heart health, it fuels your cells with energy, helps with healthy blood sugar, supports a healthy inflammatory response, and more. Omega Q Plus Resveratrol and Turmeric delivers the core heart-smart nutrients I've recommended for years, plus a highly absorbable form of turmeric, just for you!
*Healthy support for levels already within the normal range.
1Based on a June 2019 Consumer Survey of Omega Q Plus family product customers with 74 responses.
2Based on a June 2019 Consumer Survey of Omega Q Plus family product customers with 143 responses.
3Based on a June 2019 Consumer Survey of Omega Q Plus family product customers with 77 responses.
4Based on a June 2019 Consumer Survey of Omega Q Plus family product customers with 104 responses.
5Based on a June 2019 Consumer Survey of Omega Q Plus family product customers with 120 responses.
**July 2015 Qualtrics Consumer Survey of CalaMarine product users with 118 responses.
These statements have not been evaluated by the Food and Drug Administration. This product is not intended to diagnose, treat, cure or prevent any disease.
Ingredients and Dosage
Doctor's Suggested Use: Take 2 softgels once daily with a meal.
Serving Size: 2 Softgels
Servings Per Container: 30
Ingredient
Amount Per Serving
% DV
Calories
20
Total Fat
2 g
3%*
Cholesterol
<5 mg
2%
Vitamin B6 (as pyridoxine HCI, pyridoxal-5-phosphate)
30 mg
1,765%
Folate
667 mcg DFE
(400 mcg folic acid)
167%
Vitamin B12 (as cyanocobalamin)
500 mcg
20,833%
Chromium (as Crominex® 3+ chromium stabilized with Capros® standardized Amla Extract (fruit), PrimaVie® purified and standardized Shilajit)
400 mcg
1,143%
CalaMarine® Oil Concentrate (from squid)
1,250 mg
‡
DHA (docosahexaenoic acid)
350 mg
‡
EPA (eicosapentaenoic acid)
200 mg
‡
L-Carnitine Fumarate
174 mg
‡
HydroCurc® (88% tumeric rhizome extract with LipiSperse® providing 100 mg curcuminoids)
125 mg
‡
Coenzyme Q10 (as ubiquinone)(Hydro Q-Sorb®)
50 mg
‡
Trans Resveratrol
30 mg
‡
* Percent Daily Values are based on a 2,000 calorie diet.
‡ Daily Value (DV) not established
Other ingredients: Gelatin, glycerin, gamma-cyclodextrin, medium chain triglycerides, yellow beeswax, dicalcium phosphate, purified water, sunflower lecithin, mixed tocopherols (preservative), annatto (color) suspension in sunflower oil, silica, lemon oil, microcrystalline cellulose
Precautions: Consult a health care practitioner if you are pregnant or nursing, have a serious medical condition, or use any medications.
Keep out of reach of children.
Crominex® 3+, Capros® and PrimaVie® are registered trademarks of Natreon, Inc
CalaMarine® is a registered trademark of Pharma Marine AS.
HydroCurc® and LipiSperse® is a registered trademark of Pharmako Biotechnologies Pty. LtdHydro Q-Sorb® is a registered trademark of Tishcon Corp.
Science and Quality
Highly bioavailable ingredients
HydroCurc® Turmeric Extract
HydroCurc uses a proprietary LipiSperse® technology to protect and enhance absorption of curcuminoids—the antioxidant power in turmeric—by making them more soluble and longer lasting. The scientific studies on curcumin, turmeric's active ingredient, have shed light on its antioxidant and anti-inflammatory properties. Unfortunately, curcuminoids aren't easily absorbed into your system. HydroCurc contains 80% curcuminoids, which is TWICE the amount as my original formula, and is found to be 320% more bioavailable than standard curcumin.
HydroCurc's high bioavailability means it can get straight to work providing outstanding antioxidant protection against free-radical stress throughout your body, including your circulatory system. This ingredient will help support a healthy inflammatory response, brain health, cardiovascular health, and antioxidant support which is why it is important to take omega-3s with turmeric supplements.
Hydro Q-Sorb® CoQ10
A highly absorbable form of CoQ10, Hydro Q-Sorb provides antioxidant support and helps protect your cellular structure from oxidative damage by free radicals. Not only does it help lower markers of inflammation, it promotes cellular energy production in the mitochondria, your cells' power plants. A single dosing study suggests that 30 mg Hydro Q-Sorb CoQ10 is more bioavailable than regular, powdered CoQ10.1
High-quality source of EPA and DHA omega-3s
Calamarine® isn't your typical source of omega-3s. Developed from calamari, an eco-friendly and sustainable food source, this oil contains the recommended minimum 250 mg of omega-3s for promoting cardiovascular health.2 It is important to consume omega-3s containing high-quality EPA and DHA levels to help support brain, eye, and cardiovascular health. Plus, elevated levels of blood omega-3s are associated with lower levels of inflammation markers and help support normal triglycerides as part of a heart healthy lifestyle.
Trans resveratrol for healthy blood flow
Found most notably in the skin of red grapes, resveratrol is a powerful polyphenol antioxidant. The trans resveratrol in Omega Q Plus Resveratrol and Turmeric is a 100% pure form of resveratrol that provides antioxidant support and helps circulatory health. And, when paired with Hydro Q-Sorb CoQ10, it helps support healthy aging.
---
1 Keiji T, et al. Nutr Res. 2006;26:503–8.
2 Musa-Veloso K, et al. Br J Nutr. 2011;106:1129–41.
Product Quality
Manufactured to exacting standards using highest quality raw materials
Produced in accordance with our strict Standard Operating Procedures (SOPs) that meet those set by the FDA's Good Manufacturing Practices
Every batch tested to verify purity and potency specifications are met
Quality assured with our Triple-Testing Philosophy™
Backed by our 100% satisfaction guarantee
Product reviews and ratings are provided for informational purposes only and reflect solely the views and opinions expressed by the individual contributors and not those of Healthy Directions LLC. Healthy Directions LLC neither verifies nor endorses any claims made in these reviews and ratings.