Item #TCG01
Dr. Julian Whitaker
TriComfort Gold™
Clinically validated ingredients relieve joint discomfort, boost energy, and help reduce fatigue all in one daily pill
100% Triple-Testing Guarantee
When it comes to quality, we don't just talk the talk…we walk the walk. Healthy Directions adheres to stringent quality standards and a unique Triple-Testing Philosophy™ that EXCEEDS industry Good Manufacturing Practice (GMP) and FDA requirements to deliver safe, superior products every time.
90-day Money Back Guarantee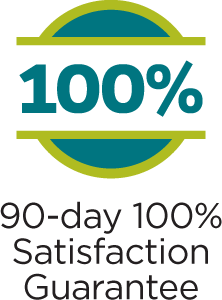 Every nutritional supplement purchase from Healthy Directions is protected by our 100% satisfaction guarantee. If for any reason the product does not meet your expectations, simply call within 90 days for a full refund of the product price. It's that simple. On occasion, certain non-supplement products may be guaranteed differently, with additional benefits or restrictions. In these cases, the applicable guarantee will be highlighted before you make a purchase.
What You Get With REFILL & SAVE
Ongoing Savings + FREE Shipping
Exclusive Offers + Free Samples
Flexibility — Update or Cancel Anytime
Additional Product Details
Powerful Joint Support, plus a Mood Boost and Less Fatigue Under Stress!
Your joints are essential to mobility. When they aren't at their peak, neither are you. And when you aren't at your best, it can be hard to muster the motivation to get up and go. TriComfort Gold® combines the three joint health botanicals in original TriComfort Essentials, to support joint function and mobility, plus Sensoril® Ashwagandha to decrease levels of stress and nervous tension. This long-respected botanical offers additional joint support plus helps fight fatigue due to stress, and improve mood and overall well-being.
Sensoril Ashwagandha for enhanced joint comfort plus improved overall emotional well-being!
Ashwagandha, a revered botanical, has been traditionally used in India's Ayurvedic healing system for thousands of years. Ashwagandha's health-enhancing benefits stem from its adaptogenic properties, which help increase resistance to physical and psychological stressors while enhancing balance and homeostasis in the body. Adaptogens are renowned for providing superior wellness benefits by helping to modulate your body's response to stress or a changing environment.
The superior Sensoril Ashwagandha is a standardized root and leaf extract with potent levels of stress-fighting, cognition supportive properties. Plus, more recent research shows that Sensoril also supports healthy joint function. It has been evaluated in multiple human clinical trials and possesses some of the highest levels of stress-fighting ashwagandha bioactives currently available, far exceeding those of conventional root-only ashwagandha extracts.
Two clinical studies showcase importance of ashwagandha for joint and overall health
Joint health
In a double-blind, placebo-controlled study, individuals with joint concerns received 125 mg Sensoril Ashwagandha twice a day or a placebo. Three tests were used to measure discomfort, stiffness, and physical function, and in all, Sensoril came out on top. Those receiving a 250 mg daily dose of Sensoril (the same dose used in TriComfort Gold) experienced enhanced joint comfort and mobility by the end of the 12-week study.1 Results showed that Sensoril Ashwagandha:
Supports healthy joint function
Improves total WOMAC scores (a measure of joint function)
Enhances joint comfort
Increases joint mobility by reducing joint stiffness
Stress, nervous tension, and overall well-being
Another study investigated the effects of Sensoril Ashwagandha in adults experiencing stress. 2 Participants were randomly given varying doses of Sensoril including 125 mg twice daily (the dosage in TriComfort Gold). Stress levels were assessed using a standardized questionnaire assessing common symptoms of anxiousness and stress. Compared to the placebo group, the individuals receiving 125 mg twice daily experienced:
Improvements in overall emotional well-being
Decreases in levels of stress and nervous tension
Reductions in serum cortisol levels
Reductions in fatigue and irritability due to stress
Support for better focus and concentration
Support for healthy sleep
This "triple threat" soothes achy joints and helps support a balanced inflammatory response
In addition to ashwagandha, TriComfort Gold includes a "triple threat" of clinically studied ingredients shown to support a balanced inflammatory response while promoting joint health, helping alleviate joint discomfort—in as little as 7 days—and providing free-radical scavenging power. And you get all this in just one tiny pill per day.
AprèsFlex (100 mg)
In one clinical study, AprèsFlex was shown to provide relief in day-to-day joint function and joint health support—starting in as little as 7 days. And after 30 days, considerable improvement was seen in stiffness and functional ability. 3
In a double-blind, randomized, placebo-controlled study, participants with joint aches took 100 mg of AprèsFlex or a placebo daily for 30 days. Three well-regarded assessment scales to measure discomfort, stiffness, and physical function were used—and in all three, AprèsFlex showed improvement.
In a measure of intensity of discomfort, the group taking AprèsFlex had more improvement than the placebo group starting as soon as 7 days.
In a measure of daily functions hindered by discomfort, AprèsFlex helped to alleviate joint discomfort starting in just 7 days. And after 30 days, those taking AprèsFlex reported even greater improvements in discomfort, stiffness, and functional ability.
UC-II (40 mg)
UC-II is a high-quality form of undenatured type II collagen, which is a building block for joint tissue. Research levels of UC-II help alleviate joint discomfort during and after exercise and help improve overall knee comfort. It also helps balance the inflammatory response in the body.
Undenatured type II collagen to soothe exercise-induced joint discomfort, improves flexibility and mobility—and is clinically shown to be more effective than glucosamine and chondroitin for reducing exercise-induced joint discomfort, as measured by three standard discomfort measurement indicators: WOMAC, VAS, and Lequesne.4
HydroCurc® (100 mg)
Curcumin, the active constituent in turmeric, has been used for centuries to support multiple factors associated with total body health. Unfortunately, the curcumin in ordinary turmeric has poor absorption properties, making it difficult for your body to receive all of its great benefits.
To remedy this, TriComfort Gold includes a highly absorbable and highly concentrated form of turmeric called HydroCurc, which is bolstered by LipiSperse® technology. This technology makes it 320% more absorbable than generic forms of turmeric. Plus, it provides healthy inflammatory support, and healthy and powerful antioxidant support against oxidative stress.
TriComfort Gold provides joint health benefits as well as enhanced mental and physical well-being all in one pill per day. Altogether, Sensoril Ashwagandha, AprèsFlex, UC-II, and HydroCurc Curcumin deliver everything you need for day-to-day joint comfort, function, and mobility, plus overall health and well-being! Now you can be more active with less discomfort.
1Ramakanth*, GSH, et. al. Journal of Ayurveda and Integrative Medicine 2016 151–157.
2Auddy B, et al. J Am Nutraceutical Assoc. 2008;11(1):50–6.
3Vishal A, et al. Int J Med Sci. 2011;8(7):615–22.
4Crowley D, et al. Int J Med Sci. 2009;6(6):312–21.
Ingredients and Dosage
Doctor's Suggested Use: Take 1 capsule daily with a meal.
Serving Size: 1 Capsule
Servings Per Container: 30
Ingredient
Amount Per Serving
% DV
Ashwagandha Extract (root and leaf) (Sensoril ®)
250 mg
*
HydroCurc® (88% turmeric rhizome extract with LipiSperse ® providing 85 mg curcuminoids)
100 mg
*
Boswellia serrata Extract (gum resin) (AprèsFlex®)
100 mg
*
UC-II ® (3% Type II Collagen)
40 mg
*
Total Collagen
10 mg
*
* Daily Value (DV) not established
Other ingredients: Gelatin, microcrystalline cellulose, magnesium stearate, potassium chloride, silica
Precautions: Consult a health care practitioner before use if you are pregnant or nursing, have a serious medical condition, or use any medications.
Keep out of reach of children.
HydroCurc® and LipiSperse® are registered trademarks of Pharmako Biotechnologies Pty. Ltd.
AprèsFlex ® is a registered trademark of Laila Nutraceuticals exclusively licensed to PL Thomas—Laila Nutra LLC. International patents pending.
UC-II ® is a registered trademark of InterHealth N.I.
UCII ® brand collagen with undenatured type II collagen (U.S. Patents 7,846,487, 7,083,820, 9,066,926 and EPO Patent EP1435906B1; Canadian patent CA 2459981C; and Japanese Patent JP 4800574B2).
Sensoril ® is a registered trademark of Natreon, Inc., and the product is protected under U.S. Patent No. 7,318,938 and CA Patent No. 2,508,478.

Due to the nature of these ingredients, color variation may occur.
Science and Quality
Superior Sensoril®
Optimized Ashwagandha for Joint Health plus reduced fatigue due to stress and improved overall well-being.

Sensoril Ashwagandha is an industry-leading, branded ingredient that is clinically validated to help relieve the negative effects of stress, as well as provide a variety of other benefits, including joint health. Sensoril, invented by Fulbright Scholar Dr. Shibnath Ghosal, is a multi-patented, natural, standardized extract of ashwagandha (also called Indian ginseng or winter cherry).

Ashwagandha, a revered botanical with adaptogenic properties, has been one of the primary ingredients used in India's Ayurvedic system of health and healing for thousands of years. Adaptogens are a select group of botanicals that help provide resistance to stress and bring the body back into balance.
Product Quality
Manufactured to exacting standards using highest quality raw materials
Produced in accordance with our strict Standard Operating Procedures (SOPs) that meet those set by the FDA's Good Manufacturing Practices
Every batch tested to verify purity and potency specifications are met
Quality assured with our Triple-Testing Philosophy™
Backed by our 100% satisfaction guarantee
Product reviews and ratings are provided for informational purposes only and reflect solely the views and opinions expressed by the individual contributors and not those of Healthy Directions LLC. Healthy Directions LLC neither verifies nor endorses any claims made in these reviews and ratings.