Item #CAH01
Dr. Kulreet Chaudhary
Ashwagandha
An adaptogenic herb that has been traditionally used for centuries as a source of strength and vitality. It's nature's antidote for our stressful modern lives.
What You Get With REFILL & SAVE
Ongoing Savings + FREE Shipping
Exclusive Offers + Free Samples
Flexibility — Update or Cancel Anytime
Additional Product Details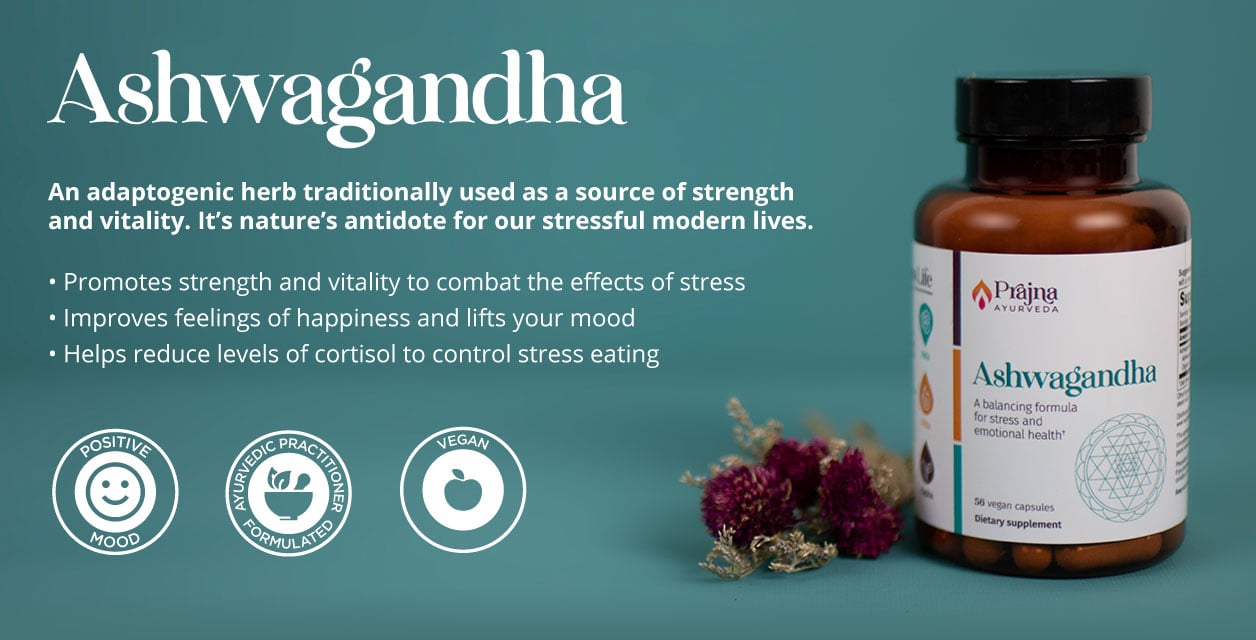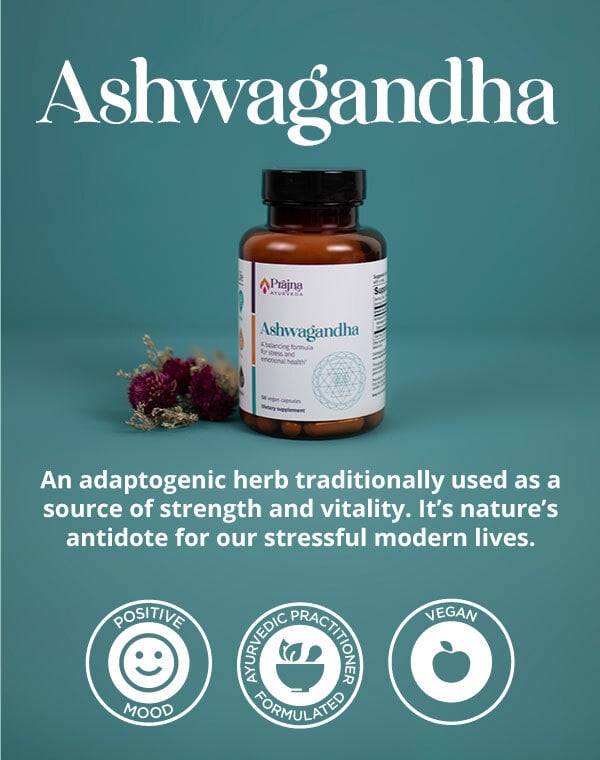 "Stress covers us like dust on furniture so we can't appreciate how truly radiant
and beautiful we are. It colors our mind and judgement and saps our energy.
Ashwagandha dusts us off and wakes us up to uncover who we really are."




Ashwagandha (Withania somnifera), also known as Indian Winter Cherry or Indian Ginseng, is an adaptogenic herb renowned for its ability to help the body adapt and respond to the effects of stress.
This universally beneficial herb helps strengthen a stressed-out nervous system and reduce levels of cortisol—the body's primary stress hormone.
Based on preliminary research ashwagandha's stress-relieving effects may be due to its ability to support the hypothalamic-pituitary-adrenal (HPA) axis, which is three glands in the body that play large roles in managing stress. As a result, our bodies can more easily counteract feelings of anxiousness, agitation, and stress, reduce unwanted stress-related cravings, and also minimize symptoms of perimenopause and menopause.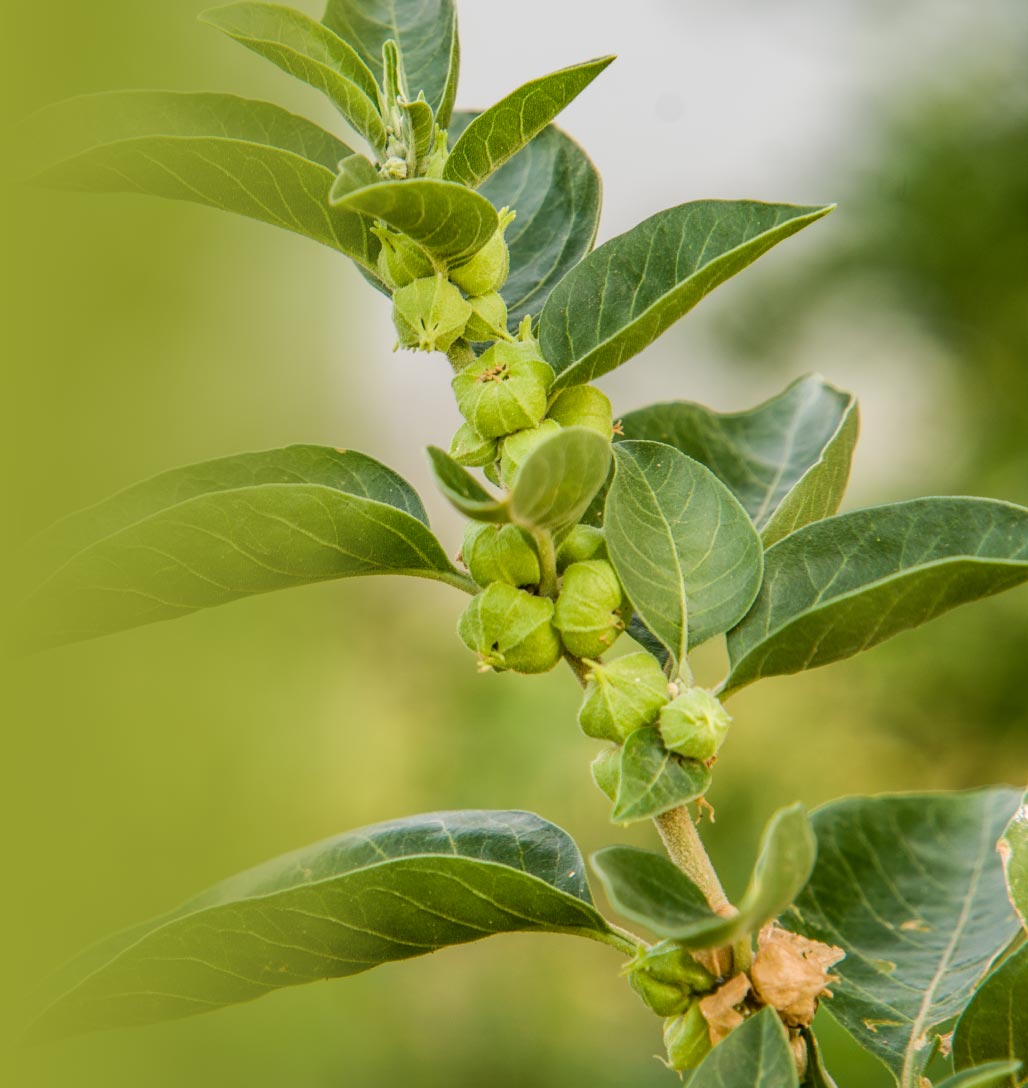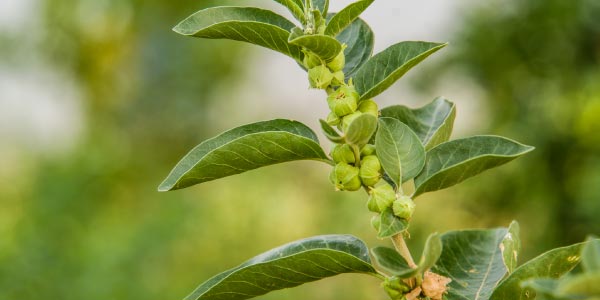 Prajna™ Ashwagandha honors both traditional Ayurvedic practices and modern-day science, blending carefully screened, traditionally used whole root powder with clinically validated and award-winning KSM-66 ashwagandha root extract.
This blend of the traditionally used root powder with an extract standardized to key active components of the herb, helps to enhance the mind-body benefits of the plant as a whole.
The daily amount of the standardized ashwagandha extract used in Prajna Ashwagandha is equivalent to 6.4 grams of ashwagandha whole root powder, which eliminates the need to consume mountains of powder or swallow a bunch of pills to reach the same level of actives we've captured for you in this blend. Just 2 easy-to-swallow vegan capsules provide the full doctor recommended dosage.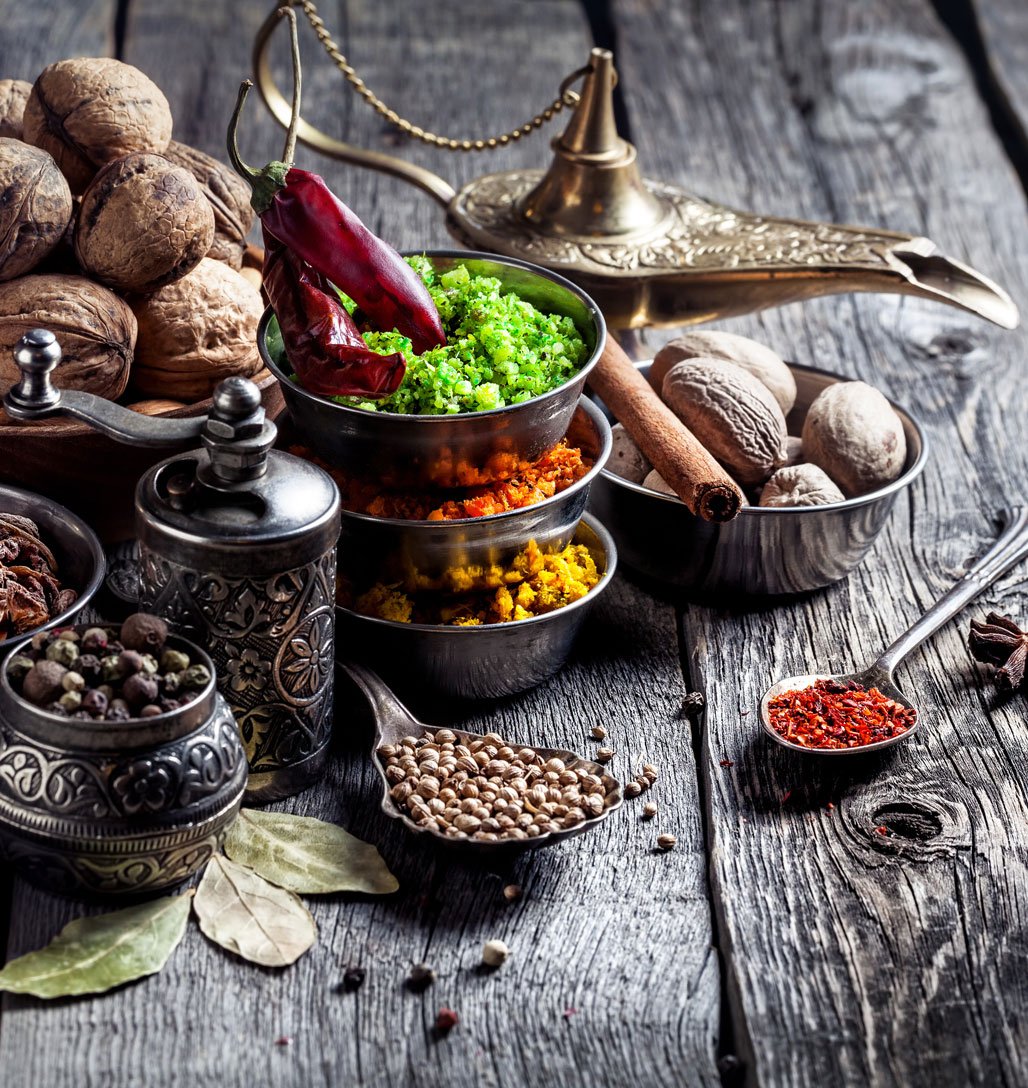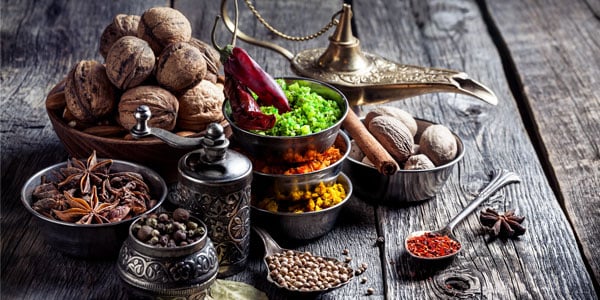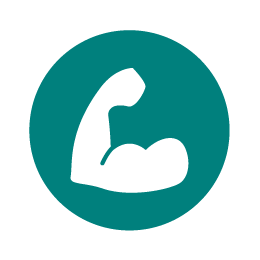 Combats the
effects of stress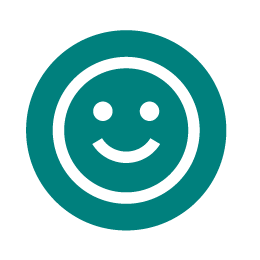 Improves feelings of happiness and lifts your mood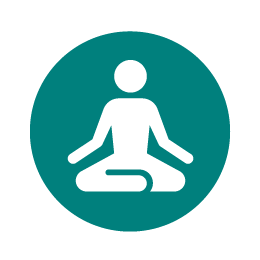 Calms the mind and strengthens the body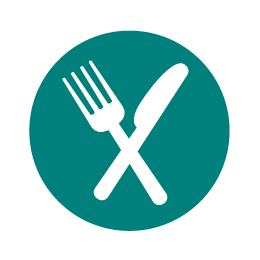 Helps aid weight management efforts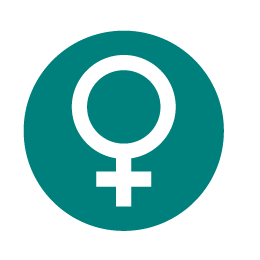 Supports hormonal balance and relieves hot flashes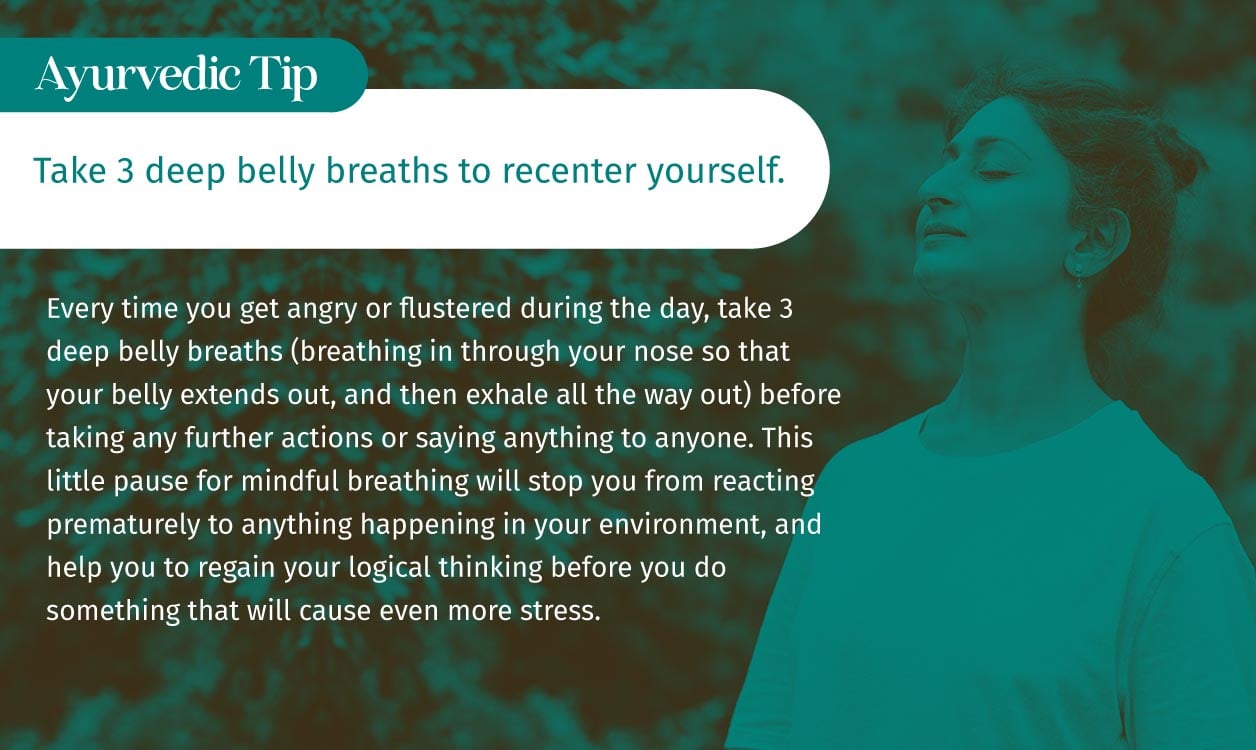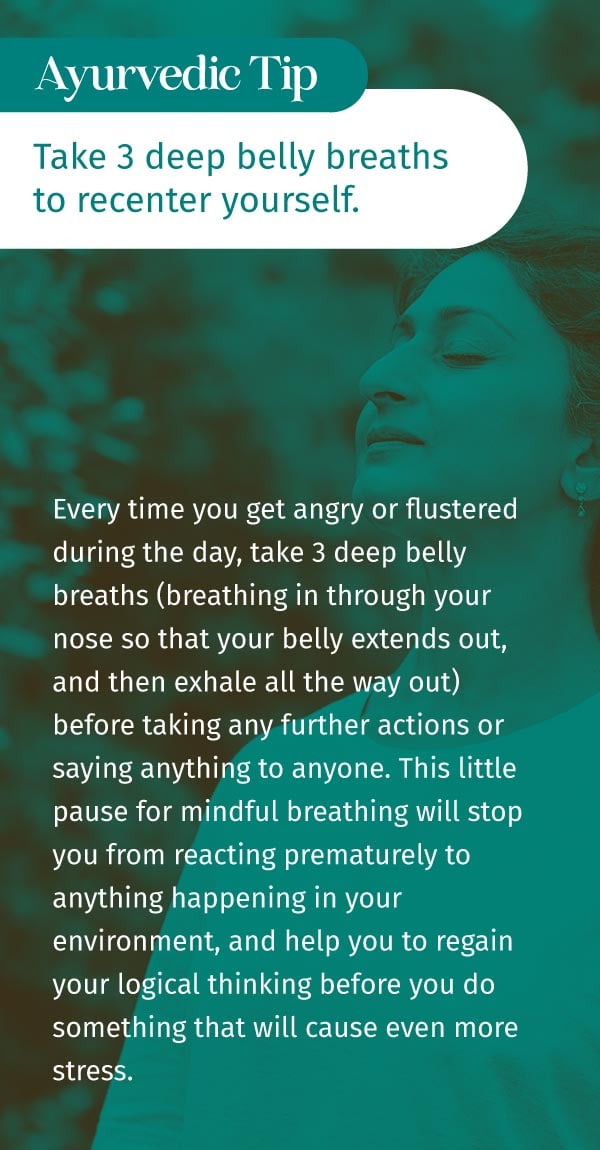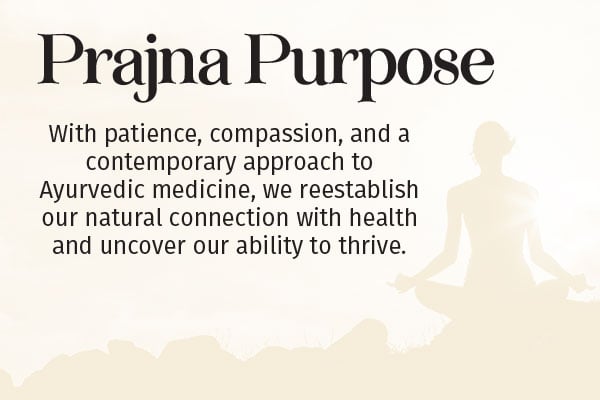 Prajna Ayurveda provides everything you need to be successful and thrive in a way that fits your lifestyle and health needs, and meets you exactly where you are. You'll feel balanced and full of life, energy, and pure joy!
Prajna Ayurveda provides everything you need to be successful and thrive in a way that fits your lifestyle and health needs, and meets you exactly where you are. You'll feel balanced and full of life, energy, and pure joy!

Ongoing
Support
You'll receive guidance, education, and easy-to-embrace recommendations from Dr. Chaudhary.

Dosha Balancing
Guidance
Learn how to harmonize YOUR unique mind-body type for a healthy and happy life.

Access to the Prajna
Ayurveda Community
We'll connect socially to support and encourage each other, and have a safe space to learn and grow.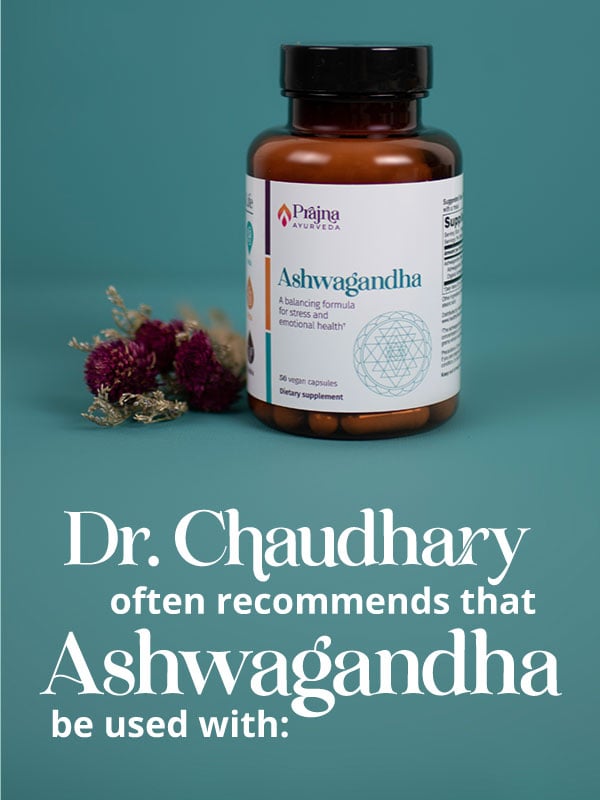 Ingredients and Dosage
Suggested Use: Take 1 vegan capsule twice daily with a meal.
Serving Size: 1 Vegan Capsule
Servings Per Container: 56
Ingredient
Amount Per Serving
% DV
Ashwagandha Blend
Ashwagandha Extract‡ (root)(KSM-66®),
Organic Ashwagandha Powder (root)

500 mg
*
‡ The ashwagandha dry extract has a minimum concentration of 10:1 for a total daily equivalence of 6.4 grams whole root powder.
Other ingredients: Hypromellose, cellulose, silica, vegetable stearic acid
Precautions: Consult a health care practitioner before use if you are pregnant or nursing, have a serious medical condition, or use any medications. To preserve quality and freshness, store bottle with cap tightly closed in a cool, dry place.
Keep out of reach of children.

Gluten Free

Soy Free

Dairy Free
KSM-66® is a registered trademark of Ixoreal Biomed Inc.
Science and Quality
Prajna Ayurveda Ashwagandha was created to deliver the precise dosages recommended by Neurologist and Ayurvedic Practitioner Dr. Kulreet Chaudhary to her patients and the participants of her Prime Method Program.
Prajna Ashwagandha honors traditional Ayurvedic practices by using whole root powder and combining it with clinically validated and award-winning KSM-66, a standardized extract from the root to create a modern Ayurvedic blend that helps the body adapt and respond to the effects of stress.
Prajna Ashwagandha is produced using "Green Chemistry" principles (no alcohol or chemical solvents) using a process that is consistent with that described in traditional Ayurveda texts. The KSM-66 extract is cultivated from whole roots organically grown in Rajasthan, India.
KSM-66 Ashwagandha
At weeks 4 and 8, the KSM group had significantly greater reductions from baseline compared to the placebo group for:

Menopause Rating Scale (MRS) total score, and MRS somatic, psychological, urogenital subscores

KSM's reduction in MRS total score was more than double that of placebo (23.5% vs. 10.9%) at week 8

Menopause-Specific Quality of Life Questionnaire (MENQoL) total score, and vasomotor subscore


Hot flash score (number of events per day)

KSM had an average reduction of 2.1 compared to 0.8 in the placebo group at week 8

At week 8, the KSM group had a significantly greater reduction from baseline compared to the placebo group for:

Follicle Stimulating Hormone (FSH)

At week 8, the KSM group had a significantly greater increase from baseline compared to the placebo group for:
In another double-blind, randomized, placebo-controlled trial, subjects taking KSM-66 saw a significant reduction in levels of cortisol—a primary stress hormone—after 60 days, compared to placebo. Subjects were then given well-recognized psychological questionnaire tests to measure the effect of KSM-66. Test scores showed a significant reduction in stress and a tremendous reduction in anxiousness. 2
In a prospective, double-blind, randomized placebo-controlled trial, 50 healthy athletic adults received either 600 mg daily of KSM-66 or placebo over 12 weeks to evaluate the efficacy of KSM-66 on cardiorespiratory endurance and quality of life. Data was collected at baseline and on days 28, 56, and 84.3 The KSM-66 group showed the following improvements:
Cardiorespiratory endurance (VO2 max measures translated from 20-meter shuttle run): VO2 max as a measurement determines an athlete's ability to take in, transport, and utilize oxygen.
KSM-66 resulted in a significant increase in maximum oxygen consumption (VO2 max) at Day 56 and Day 84 as compared to placebo.
KSM-66 was able to help support cardiorespiratory performance in healthy adults while helping to improve their perception of their quality of life.
In another double-blind, placebo-controlled trial, female participants between the ages of 21-50 were given either a placebo or 600 mg of KSM-66 ashwagandha. After 8 weeks the KSM-66 ashwagandha was seen to improve sexual function and feelings to enhance sexual health.4
KSM-66® ashwagandha has also been clinically validated to provide support for men's health by boosting muscle size, enhancing testosterone levels, and improving muscle recovery. 5 Researchers believe ashwagandha works on oxidative and non-oxidative mechanisms to provide potential support for male sexual health.
Plus, research shows that KSM-66® ashwagandha supports healthy weight management. In a double-blind, randomized, placebo-controlled trial, 50 subjects between the ages of 18-60 with a history of ongoing, chronic stress were administered either a placebo or 600 mg daily of KSM-66® for 8 weeks. In conclusion this study suggests that ashwagandha root extract can be used for body weight management in adults under ongoing stress.6
1Gopal, S., et al. (2021). J Obstet Gynecol Res, 47(12):4414-25.
2Chandrasekhar K, et al. Indian J Psychol. Med 2012;34(3):255–62.
3Choudhary SB, et al. Ixoreal BioMed study.
4Dongre, S. et. al.,2015.
5Wankhede, S., et al., 2015.
6Choudhary, D. et al. 2017.
Product Quality
Ashwagandha whole root powder is organic and the KSM-66 Ashwagandha is Self-affirmed Generally Recognized as Safe (GRAS), Good Manufacturing Process (GMP) compliant, and holds a plethora of certifications including vegetarian, gluten-free, halal, kosher, and non-GMO
Manufactured to exacting standards using highest quality raw materials
Produced in accordance with our strict Standard Operating Procedures (SOPs) that meet those set by the FDA's Good Manufacturing Practices
Every batch tested to verify purity and potency specifications are met
Quality assured with our Triple-Testing Philosophy™
Backed by our 100% satisfaction guarantee
FAQs
What is Ayurveda? Ayurveda is the traditional medical system of India and one of the oldest surviving healing systems in the world (at least 5,000 years old). "Ayu" means life and "veda" means knowledge, so Ayurveda is the knowledge of life. It's based on the philosophy that good health depends on the balance between the mind, body, and spirit. Ayurveda deepens your connection to who you are and aligns you with the natural world. The practice of Ayurveda is a journey towards greater self-awareness and balance so you're able to make healthier decisions about your life.
What is a dosha and how do I know what mine is? The doshas—Vata, Pitta, and Kapha—are the foundation of Ayurveda. They're the energies that govern our mind and body. Think of them as your own personal blueprint, a map to yourself. We're all made up of a combination of these three energies and by knowing your dosha, you take the guess work out of what diet and lifestyle changes to make to achieve desired health and life goals. To learn more about doshas, and which dosha type you are, you can read Dr. Chaudhary's article "What is Your Dosha?"
What are Adaptogens? Adaptogens are certain herbs or mushrooms thought to have health benefits that can help how our body and mind manages fatigue, stress, and feelings of anxiousness. They are used in Ayurveda to help balance and strengthen the body and mind.
Where are the ingredients sourced? We take great care in sourcing all of our ingredients so that they meet our stringent quality, safety and purity standards. Our Prajna Ayurveda traditional use whole powders are sourced from responsible growers in India and are organically grown without any pesticides or chemical fertilizers.
When will I begin to see results? The beauty of the Prajna Ayurveda herbs is that you will know when they begin working. With regular use, most people should notice an improvement and noticeable benefits over time. Dr. Chaudhary suggests that you give any new regimen, including dietary and lifestyle changes, at least 90 days to work effectively on your body and mind to achieve a healthy balance.
Can I use more than one herbal product at once? Yes, you can. In general, herbs work very well together. The Prime Collection herbs in particular were personally selected by Dr. Chaudhary to be a part of her Prime Method program and specifically selected for their balancing effects on the body and mind to help achieve the desired health goals.
Do your products use the whole Ayurvedic herb or standardized extracts, and what is the difference? It was important to us that we honor the traditional practice of Ayurveda and include the herb in whole powder form in all of our products, as this is the composition in which they exist in nature. Science has also made it possible to isolate active components to create herbal extracts that are standardized to a specific level based on the amount shown to be effective in research. KSM-66 Ashwagandha extract is standardized to the level of 5% withanolides, as used in their research. By combining the traditionally used whole powders with standardized extract, we can ensure quality and potency so that you get all of the intended health benefits of the herb, without taking a lot of pills.
How should I store my product? All products are shelf-stable and should be stored in a cool and dry environment without any exposure to direct sunlight. You can store your products on your kitchen counter or wherever is convenient for your daily use.
What is the best time of day to take the product? All products are designed for gentle daily use, and with the exception of Triphala which is best to take 30 minutes before bed, can be taken morning and/or evening with a meal.
How do you ensure product safety? Healthy Directions adheres to stringent quality standards and a unique Triple-Testing Philosophy™ that meets all industry Good Manufacturing Practice (GMP) and FDA requirements to deliver safe, superior products every time.
Have a question that you don't see answered here? Please contact us at [email protected]
Product reviews and ratings are provided for informational purposes only and reflect solely the views and opinions expressed by the individual contributors and not those of Healthy Directions LLC. Healthy Directions LLC neither verifies nor endorses any claims made in these reviews and ratings.