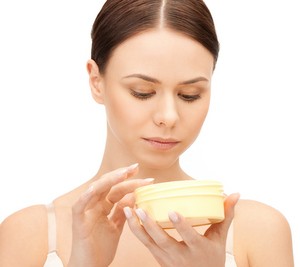 Your skin's youthful appearance relies heavily on hydration. Maintaining a moisturizing routine helps to protect your skin against dryness, flakiness, and the appearance of lines. Here are some simple skin care tips for getting the maximum benefit from your moisturizer.
Choose the right moisturizer. Not all moisturizers are created equal and finding the right one depends upon numerous factors, including your skin type (dry, normal or oily), your age, your skin's condition, climate, and your level of sensitivity to certain substances.
The right moisturizer provides a protective barrier that holds in your skin's water content without clogging pores, which can lead to acne. Some of today's moisturizers use natural ingredients—vitamin C, squalane, jojoba esters, among others—that work with your skin organically to restore youthfulness.
Moisturize at least twice a day. Make cleansing and moisturizing your face a part of both your morning and evening skin care routines for the best benefits. And if you can, moisturize even more often—especially under the eyes.
Use the proper amount. A moisturizer that is appropriately formulated for your skin will require an amount about the size of a nickel. Too much moisturizer can contribute to clogged pores and blemishes, while too little can leave skin dry and flaky. If you find yourself using more or less than a nickel size to get results, consider a different product.
Apply within minutes of washing your face. Remember that moisturizer protects against water loss. Adding this protective layer while your skin is still damp maximizes your skin's moisture level.
Take care during application. Use gentle upward strokes and even pressure to apply your moisturizer. Excess rubbing offers no benefits, and, in fact, can irritate skin and break down collagen, leading to wrinkles.