Item #SHP02
Dr. David Williams
Super Healthy Prostate+
New Formula promotes a healthy prostate and reduces bathroom visits, PLUS new KSM-66 Ashwagandha helps with sleep, stress, and sexual performance.
What You Get With REFILL & SAVE
Ongoing Savings + FREE Shipping
Exclusive Offers + Free Samples
Flexibility — Update or Cancel Anytime
Additional Product Details
Comprehensive Prostate Wellness Support
+ mood, stress, sleep, sexual performance, muscle size & testosterone levels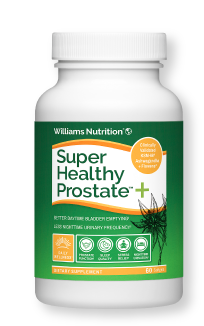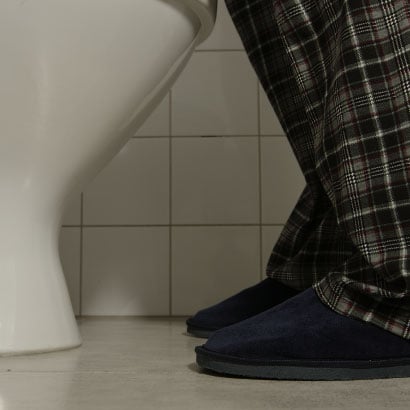 Cut down on annoying bathroom visits
Super Healthy Prostate+ includes clinically validated ingredients to improve the overall wellness of the bladder, promote normal prostate function, lessen urinary discomfort, and reduce frequent trips to the bathroom—all without the negative impacts on sexual function associated with other products taken for prostate issues.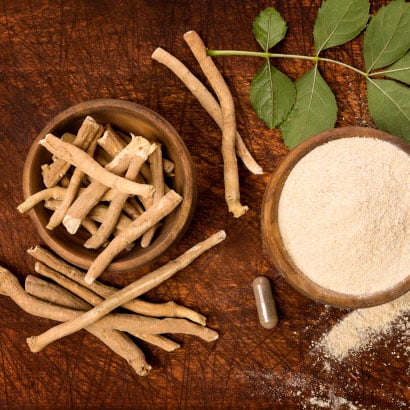 Ashwagandha for sexual wellness benefits + more
KSM-66 Ashwagandha helps the body regain optimal balance by enhancing sleep quality, boosting stamina, and supporting men's sexual wellness, all while improving the body's resistance to stress and occasional anxiousness. Further, KSM-66, along with resistance training, helps with boosting muscle size, enhancing testosterone levels, and improving muscle recovery from exercise.
We chose superior quality, award-winning KSM-66 because it's a full-spectrum extract, with the highest concentration among all major root-only extracts available on the market today. KSM-66 uses only the roots of the ashwagandha plant with absolutely no addition of leaves. Both in independent clinical trials and in thousands of years of traditional use, the root is the part of the plant that is used predominantly for adaptogenic benefits. It also has an extensive set of positive research studies and clinical trials to its name.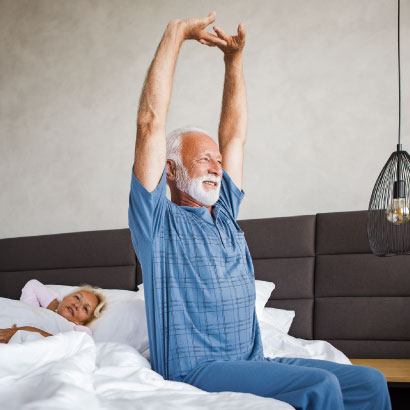 Comprehensive support for men's well-being
Super Healthy Prostate+—which also features clinically validated saw palmetto, Phytopin beta-sitosterol, nettle root, and Flowens cranberry extract—works day and night to support:
Prostate and bladder function
Normal urinary function and flow
More bladder emptying
Reduction in trips to the bathroom
High level performance in the bedroom
Resistance against stress and occasional anxiousness
Improvement in muscle recovery and resistance to muscle damage from exercise
Stamina, enhanced physical performance and exercise endurance
Improvement in overall well-being
Longtime innovator Dr. David Williams does it again
Super Healthy Prostate+ is formulated by the Williams Nutrition team, building off Dr. David Williams' vast experience as a medical researcher, biochemist, chiropractor, and leading authority on natural wellness.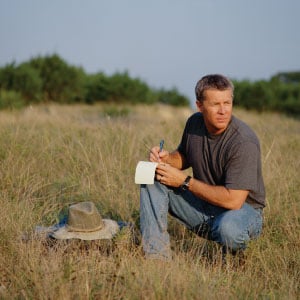 Flowens Cranberry Powder for improved urinary flow and volume
Flowens Cranberry Powder is a unique blend of the whole fruit, including the skin, flesh, juice, and seeds. In one double-blind, placebo-controlled study, participants taking 500 mg Flowens Cranberry Powder (the dosage in Super Healthy Prostate+) for six months showed a significant reduction in the amount of urine left in the bladder, also known as PRV (postvoid residual volume) compared to placebo. At the same time, urinary flow rates increased.*
*Vidlar A, et al. World J Urol. 2015 Jun 7.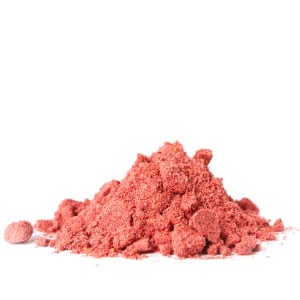 Ingredients and Dosage
Doctor's Suggested Use: Take 2 softgels daily with a meal.
Serving Size: 2 Softgels
Servings Per Container: 30
Ingredient
Amount Per Serving
% DV
Calories
5
Total Fat
0.5 g
1% ‡
Ashwagandha Extract (root)(KSM-66 ®)
675 mg
*
Full-Spectrum Cranberry Powder (fruit)(Flowens ®)
500 mg
*
Saw Palmetto Extract (fruit) (85–95% fatty acids)
320 mg
*
Nettle Extract (root)
240 mg
*
Pine Phytosterols (trunk)(70% ß-sitosterol)(Phytopin ®)
86 mg
*
‡ Percent Daily Values are based on a 2,000 calorie diet.
* Daily Value (DV) not established
Other ingredients: Sunflower oil, gelatin, glycerin, sunflower lecithin, purified water, maltodextrin, yellow beeswax, annatto (color) suspension in sunflower oil, silica
Precautions: Not intended for use by women. Consult a health care practitioner before use if you have a serious medical condition or use any medications.
Keep out of reach of children.
KSM-66 ® is a registered trademark of Ixoreal Biomed, Inc.
Flowens ® is a registered trademark of Naturex, Inc.
Phytopin ® is a registered trademark of DRT and is licensed to DolCas Biotech, LLC.
A Closer Look at Ashwagandha
Ashwagandha, or Withania somnifera, is commonly known as "Indian Winter cherry" or "Indian Ginseng." Ashwagandha is widely utilized in Ayurvedic medicine in India, and is deemed an "adaptogen," an herb that protects the body from stress and helps the body address the effects of stress. Ashwagandha is widespread in many geographical locations including India, Pakistan, Morocco, Spain, and South Africa.
KSM-66 ®, the ashwagandha used in Super Healthy Prostate™+, has been clinically validated to provide support for men's health by boosting muscle size, enhancing testosterone levels, and improving muscle recovery. It works on oxidative and non-oxidative mechanisms to provide support for male sexual health. It works oxidatively by providing healthy antioxidant support and it may also work on the hypothalamic pituitary adrenal and hypothalamic pituitary gonadal axis, which supports healthy cortisol.1
1Sengupta P, et al. Reprod Biomed Online. 2018 Mar;36(3):311–26.
Product reviews and ratings are provided for informational purposes only and reflect solely the views and opinions expressed by the individual contributors and not those of Healthy Directions LLC. Healthy Directions LLC neither verifies nor endorses any claims made in these reviews and ratings.