Item #TDR01
Dramatic Rescue Anti-Aging Wrinkle Serum
Your fast-acting solution for age-related skin emergencies.
What You Get With REFILL & SAVE
Ongoing Savings + FREE Shipping
Exclusive Offers + Free Samples
Flexibility — Update or Cancel Anytime
Additional Product Details
Powered by plant-based squalane
Advanced anti-wrinkle serum delivers deep hydration and firms skin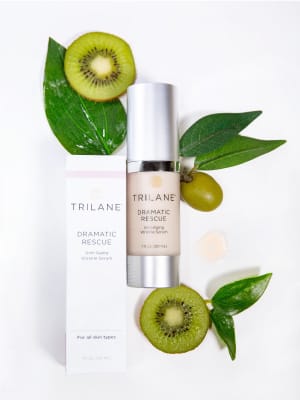 Trilane Dramatic Rescue Anti-Aging Wrinkle Serum is an advanced treatment serum that addresses the top signs of aging on your face such as fine lines, wrinkles, and dryness. Wrinkle-busting peptides instantly penetrate deeply into the skin while clinically researched nutrients including sustainable olive squalane nourish and protect, leaving your skin feeling smooth and soft.
Firms and lifts the appearance of the eye area and forehead
Improves the appearance of skin
Increases skin hydration for a softer, dewier complexion
Reduces the appearance of fine lines and deep wrinkles
Gentle, safe, and certified Leaping Bunny cruelty-free
Made without parabens, sulfates, leads, and synthetic fragrances which are known hormone disruptors and carcinogens
Good for all skin types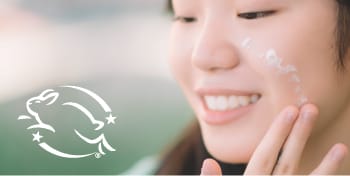 This lightweight serum is safe and gentle and absorbs quickly, leaving your skin feeling firmer and smoother. It is designed to be used under your moisturizer to nourish and protect your skin. Plus, it's certified Leaping Bunny cruelty-free.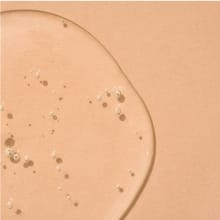 Peptides
Studies show that Tripeptide-38 smooths and reduces the appearance of deep wrinkles for noticeably younger-looking skin. Dipeptide-5 helps improve skin tone so your face looks smoother, firmer, and more toned.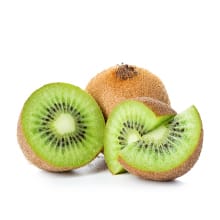 Nourishing Botanicals
Powerful vitamins, antioxidants, and plant extracts, including kiwi extract, kudzu, astaxanthin, biotin, lutein, olive fruit extract, and tocopherols, nourish, protect, revitalize, and de-stress skin.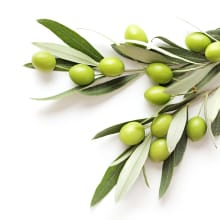 Sustainable Squalane
This 100% plant-based and sustainable squalane from olives is easily absorbed to help protect your skin and seal in moisture without a greasy feel.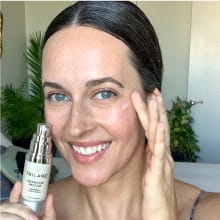 Hyaluronic Acid
Immediately goes deep into the skin's layers to lock in moisture, restore skin elasticity, and increase and boost hydration for softer, more youthful-looking skin.
The Beauty of Trilane
Every product is cruelty-free, scientifically formulated, and made without harmful ingredients like parabens and sulfates. The signature ingredient, 100% plant-based and sustainable squalane from olives, has the remarkable ability to hydrate and moisturize skin.
(See our Science and Quality section below to learn more about our Gentle, Safe, Effective Beauty Promise)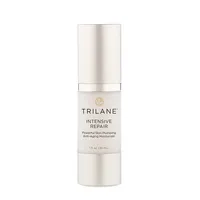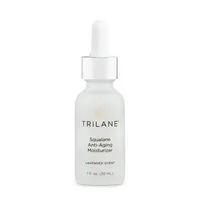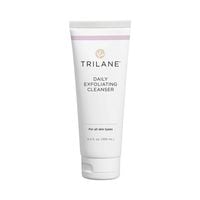 Address fine lines, deep wrinkles, and redness
Instantly hydrate for younger-looking skin
Moisturize and smooth rough spots
Cleanse and gently exfoliate
Instantly absorbs to moisturize, smooth, and even skin tone
Complete Your Beauty Regimen
Powerful peptides and super antioxidants tackle deep wrinkles and help reduce redness while squalane delivers deep moisture.
Unique form of hyaluronic acid goes deep into the skin's layers to lock in moisture and boost hydration.
Two extraordinary botanicals—hydrating olive squalane and firming jojoba esters—penetrate instantly and deeply to super-hydrate and soften your skin.
Mild sulfate-free cleanser gently removes makeup, dirt, and other impurities, while natural jojoba beads gently exfoliate and unclog pores.
Combination of retinol, bakuchiol, vitamin C, olive squalane, and macadamia esters leave your skin smoother and more even for a radiant, youthful glow.
Ingredients and Dosage
Directions: To boost absorption, smooth a pea-sized amount onto damp, just-washed skin day and night. Follow it up with your favorite moisturizer and SPF during the day.
Content Measure: 1 fl. oz./30 mL
Ingredient
Purified Water (Aqua)
Propanediol
Glycerin
Squalane
Isosorbide Dicaprylate
Hydrolyzed Rice Protein
Polymethylsilsesquioxane
Methyl Gluceth-20
Butyrospermum Parkii (Shea Butter)
Lactobacillus/Arundinaria Gigantea Ferment Filtrate
Olea Europaea(Olive) Oil Unsaponifiables
Actinidia Chinensis (Kiwi) Fruit Extract
Hydrolyzed Rice Protein
Pueraria Lobata Root Extract
Hydroxypropyl Cyclodextrin
Palmitoyl Tripeptide-38
Tetradecyl Aminobutyroylvalylaminobutyric Urea Trifluoroacetate
Palmitoyl Tripeptide-5
Palmitoyl Dipeptide-5 Diaminobutyroyl Hydroxythreonine
Hyaluronic Acid
Hydrogenated Lecithin
Ubiquinone
Tocopheryl Acetate
Astaxanthin
Carthamus Tincthorious (Safflower) Seed Oil
Xanthophyll
Tocopherol
Biotin
Cholesterol
Xanthan Gum
Acrylates/C10-30Alkyl Acrylate Crosspolymer
Carbomer
Disodium EDTA
Sodium Hydroxide
Sodium Hyaluronate
Ethylhexylglycerin
Benzyl Alcohol
WARNING: For external use only. Avoid contact with eyes or broken skin. If contact occurs, rinse with water to remove. Discontinue use if irritation occurs.
Keep out of reach of children.
Store in a cool, dry place.
Science and Quality
Trilane
Gentle · Safe · Effective
Beauty Promise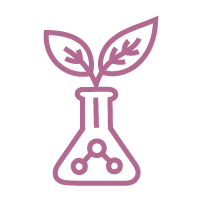 OUR FORMULAS
Features olive- and sugar-based squalane
Trilane Beauty was established in 2004 and was one of the first skincare lines to feature olive- and sugar-based squalane in their skincare formulas. This exceptional plant-derived and sustainable squalane is easily absorbable and renowned for its ability to help protect and hydrate and seal in moisture without a greasy feel. Trilane Beauty products include additional replenishing and restorative ingredients that are shown to be beneficial to the appearance and beauty of the skin and the diverse range of formulas are crafted to enhance the skin's health and well-being.
OUR INGREDIENTS
Clinically validated key ingredients
Gentle, safe, clinically validated key ingredients and plant-derived botanical actives to support the skin's overall health and beauty and deliver visible results are selected by our team of scientists and formulators and used to create our one-of-a-kind skincare formulas.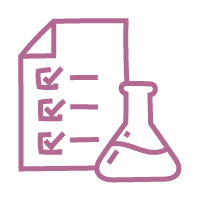 OUR QUALITY AND SAFETY
Made without harmful chemicals including known hormone disruptors
Many skincare products in the US use harmful ingredients that are banned in Europe and other countries. Every product in the Trilane Beauty line is certified Leaping Bunny cruelty-free and made without known harsh chemicals including hormone disruptors and carcinogens such as parabens, glycols, synthetic colors, and synthetic fragrances. This is what you WON'T find in any of our products:
Synthetic colors
Synthetic fragrances
Parabens
Glycol
Silicone
Petrochemicals
Phthalates
Formaldehyde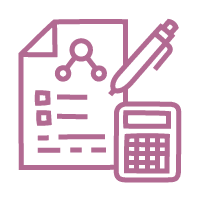 OUR SCIENCE AND RESEARCH
Safe, effective, and scientifically formulated
Our in-house team of scientists review and evaluate each ingredient that goes into our Trilane Beauty formulas to ensure that what you put on your body is gentle and safe on your skin and achieves the desired effect.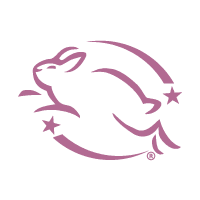 OUR COMMITMENT TO ANIMAL SAFETY
Certified Leaping Bunny Cruelty-Free
Each product in the Trilane Beauty line is Certified Leaping Bunny Cruelty-Free. This certification provides assurance that none of our products are tested on animals, nor are any of the ingredients in the products tested on animals at any stage of development. Plus, we are committed to being open to independent audits to ensure we are adhering to the Leaping Bunny Standard and have agreed to renew our commitment to the Leaping Bunny Program annually.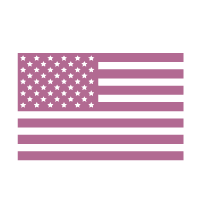 OUR PROUD US PARTNERSHIPS
USA-based, FDA-inspected, cGMP-compliant skin care partners
We work with leading USA-based, FDA-inspected, cGMP-compliant skincare manufacturers to produce our products using the highest quality raw materials from around the world. Trilane Beauty products are produced in accordance with our strict Standard Operating Procedures (SOPs) that meet those set by the FDAs Good Manufacturing Practices.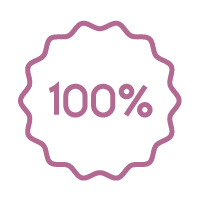 OUR SATISFACTION GUARANTEE
Trusted quality with 100% money back guarantee
We stand behind our thirty-year track record for the safety, efficacy, and quality of our products with a 100% 90-day money back guarantee—no questions asked!
Product reviews and ratings are provided for informational purposes only and reflect solely the views and opinions expressed by the individual contributors and not those of Healthy Directions LLC. Healthy Directions LLC neither verifies nor endorses any claims made in these reviews and ratings.