Item #LSP01
Dr. Drew Sinatra
Sleep Tight
The clear, easy way to sleep tight, night after night…with no morning grogginess
What You Get With REFILL & SAVE
Ongoing Savings + FREE Shipping
Exclusive Offers + Free Samples
Flexibility — Update or Cancel Anytime
Additional Product Details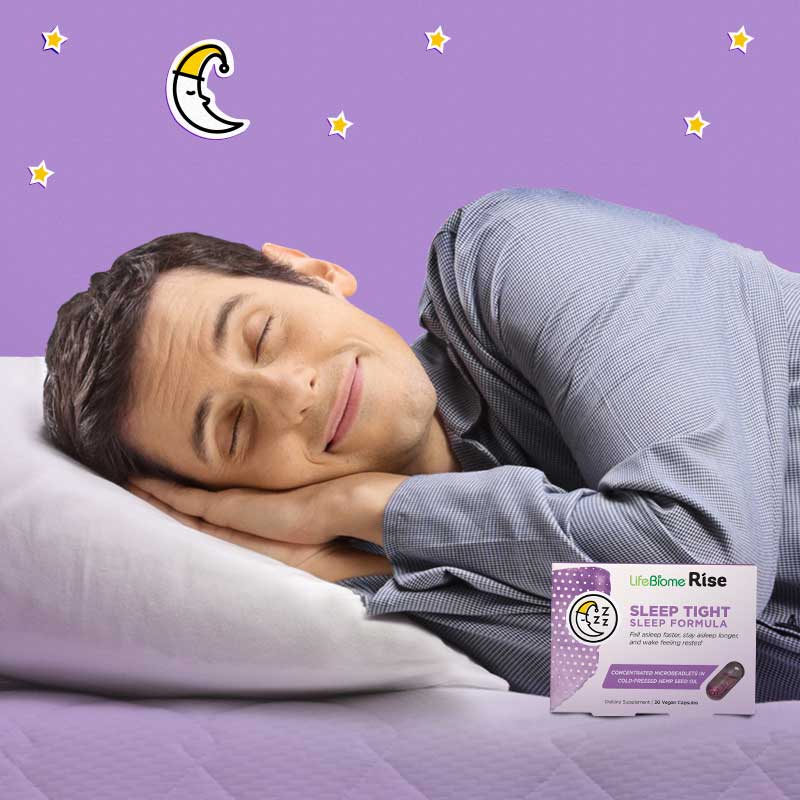 Fall asleep faster and stay asleep longer
Immediate AND extended-release doses of melatonin for deep, dreamy sleep
Relax your body and mind with gamma-aminobutyric acid (GABA)
Wake up refreshed—no grogginess! Plus, it's non-habit-forming!
Backed by a husband-and-wife team of practicing naturopathic doctors
Nothing to hide…and lots to give!
We've squeezed a great night's sleep into one vibrant, eye-catching capsule! Thanks to revolutionary VidaSpheres ® Microbeadlet (VSM) technology, LifeBiome® Rise SLEEP TIGHT packs a ton of benefits into just one tiny capsule per day.
Colorful, concentrated microbeadlets
Science-based doses
Base of clear, cold-pressed hemp seed oil
Vegan, non-GMO, allergen-friendly
No synthetic dyes or artificial preservatives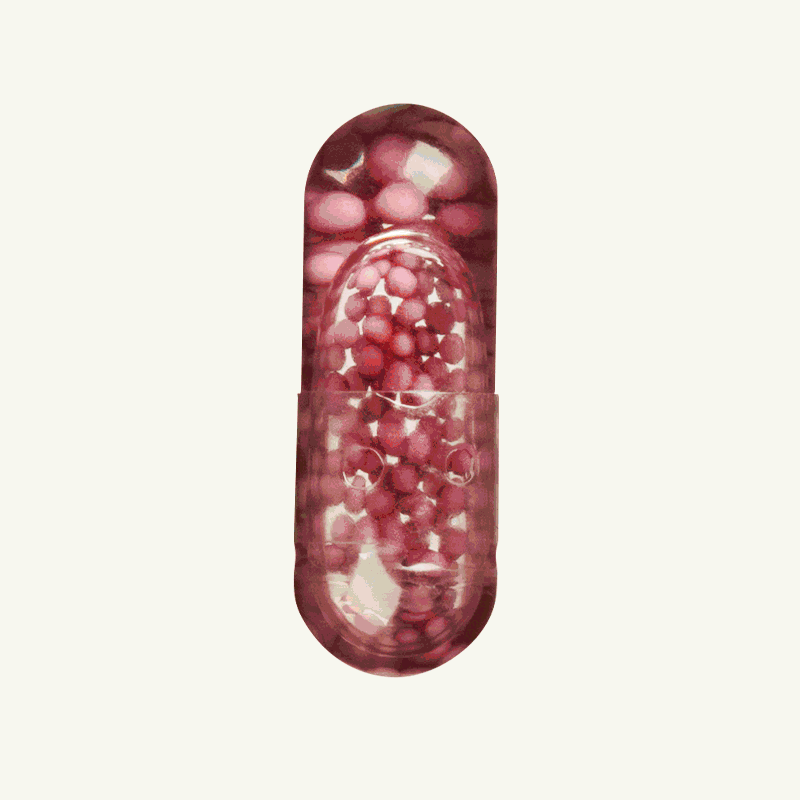 Simple ingredients help turn off the day and turn on a deep sleep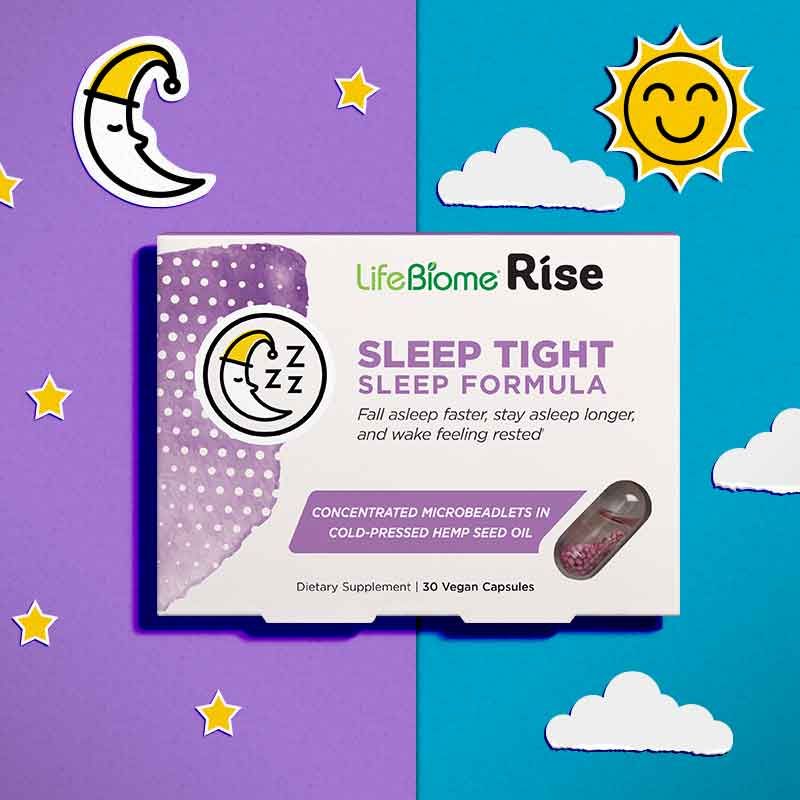 Timed-Release Melatonin
Who has time to stare at the ceiling? That's why you get 0.75 mg of immediate-release melatonin to help you fall asleep. Then, while the zzzs are running deep, another 1.25 mg of extended-release melatonin gets to work to help KEEP you asleep. It works right away and is non-habit-forming, something other popular sleep products can't always promise. All without grogginess the next day. Why is our melatonin dose lower than others? It's all about the science. (Our FAQs can explain).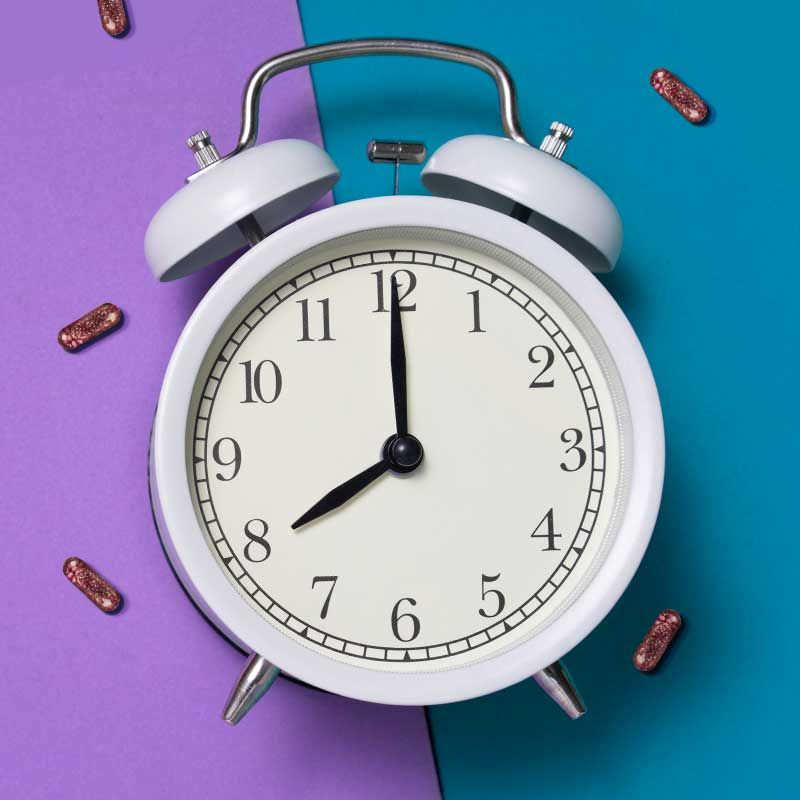 Gamma-aminobutyric Acid (GABA)
A great night's sleep starts with a relaxed body and mind. Enter 100 mg of gamma-aminobutyric acid (GABA—thank goodness for acronyms!). This important inhibitory neurotransmitter helps you shake off the stress of the day as you try to fall asleep, plus it helps reduce cortisol, a marker of stress. You'll feel more calm and relaxed, in both body and mind.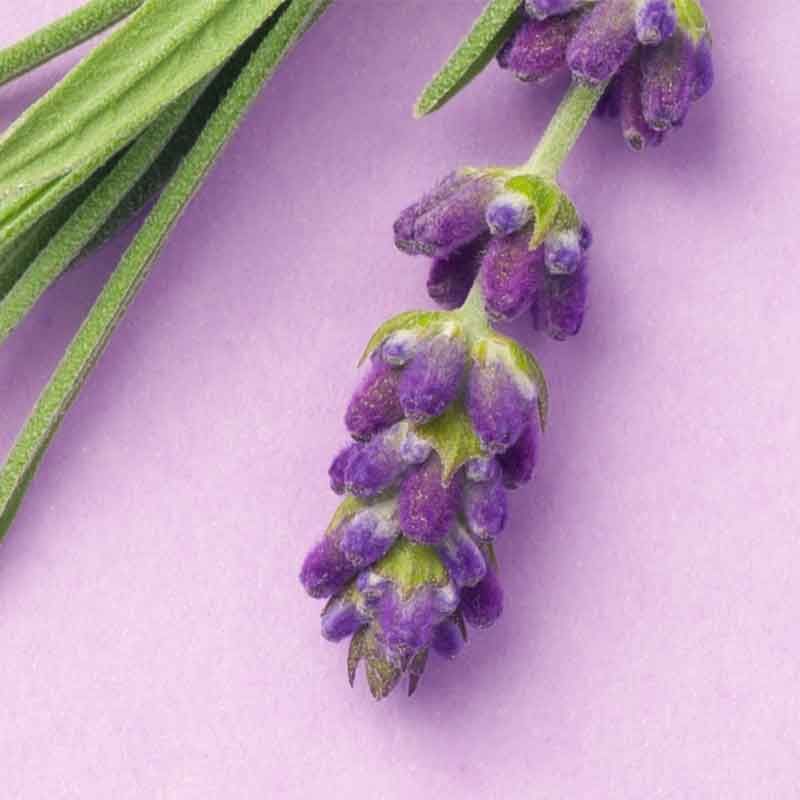 Lavender and Natural Hemp Seed Oils
From ancient times until today, lavender wins "most popular!" when it comes to essential oils, known for its calming and relaxing qualities. We've included it in our "Nightly Relaxation Blend" as a soothing balm for your mind. Plus the natural, cold-pressed hemp seed oil base is full of plant-based fatty acids from the hemp seed itself; no THC or funny stuff here! (Our FAQ section can explain.)
Real, clear, easy results…for your on-the-go lifestyle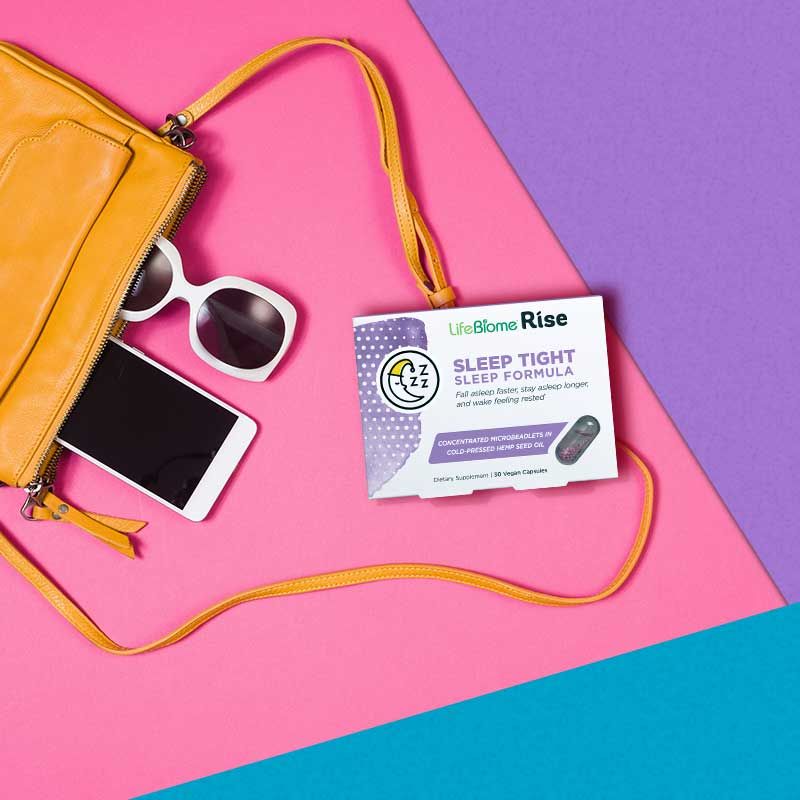 No unnecessary fillers or common allergens like dairy, gluten, and soy
Simple, effective, non-GMO ingredients you can trust
One simple, daily capsule
Easy packaging so you can take them with you wherever you go (because let's be honest, you're a person on the go!)
Formulated with a husband-wife team of naturopathic doctors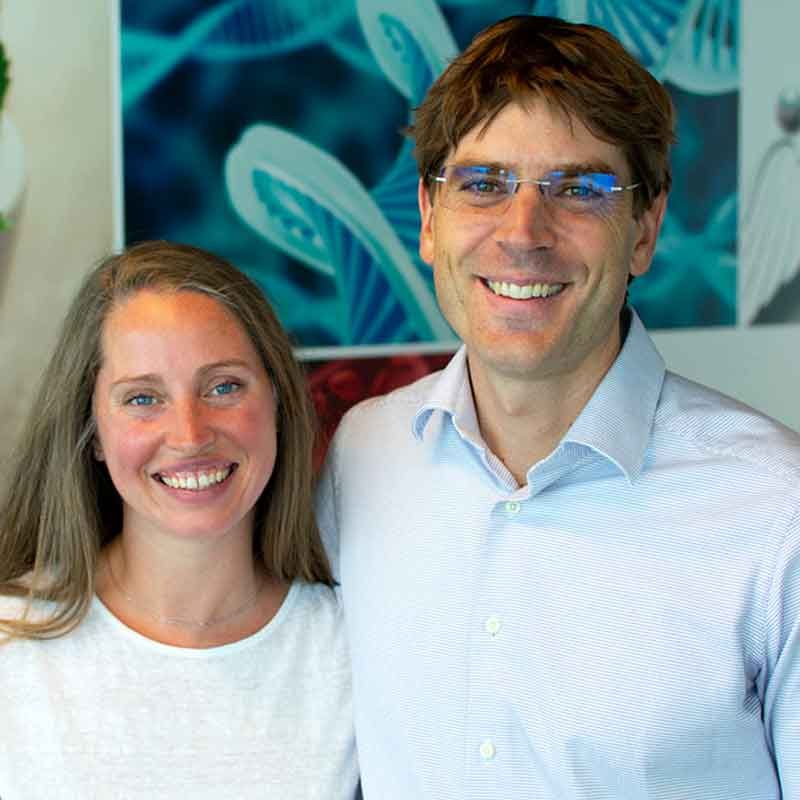 Each formula was developed in collaboration with Drew and Briana Sinatra, a husband-and-wife team of practicing naturopathic doctors and top experts in their field.
As parents of two school-age boys and a young daughter, they know what it's like to live on the go and how important it is to have access to health-conscious, honest, and wholesome formulas that work. In both of their practices, they focus on using the power of nutrition to help their patients find balance and wellness in the midst of stressful, over-scheduled lives. That's why they helped design an extensive line of LifeBiome Rise products that you can easily mix and match to help you sleep, stay calm, fight fatigue, focus, and take care.
Check out the full line of LifeBiome Rise products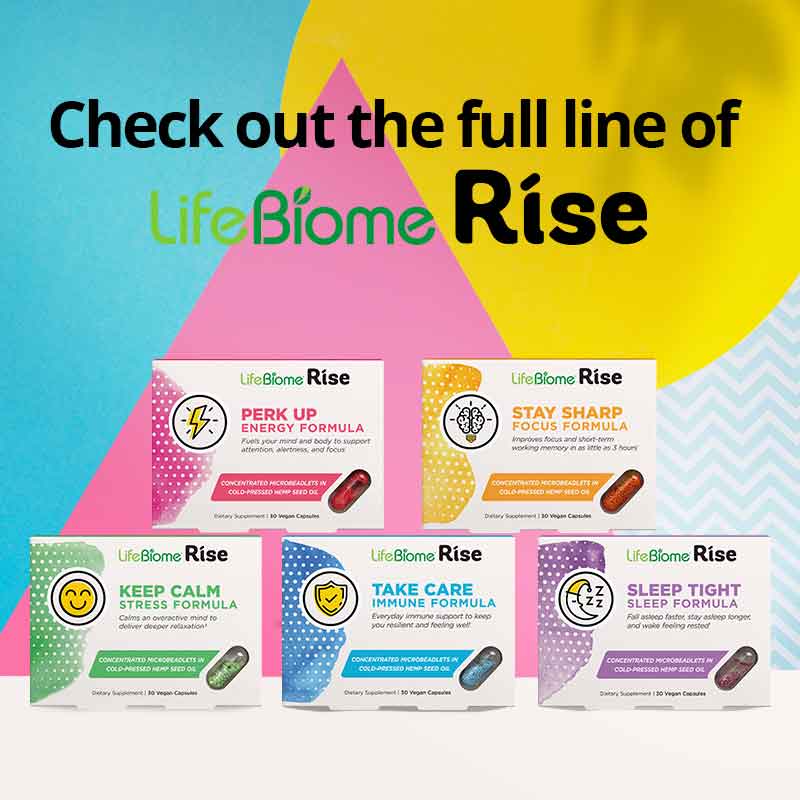 Every purchase of Sleep Tight helps a mother and child in need.
As naturopathic doctors and parents to three young children, no one knows the value of access to vital nutrition more than doctors Drew and Briana Sinatra. That's why for every purchase of Sleep Tight, a donation will be made to Vitamin Angels.
This remarkable organization provides lifesaving vitamins to mothers and children at risk of malnutrition—reducing preventable illness, blindness, and death.
Ingredients and Dosage
Doctor's Suggested Use: Take 1 vegan capsule 60 minutes prior to bed. For added support, take 2 capsules 60 minutes prior to bed.
Serving Size: 1 Vegan Capsule
Servings Per Container: 30
Amount per Serving
% DV
Nightly Relaxation Blend
401.75 mg
*
Hemp Oil (seed)
400 mg
*
Lavender Essential Oil (aerial parts)
1 mg
*
Melatonin
0.75 mg
*
VidaSpheres® Extended Release Slumber Blend
101.25 mg
*
Gamma Aminobutyric Acid (GABA)
100 mg
*
Melatonin
1.25 mg
*
* Daily Value (DV) not established.
Other ingredients: Hypromellose, microcrystalline cellulose, maltodextrin, blueberry powder (color), silica
Precautions: For adult use only at bedtime. Consult a health care practitioner if you are pregnant or nursing, have a serious medical condition, or use any medications. Do not use alcoholic beverages, drive, or operate heavy machinery while taking this product.
Keep out of reach of children.

Dairy Free


Egg Free


Fish Free


Soy Free


Peanut Free


Shellfish Free


Vegan


Gluten Free

Due to the nature of these ingredients, color variation may occur.
VidaSpheres® is licensed exclusively by Nutracode, LLC.
Frequently Asked Questions
Q: Is there THC or CBD in this product?
A: No. Each microbeadlet in this supplement is floating in a clear, natural, cold-pressed hemp seed oil base of plant-based fatty acids. This hemp seed oil comes from the seeds of the cannabis plant and does not contain tetrahydrocannabinol (THC), the psychoactive compound, or CBD, the non-psychoactive compound found in the plants.
Q: Is hemp oil the same as CBD (cannabinoid)?
A: No. Our hemp oil comes from the seeds of the cannabis plant, which do not contain CBD, the non-psychoactive compound found in the plants.
Q: Why is the melatonin dose lower than other products? Is it enough to help me sleep without waking up in the night?
A: Research shows low-dose melatonin does not disturb the body's core temperature while providing support for a healthy sleep cycle. Thanks to the timed-release technology of the individual doses of melatonin—you get just the right amount, at just the right time, so you can fall asleep fast, then get up and go the next morning !
Q: Will this make me groggy in the morning?
A: No. Research indicates taking smaller doses is more effective than those over-the-top doses of melatonin, which can interfere with your body's natural melatonin levels, raising them too high and causing next-day grogginess. And, unlike many products on the market, it's non-habit forming! When you're constantly on the go, you don't have time for groggy!
Q: Can I take more than one capsule each night?
A: Yes. You can take one capsule 60 minutes before bedtime, but it's also safe to take up to 2 capsules, 60 minutes before bedtime for more support.
Q: When should I start noticing results?
A: Sleep Tight works fast! You should notice an improvement the first night you take it. You'll be able to enter a relaxed state and fall asleep faster.
Q: What is the shelf life?
A: 24 months. Sleep Tight should be stored at room temperature and not be refrigerated. The capsules are individually sealed in a slim blister pack that makes them easy to take with you, wherever you go.
Q: Is this product made in the USA?
A: All LifeBiome products are formulated in Maryland, USA, and encapsulated in New York, USA with ingredients from the US and around the world.
Q: What is making the product so colorful. Are there artificial dyes?
A: The beautiful colors in the microbeadlets come from plant-based blueberries. There are no synthetic dyes added to color the microbeadlets, just plant-based color to brighten your days!
Q: Are there allergens in the formula?
A: All LifeBiome Rise products are free of common allergens such as gluten, dairy, soy, fish, shellfish, peanuts, and eggs and they are vegan, non-GMO, and made without artificial preservatives and flavors or synthetic dyes.
Q: Why was hemp seed oil chosen and not another oil?
A: Many manufacturers use a common filler such as soybean oil but all LifeBiome Rise products use a more natural vegan, cold-pressed hemp seed oil base.
Q: Can I take this with other LifeBiome Rise products?
A: Absolutely. In fact, we encourage it! The Rise products were formulated so they can easily be mixed and matched to keep you strong and well in all aspects of life—Take Care to stay well, Stay Sharp to keep your vision and mind sharp as a tack, Sleep Tight to help you wind down and wake feeling rested, Perk Up to help your mind and body fight fatigue, and Keep Calm to help you stay calm and zen-like no matter what the day throws at you.
Product reviews and ratings are provided for informational purposes only and reflect solely the views and opinions expressed by the individual contributors and not those of Healthy Directions LLC. Healthy Directions LLC neither verifies nor endorses any claims made in these reviews and ratings.