Item #LFO01
Dr. Drew Sinatra
Stay Sharp
The clear, easy way to stay sharp with better focus and recall
Additional Product Details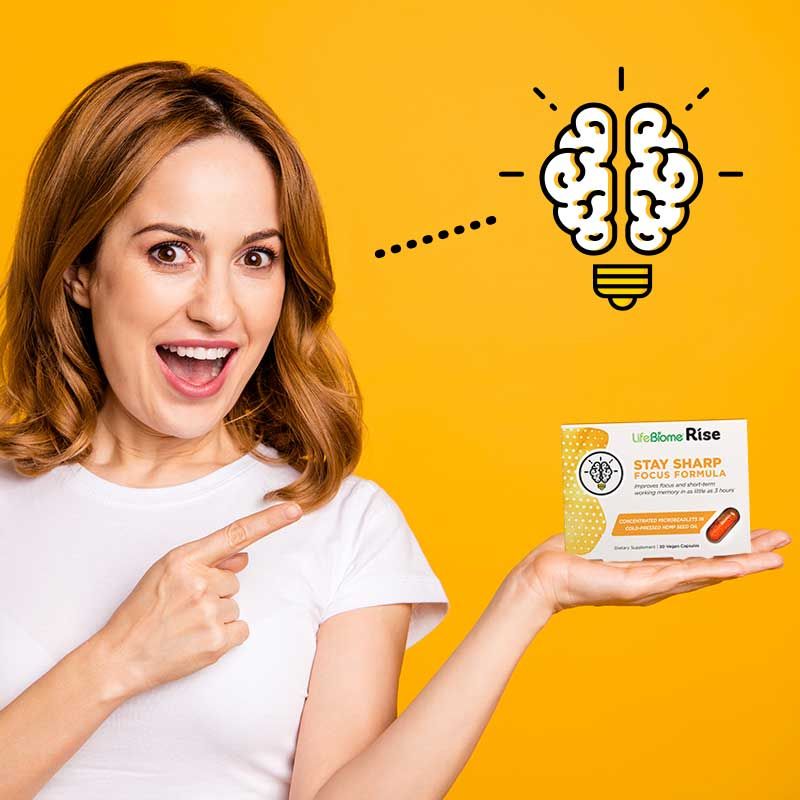 Fast-acting CogniBoost plus caffeine help improve attention, recall, and accuracy in as little as 1 hour!
Fast-acting working memory support in as little as 3 hours!
Bonus benefits! Shields your eyes from eyestrain, eye fatigue, effects of excessive screen time, and blue light exposure
Backed by a husband-and-wife team of practicing naturopathic doctors
Nothing to hide…and lots to give!
We've squeezed plenty of cognitive goodness into one vibrant, eye-catching capsule! Thanks to revolutionary VidaSpheres® Microbeadlet (VSM) technology, LifeBiome® Rise STAY SHARP packs a ton of benefits into just one tiny capsule per day.
Colorful, concentrated microbeadlets
Clinically validated, science-based doses
Base of clear, cold-pressed hemp seed oil
Vegan, non-GMO, allergen-friendly
No synthetic dyes or artificial preservatives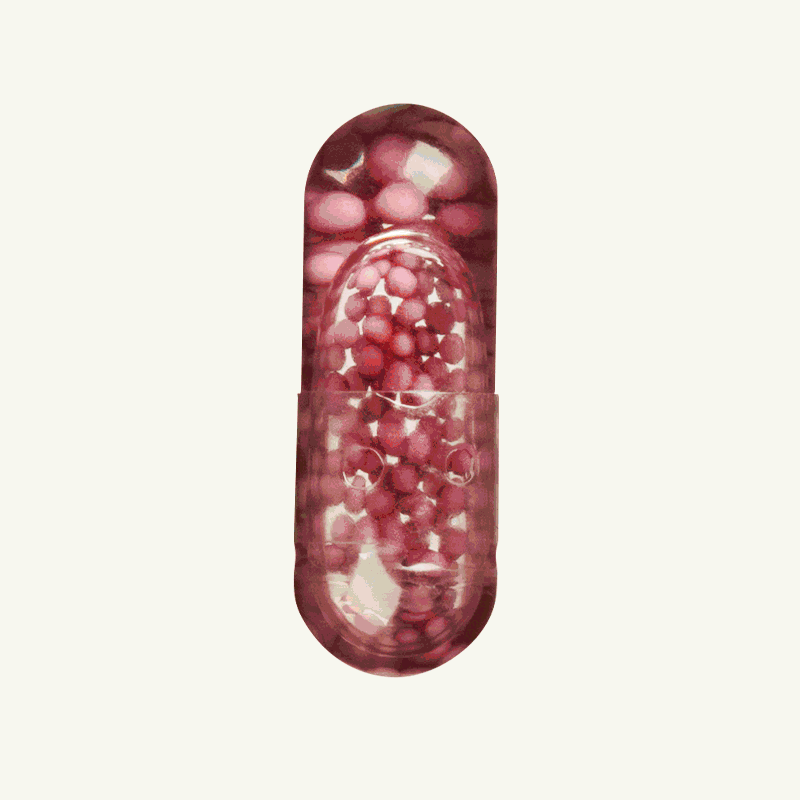 Simple ingredients boost focus, short-term memory, visual function, and so much more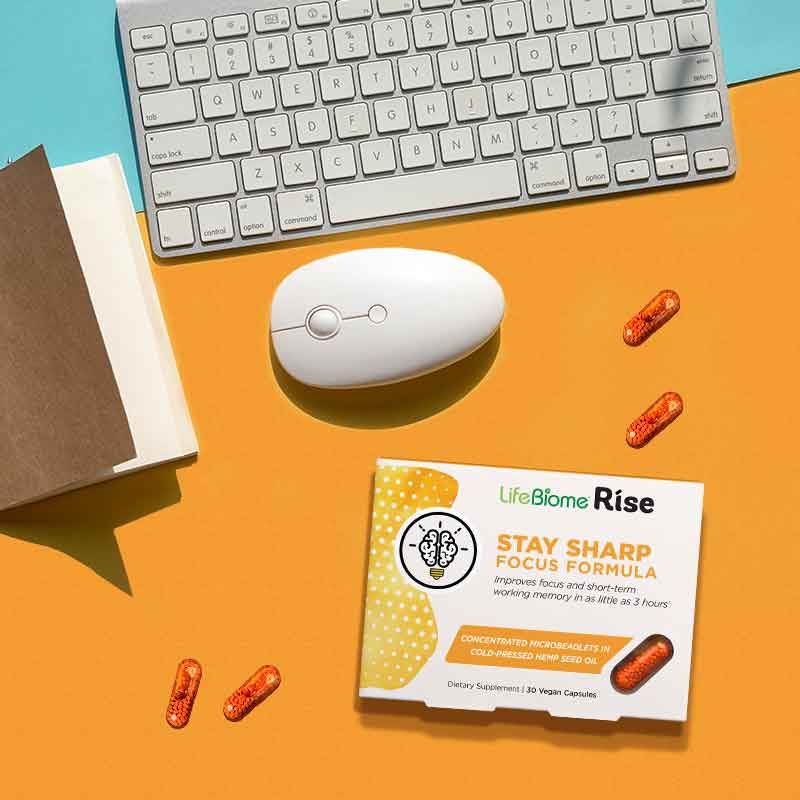 CogniBoost® American Ginseng
Research dose of CogniBoost delivers fast-acting support for working memory in as little as 3 hours with cognitive benefits such as improved focus, recall, attention, and accuracy in as little as 1 hour! Just the edge you need to better conquer your day!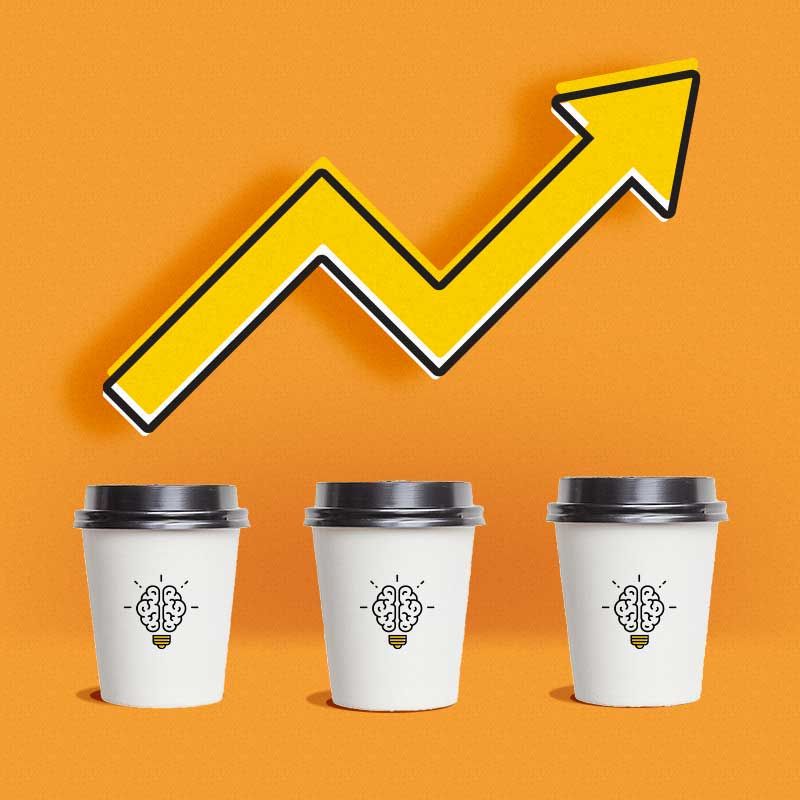 Natural Caffeine
Everyone could use a little boost in energy to help stay on top of everything that needs doing every day. We've included 50 mg of natural caffeine (equivalent to about a ½ cup of coffee) from green coffee beans to help provide a steady stream of energy and improve reaction times. That means you stay alert, on your toes, and thinking fast...without the jitters.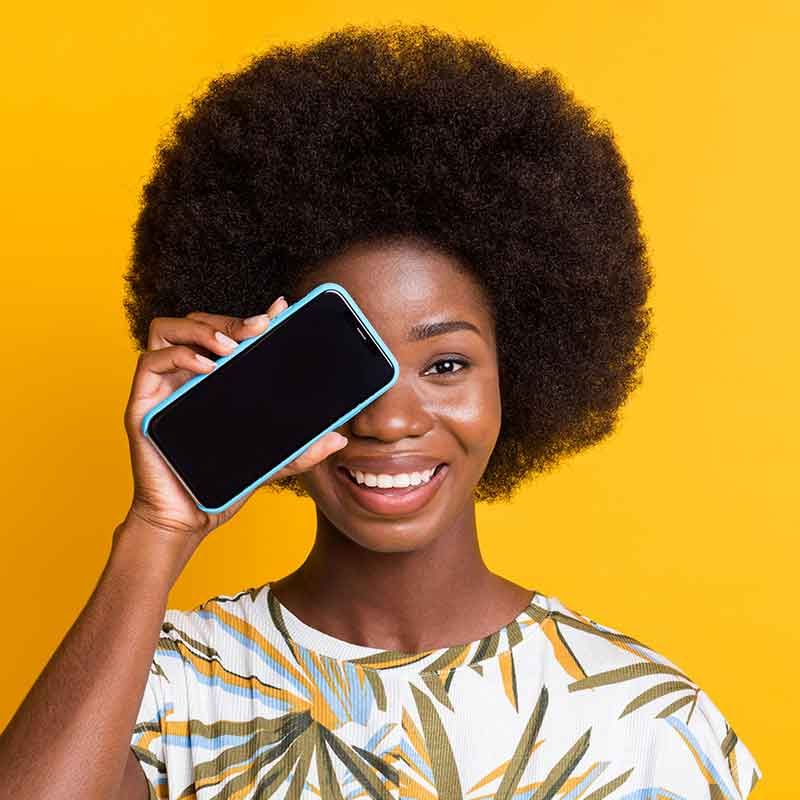 Lutein and Zeaxanthin
Busy days mean a lot of time in front of digital devices. That's why we've included a combination of lutein and zeaxanthin for eye health, including helping to shield against the harmful effects of blue light—eye fatigue, eyestrain, even an achy head and poor sleep. Plus, these super carotenoids are critical for overall visual function and eye health.
Like all Rise products, you get all these powerful ingredients delivered in a base of clear, cold-pressed, vegan, omega hemp seed oil.
Real, clear, easy results…for your on-the-go lifestyle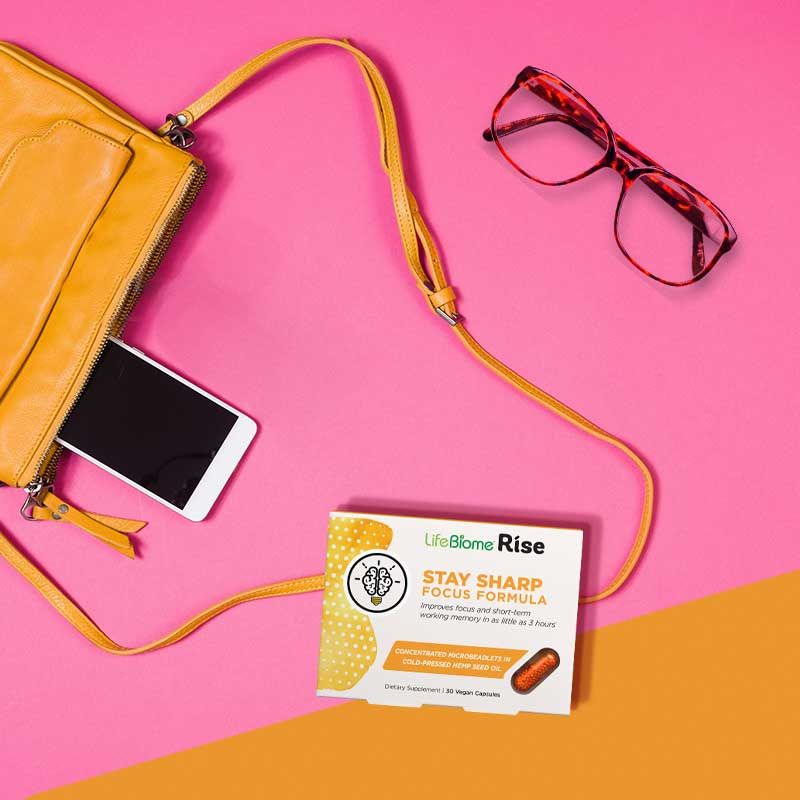 No unnecessary fillers or common allergens like dairy, gluten, and soy
Simple, effective, non-GMO ingredients you can trust
One simple, daily capsule
Easy packaging so you can take them with you wherever you go (because let's be honest, you're a person on the go!)
Formulated with a husband-wife team of naturopathic doctors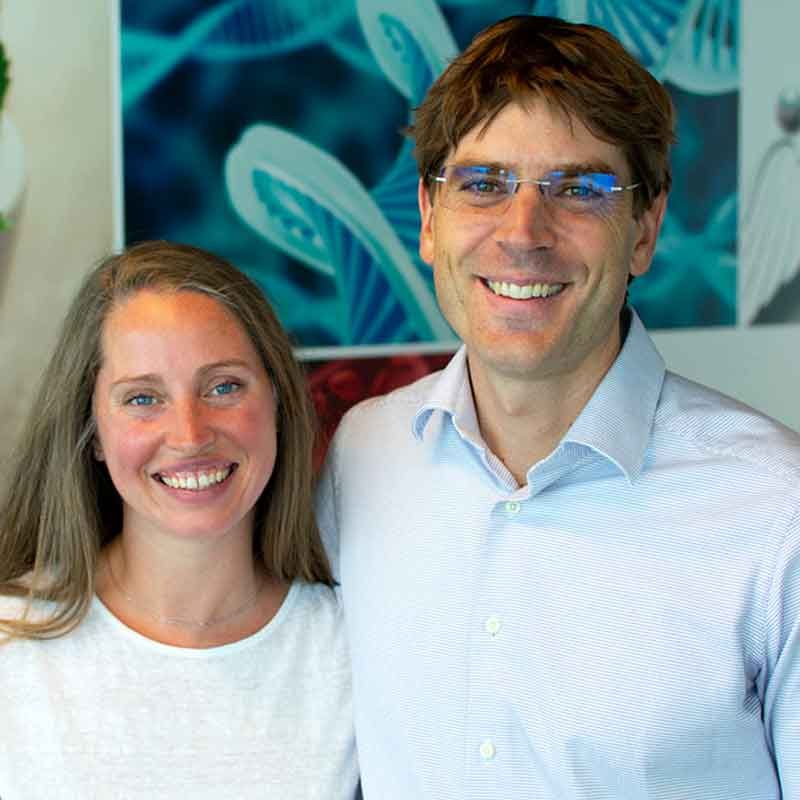 Each formula was developed in collaboration with Drew and Briana Sinatra, a husband-and-wife team of practicing naturopathic doctors and top experts in their field.
As parents of two school-age boys and a young daughter, they know what it's like to live on-the-go and how important it is to have access to health conscious, honest, and wholesome formulas that work. In both of their practices, they focus on using the power of nutrition to help their patients find balance and wellness in the midst of stressful, over-scheduled lives. That's why they helped design an extensive line of LifeBiome Rise products that you can easily mix and match to help you sleep, stay calm, fight fatigue, focus, and take care.
Ingredients and Dosage
Doctor's Suggested Use: Take 1 vegan capsule once daily. For added support, take 1 capsule twice daily.
Serving Size: 1 Vegan Capsule
Servings Per Container: 30
Ingredient
Amount Per Serving
% DV
VidaSpheres® Focus Blend
274 mg
*
American Ginseng Extract (root)(CogniBoost®)
200 mg
*
Natural Caffeine (from green coffee bean)
50 mg
*
Lutein (from marigold flower)
20 mg
*
Zeaxanthin (from marigold flower)
4 mg
*
Hemp Oil (seed)
100 mg
*
* Daily Value (DV) not established.
Other ingredients: Hypromellose, microcrystalline cellulose, maltodextrin, annatto (color), silica
Note: This product contains 50 mg of caffeine, which is similar to the amount found in 4 oz of coffee.
Precautions: Consult a health care practitioner if you are pregnant or nursing, have a serious medical condition, or use any medications.
Keep out of reach of children

Dairy Free


Egg Free


Fish Free


Soy Free


Peanut Free


Shellfish Free


Vegan


Gluten Free

CogniBoost® is a registered trademark of Healthy Directions.
VidaSpheres® is licensed exclusively by Nutracode, LLC.
Frequently Asked Questions
Q: Is there THC or CBD in this product?
A: No. Each microbeadlet in this supplement is floating in a clear, natural, cold-pressed hemp seed oil base of plant-based fatty acids. This hemp seed oil comes from the seeds of the cannabis plant and does not contain tetrahydrocannabinol (THC), the psychoactive compound, or CBD, the non-psychoactive compound, found in the plants.
Q: Is hemp oil the same as CBD (cannabinoid)?
A: No. Our hemp oil comes from the seeds of the cannabis plant, which do not contain CBD, the non-psychoactive compound found in the plants.
Q: Does Stay Sharp support more than just my memory and cognition?
A: Yes! With busy days comes lots of screen time, why is why you'll see we've included lutein and zeathanin to help shield your eyes against some of the harmful effects of excessive blue light exposure such as occasional head discomfort, eye fatigue, and poor sleep. You also get support for mood and energy.
Q: How much caffeine is in each dose? Will it give me the jitters?
A: The amount of natural caffeine in Stay Sharp is 50 mg, about half the amount found in a typical cup of coffee. The dosage is designed to provide a steady stream of energy…so you can stay alert and on your toes, without the caffeine jitters.
Q: When should I start noticing results?
A: Stay Sharp works fast! You'll notice improvements in some aspects of your short-term memory as soon as three hours after use, with other cognitive benefits such as recall, attention, and accuracy as soon as one hour. After 30 days of regular use, you should be experiencing benefits for your eyes, mood, and sleep quality.
Q: Can I take more than one capsule?
A: Yes. It's safe to take double the dose for added support, however, added caffeine can affect sleep benefits so ensure the double dosage is taken at least 8–9 hours before bedtime.
Q: What is the shelf life?
A: 24 months. Stay Sharp should be stored at room temperature and not be refrigerated. The capsules are individually sealed in a slim blister pack that makes them easy to take with you, wherever you go.
Q: Is this product made in the USA?
A: All LifeBiome products are formulated in Maryland, USA, and encapsulated in New York, USA with ingredients from the US and around the world.
Q: What is making the product so colorful. Are there artificial dyes?
A: The beautiful colors in the microbeadlets come from plant-based sources such as cabbage and spirulina. There are no synthetic dyes added to color the microbeadlets, just plant-based color to brighten your days!
Q: Are there allergens in the formula?
A: All LifeBiome Rise products are free of common allergens such as gluten, dairy, soy, fish, shellfish, peanuts, and eggs, and they are vegan, non-GMO, and made without artificial preservatives and flavors or synthetic dyes.
Q: Why was hemp seed oil chosen and not another oil?
A: Many manufacturers use a common filler such as soybean oil but all LifeBiome Rise products use a more natural, vegan, cold-pressed hemp seed oil base.
Q: Can I take this with other LifeBiome Rise products?
A: Absolutely. In fact, we encourage it! The Rise products were formulated so they can easily be mixed and matched to keep you strong and well in all aspects of life—Take Care to stay well, Stay Sharp to keep your vision and mind sharp as a tack, Sleep Tight to help you wind down and wake feeling rested, Perk Up to help your mind and body fight fatigue, and Keep Calm to help you stay calm and zen-like no matter what the day throws at you.
Product reviews and ratings are provided for informational purposes only and reflect solely the views and opinions expressed by the individual contributors and not those of Healthy Directions LLC. Healthy Directions LLC neither verifies nor endorses any claims made in these reviews and ratings.