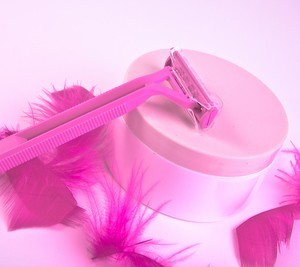 Summer is a time to bare most. Whether you are slipping into a sundress or swimsuit, you want to show off silky, healthy skin—not razor burn.
Razor burn refers to a rash—with or without bumps (actually ingrown hairs)—that develops after shaving. Although it is temporary, razor burn can be quite uncomfortable, causing itching, inflammation, and irritation. It can develop for a variety of reasons, but razor burn most often occurs where skin is sensitive (bikini line, underarms, and neck), where shaving is aggressive, and/or where the razor is dull or ineffective.
So to stay summertime smooth, follow these skin care secrets that'll maximize your shaving technique and minimize razor burn:
Rotate in a new razor or blade frequently. Razors dull after time. This might cause you to apply more pressure while shaving or repeatedly shave the same area to get the results you want, which could irritate your skin. Additionally, razors can accumulate a buildup of dead skin and soap residue, along with harmful bacteria, which also diminishes your ability to get a clean, close shave and increases your chances of developing razor burn.


Shave when you bathe or shower. Let the steam and water soften your skin before you reach for the razor.


Cleanse and exfoliate before shaving. This helps to prepare your skin for shaving by softening it and also prevents that buildup of skin and soap debris that can accumulate on your razor.


Shave in the direction of hair growth. This helps reduce the likelihood of developing the ingrown hairs that cause red, painful bumps.


Use a product specifically formulated for shaving. Shave creams and gels have moisturizing properties that help protect your skin as they allow the razor to glide over the skin's surface. Experiment with other similar products, such as hair conditioner or in-shower lotions, which many have found offer similar moisturizing and smoothing effects.


Apply lotion after shaving. This soothes and moisturizes skin. If razor burn or bumps emerge, consider using an oatmeal mask or soak for the affected area. Aloe vera extract, specially formulated creams, and/or a warm or cool compress can further calm irritation and alleviate discomfort.