Item #PXS01
Dr. Julian Whitaker
Probiotic Essentials Gold
Extra strength probiotic for adults 65+ delivers advanced digestive support with 24 billion LIVE bacteria
100% Triple-Testing Guarantee
When it comes to quality, we don't just talk the talk…we walk the walk. Healthy Directions adheres to stringent quality standards and a unique Triple-Testing Philosophy™ that EXCEEDS industry Good Manufacturing Practice (GMP) and FDA requirements to deliver safe, superior products every time.
90-day Money Back Guarantee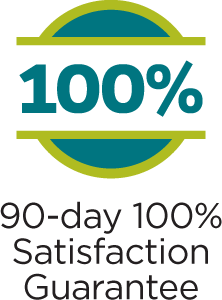 Every nutritional supplement purchase from Healthy Directions is protected by our 100% satisfaction guarantee. If for any reason the product does not meet your expectations, simply call within 90 days for a full refund of the product price. It's that simple. On occasion, certain non-supplement products may be guaranteed differently, with additional benefits or restrictions. In these cases, the applicable guarantee will be highlighted before you make a purchase.
What You Get With REFILL & SAVE
Ongoing Savings + FREE Shipping
Exclusive Offers + Free Samples
Flexibility — Update or Cancel Anytime
Additional Product Details
Replenish the Right Bacteria with Extra Strength Probiotic Formula for Adults 65+
Formulated with a signature Probiotic Complex of six precise strains of two important types of bacteria to support the total digestive needs of adults 65+.
Aging adults experience loss of essential bacteria
As you age, body changes can affect the natural makeup of your intestinal flora. The good bacteria—specifically Bifidobacteria, the most common friendly bacteria in your large intestine, begin to decline more rapidly. At the same time, levels of nonbeneficial microorganisms can increase. This change in bacterial balance can cause all sorts of digestive concerns.
Research shows that as you get older you need very specific strains for your digestive system to function at its peak. And that's why Probiotic Essentials Gold contains a Probiotic Complex with 100% Bifidobacteria and Lactobacillus strains— two of the most important types of probiotics. Here's how they work:
Probiotic Essentials Gold contains two essential numbered strains of Bifidobacteria—a prevalent good bacteria in your large intestine. Replenishing these critical levels in the colon is essential because that's where the highest concentration of bacteria is found—thriving in its dark, warm, moist, and oxygen-free environment. Billions of Bifidobacterium normally line the walls of your large intestine and help balance the digestive flora for comprehensive colon coverage. In addition, these bacteria produce lactic acid, to ensure a balanced digestive tract. It's these strains in particular that tend to decrease with age so it's critical to make sure you have the proper balance.
Lactobacilli make up the majority of the bacteria living in your small intestine and are responsible for producing lactase, the enzyme required to break down lactose, the sugar in milk. They also normally produce lactic acid by fermenting carbohydrates. That's why Probiotic Essentials Gold includes four numbered Lactobacillus strains for comprehensive small intestine coverage.
The addition of 50 mg of the prebiotic FOS (fructooligosaccharides) fuels the bacteria's colonization, providing extra nourishment for the probiotics so they can help support balanced flora in the digestive tract. Prebiotics are indigestible carbohydrates that bacteria thrive on, which further enhance the effectiveness of the probiotics.
Probiotics are ineffective if they don't reach your intestinal tract alive. The strains in Probiotic Essentials Gold are protected through Bio-Support™, a patented system developed by the world-renowned company Lallemand. This specialized system helps ensure optimal strain selection of probiotics to resist gastric acidity. Bio-Support is like your intestinal bodyguard, making sure the bacteria arrive in the small intestine and colon, exactly where they are needed for optimal intestinal support.
GUT CHECK: If you're 65+, why is it essential to choose a probiotic with higher levels of Lactobacillus and Bifidobacteria?
We go through many inevitable changes as we get older—and one of them is the balance of bacteria in the gut which can affect your overall health. Any or all of the following can affect your digestion. Take a look and make an honest assessment. Do any of these sound familiar?
Are you taking any medications? The composition of gut bacteria can change when you take medications.
Have you noticed problems with dairy? Many older adults develop low intestinal lactase activity limiting the ability to digest lactose. This can lead to many uncomfortable symptoms.
If you're over 65 and you answered yes to any of the above questions, and you're experiencing frequent digestive discomfort, Dr. Whitaker's advanced Probiotic Essentials Gold formula can help. In fact, unless a probiotic contains a concentrated blend of Bifidobacteria and Lactobacillus bacteria—guaranteed at time of delivery—you simply may not be getting the support you need at a time when you need it most.
Altogether, with just one easy pill a day, Probiotic Essentials Gold helps…
Promote colonization and balance of healthy flora in the gastrointestinal (GI) tract
Support the break down of undigested food in the intestines
Promote the optimal pH
Strains engineered to survive in the digestive tract
Promote a healthy digestive tract
Why is targeting your colon so important as you age?
The colon, or your large intestine, is the last part of the digestive system. Having healthy bacteria colonize here is important because this is where fermentation of unabsorbed material—indigestible fiber—occurs, as well as absorption of water, sodium, and certain vitamins created by colonic bacteria, such as vitamin K, vitamin B12, folic acid, thiamine, biotin, and riboflavin.
It's critical to maintain a healthy balance of bacterial flora in this delicate system in order to fully ensure digestive health.
Probiotics have always been one of Dr. Whitaker's core recommendations. For overall health and happiness, it's hard to point to anything as satisfying as a smooth-running digestive tract. And if you're 65 or older, then it's all the more important you are replenishing the proper strains.
Ingredients and Dosage
Doctor's Suggested Use: Take 1 capsule daily with water prior to any meal.
Serving Size: 1 Capsule
Servings Per Container: 30
Ingredient
Amount Per Serving
% DV
Extra Strength Probiotic Complex

Bifido Complex (B. breve HA-129, B. longum HA-135), L. plantarum HA-119, L. paracasei HA-196, L. rhamnosus HA-111, L. acidophilus HA-122

24 billion CFU
*
Fructooligosaccharides (FOS)
50 mg
*
*Daily Value (DV) not established.
Other ingredients: Potato starch, hydroxypropyl methylcellulose, magnesium stearate, ascorbic acid
CONTAINS: MILK, SOY
This product contains natural ingredients; color variations may occur.
Note: Pregnant or lactating women should consult a health care professional before taking this product.
Keep out of reach of children.
Product made by Lallemand Health Solutions, 17975 des Gouverneurs, Mirabel, QC, J7J 2K7
Science and Quality
These powerful, handpicked, numbered strains—screened for resistance to gastric acidity—support all-day digestive balance.
L. acidophilus HA-122
A highly beneficial Lactobacillus strain that colonizes in the small intestine, attaching itself to the intestinal walls. This is where nutrient absorption occurs, and by setting up an extensive fortress, these bacteria help promote a healthy balance of bacteria in the gut.
Also suggests it may help support the activity of the immune system,12 support vaginal health,13 and decrease the activity of disruptive enzymes in the stomach.14
L. plantarum HA-119
This is a very widespread, flexible, and versatile species. Commonly found in sauerkraut, pickles, brined olives, and other fermented plants, it produces hydrogen peroxide, which helps support a healthy bacterial balance.
L. paracasei HA-196
A robust strain found in the small intestine that is moderately resistant to low pH and gastric juice. That resistance enables it to survive the GI tract, and colonize the lower gut where it increases the level of other lactic acid producing bacteria.

The Bio-Support Difference: Why the strain selection process is so important
The stomach environment is extremely hostile for probiotics. Throughout the day, stomach pH fluctuates from a high during meals to a lesser amount in between meals. Not all strains are equal with regard to resistance against stomach acidity.
The strains selected by Lallemand are tested for gastric viability when passing through the stomach. In order to enhance the strains' intrinsic resistance to stomach acid, manufacturing conditions are adapted for each strain. Probiotic strains are embedded within a protective coating (think of it as a "defensive shield" around the bacteria) made up of a specialized complex of proteins and polysaccharides to ensure they arrive in the small intestine and colon, where they are needed.
Product Quality
Manufactured to exacting standards using highest quality raw materials
Produced in accordance with our strict Standard Operating Procedures (SOPs) that meet those set by the FDA's Good Manufacturing Practices
Every batch tested to verify purity and potency specifications are met
Quality assured with our Triple-Testing Philosophy™
Backed by our 100% satisfaction guarantee
Product reviews and ratings are provided for informational purposes only and reflect solely the views and opinions expressed by the individual contributors and not those of Healthy Directions LLC. Healthy Directions LLC neither verifies nor endorses any claims made in these reviews and ratings.