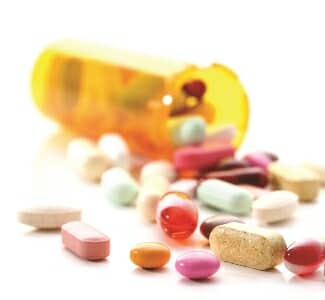 While I'm a strong proponent of alternative medicine, there are several times I wear my conventional hat with the realization that certain heart medications can be lifesaving. In fact, I've successfully combined the best of conventional and heart medications for more than 30 years.

Generally speaking, most vitamins, minerals, and conventional medications can be combined without any undue side effects. That doesn't mean, however, that you shouldn't be cautious. The literature is loaded with studies demonstrating that herbs—like medications—can trigger adverse and dangerous reactions.
My son Dr. Drew Sinatra, a naturopathic doctor, has quite a bit of knowledge about drug and vitamin interactions. So, he and I worked together to give you the top drug and vitamin interactions you want to avoid.
While this information can serve as a guide, you always want to consult with your doctor before adding any new medications, vitamins, or herbs to your routine.
Medication, Vitamin, and Herb Mixtures You Should Avoid
If you have high blood pressure, avoid licorice (glycyrrhiza) or use it with caution. While licorice is a great adaptogen, those with high blood pressure can use ashwagandha, rhodiola rosea, or eleutherococcus in its place.
Never take St. John's wort (hyperricum) or kava kava if you're taking SSRI's or MAO inhibitors. Even after you stop these medications you need to wait for these drugs to clear your system. The problem is that an overdose of serotonin may occur, resulting in irritability, dry mouth, and insomnia. Plus, you never want to use St. John's wort with Coumadin or cyclosporine, and extreme caution should be used with oral contraceptives. Additionally, you should abstain from alcohol if you're taking kava kava.
5-Hydroxytryptophan (5-HTP) should never be taken with serotonin uptake inhibitors (SSRI), or other medications that interfere with serotonin. Serotonin syndrome, which is caused by too much serotonin, is a very real concern—and you need to work very closely with your doctor as you stop an SSRI and begin to take 5-HTP.
Never take long-acting niacin if you take statin like drugs. A combination of the two could cause excessive metabolic stress to the liver. Remember, long-acting niacin in gram doses acts like a drug—which is one of the reasons I stopped using it years ago. But smaller doses of short-acting niacin can be a safe choice.
Do not take ginkgo biloba (120–240 mg daily) if you're on Coumadin or aspirin since it can cause excessive blood thinning
If you're taking Digoxin with beta blockers, stay away from large doses of vitamin E (more than 800 IU) and magnesium (more than 600 mg), as a combination of this mixture may cause additional heart rate slowing.
Do not use the herbs valerian root or passion flower if you take tranquilizers like Valium or Xanax because this combination can make you drowsy.