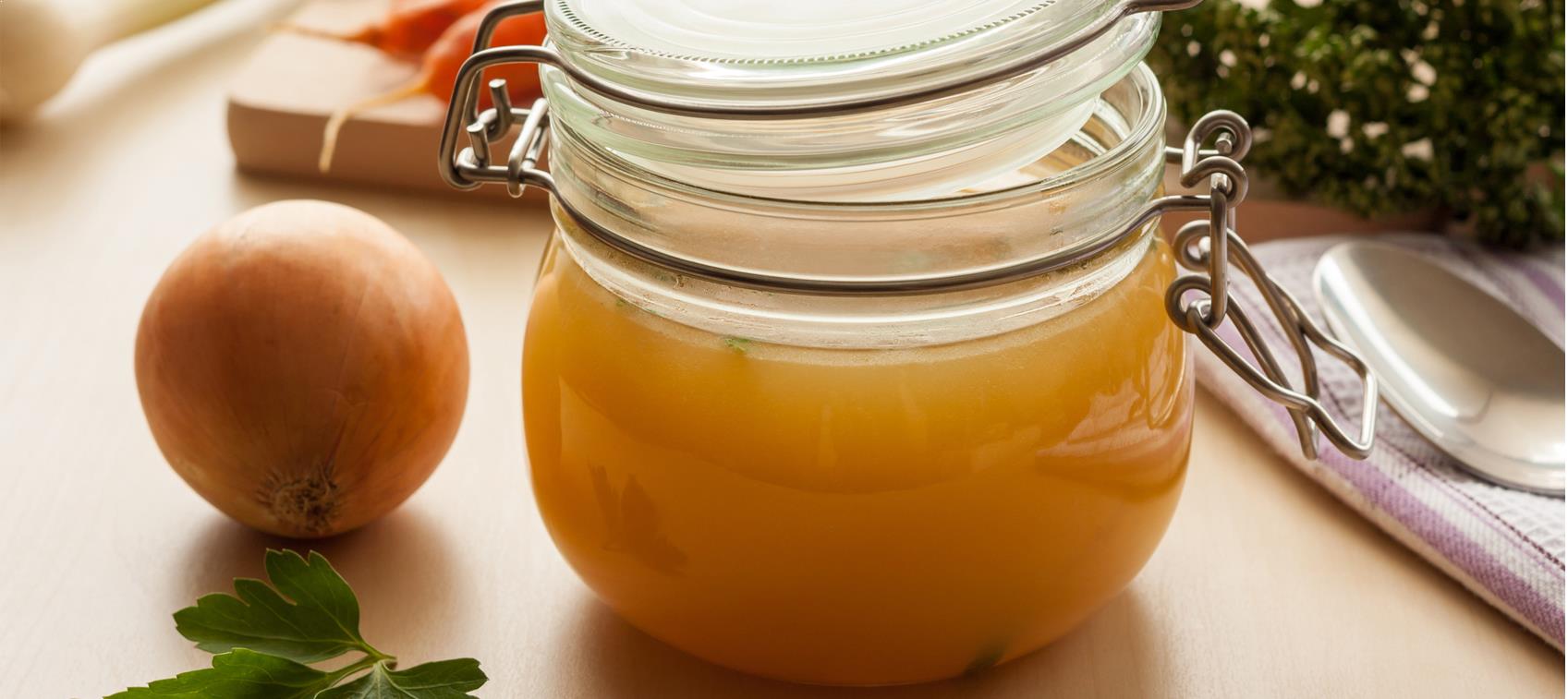 Nothing warms you from head to toe like a steaming hot bowl of soup or stew. However, I don't suggest running out to buy the canned or boxed varieties. Instead, make your own at home and use bone broth as the base.
Bone Broth: Good for Your Body…
Bone broth is brimming with essential nutrients. Some of the health benefits of bone broth include support for your joints, bones, nails, and hair. That's because bone broth is rich in glucosamine, chondroitin, gelatin, and collagen, which support all of the body's connective tissues.
The immune and digestive systems also reap the benefits of bone broth. It's chock-full of amino acids, calcium, magnesium, and other vital minerals that play a role in optimal health.
Believe it or not, bone broth is also a healthy way to replace electrolytes after a workout—and it beats chemical- and sugar-laden sports drinks by a longshot.
…And Your Budget
Bone broth is easy and inexpensive to make at home. All you need is the leftover bones from chicken, turkey (perfect when Thanksgiving or another holiday is around the corner), beef, pork, or fish, and some vegetable trimmings. (Just store the outer parts of onions, carrots, leeks, tops of celery and/or other veggies in the freezer until you are ready to use them.) Here's a step-by-step guide on how to make bone broth.
Place bones in pot and cover with water.
Add 1 tablespoon of vinegar (any kind).
Cover and allow bones to soak for a minimum of 1 hour (up to 12 hours).
After soaking, bring bones/water to a boil.
Skim off any foam that rises to the top.
After skimming, add the vegetable trimmings you've been saving along with additional vegetables, if desired. Celery, onions, and carrots are good options.
Season to your preference. Bay leaves, thyme, parsley, fresh garlic, and ground pepper are all delicious.
Simmer for a minimum of 2 up to 12 hours over very low heat. The longer the broth simmers, the richer the broth will be. Note: You can also cook bone broth in a slow cooker. Just place all the ingredients in the pot the night before and allow to sit covered overnight. Then just cook on low for 8–12 hours the following day.
When cooking is complete, pour bone broth through a colander or strainer to remove vegetable trimmings and bones.
Divide and store in serving-size containers. Broth will keep in the refrigerator for 3 days and in the freezer for up to 6 months.
A Delicious Bone Broth Recipe
Now that you know how to make bone broth, here's a tasty recipe for you and your family to enjoy. Bone (pun intended) appétit!
Ben's Chicken Noodle Soup
Serves 8
Ingredients
1½–2 cups cooked chicken (or turkey), cut into bite-sized pieces
10 cups bone broth or chicken stock
11–12 ounces egg noodles (frozen egg noodles preferred)
½ cup unbleached flour
¾ cup water
1 cup cream (or evaporated milk)
¼ cup freshly chopped parsley
Salt and black pepper, to taste

Directions
Place bone broth or chicken stock in a large saucepan or Dutch oven and bring to a boil. Add noodles. Cook until just tender, about 10 minutes.
Meanwhile, stir flour into ¾ cup water and mix well. Slowly add to cooked noodles, stirring constantly for several minutes as soup begins to thicken. Add cream or evaporated milk and cooked chicken/turkey, and continue to cook, stirring constantly, for 2 more minutes, until soup is creamy.
Remove from heat, and add the chopped parsley and salt/pepper, to taste.