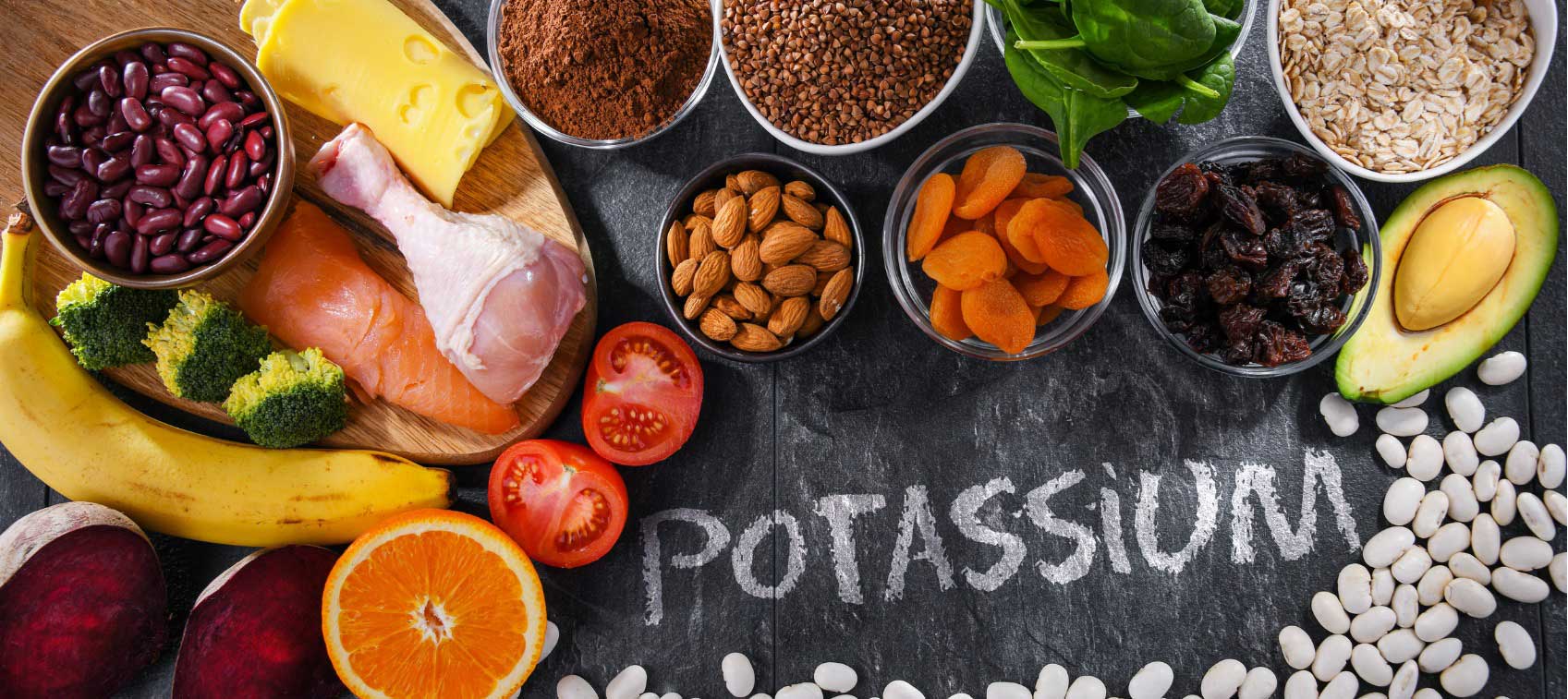 Potassium is one of the body's essential electrolytes. It plays a key role in maintaining fluid balance and helping move nutrients and waste products in and out of the cells. It is also required for nerve transmission, muscle contraction, and maintenance of a regular heartbeat.
Potassium has a relationship with sodium, magnesium, and other minerals in the body. The adverse effects of having too much sodium, for example, can be counteracted with higher levels of potassium. Whereas sodium can raise blood pressure, potassium enhances blood flow and helps normalize blood pressure.
Fortunately, many widely available foods are naturally rich in potassium.
In this article, Healthy Directions shares some of the best foods for increasing your potassium intake and reaping its many health benefits.
Best Food Sources of Potassium
You can easily obtain your daily requirement of potassium from food—provided that you eat a well-balanced diet that includes plenty of vegetables and fruit. Sources of potassium in the diet include:
Bananas
Bananas are the most popular fruit in the world. They are also one of the most potassium-rich foods.
One medium banana contains about 422 milligrams of potassium. On top of this healthy amount of potassium, bananas also boast reasonable amounts of magnesium plus several vitamins.
Plantains, a large green variety of bananas that are cooked rather than eaten raw, have a similar nutritional profile.
Citrus Fruits
Oranges and other citrus fruits don't provide as much potassium as bananas, but they are a perfectly viable source.
A medium orange provides about 238 milligrams of potassium. Six ounces of orange juice, which is more concentrated, contains 372 milligrams.
Other Fruits
Bananas and oranges may be the best-known sources of potassium, but most fruits are reasonably rich in potassium.
Half a cup of cantaloupe, for example, provides 270 milligrams, a medium-sized apple has nearly 200 milligrams, and a tomato (yes, tomatoes are a type of fruit) has almost 300 milligrams.
Dried fruit is particularly abundant in potassium. One-half cup of dried apricots or prunes contains 755 and 635 milligrams of potassium, respectively. Dried fruit also has a lot of concentrated sugars, so it should be eaten in moderation.
Green Vegetables
Eating more green vegetables is another great way to get your daily dose of potassium. In fact, it's the best way because vegetables are also low in sugar and calories and loaded with fiber, vitamins, other minerals, and phytonutrients, which benefit all aspects of health.
Leafy greens such as spinach, kale, collards, and beet greens are particularly rich in potassium, especially after they are cooked. Half a cup of cooked spinach has 419 milligrams while cooked beet greens have an incredible 654 milligrams of potassium.
Broccoli, Brussels sprouts, and related vegetables are another excellent source of potassium. One-half cup of cooked broccoli provides around 230 milligrams of potassium.
Asparagus, artichokes, squash, beans (fresh and dried), and other vegetables also provide ample amounts of potassium.
Root Vegetables
Do not overlook the nutritional benefits of root vegetables.
A medium baked potato will give you 610 milligrams of potassium—and if you eat the potato's skin as well, you'll get 926 milligrams.
Other root vegetables that are notable sources of potassium include parsnips and carrots.
Animal Source Foods
Although plant foods are renowned for their potassium content, animal source foods also contain potassium, which they get from the plant-based foods they are fed.
A three-ounce serving of beef, poultry, or fish averages around 300 milligrams of potassium.
Dairy foods also provide potassium, with a cup of milk supplying 366 milligrams.
In Conclusion
Potassium is an essential mineral. Although it is easy to get potassium naturally by eating a healthy diet with plenty of plant foods, most adults don't get the recommended 2,600–3,500 milligrams daily.
This is unfortunate because potassium deficiencies may increase the risk of high blood pressure, kidney stones, bone loss, elevated blood sugar, and more.
To boost potassium naturally, following a healthy diet can help prevent potassium deficiencies and enhance overall health.
As for safety, it is difficult to get too much potassium from food because the kidneys eliminate excesses in the urine. However, individuals with chronic kidney disease should discuss their potassium intake with their doctor.
Some medications encourage the body to release too much potassium, leading to a deficiency—while other drugs cause the body to hang on to potassium. So, ask your doctor about your medication regimen as well.
We hope you found this article insightful! Click here if you would like to explore any of Healthy Directions' other topics.
Sources:
The health benefits of bananas | BBC Good Food
Vitamins and minerals | Others | NHS
Potassium | The Nutrition Source | Harvard TH Chan School of Public Health