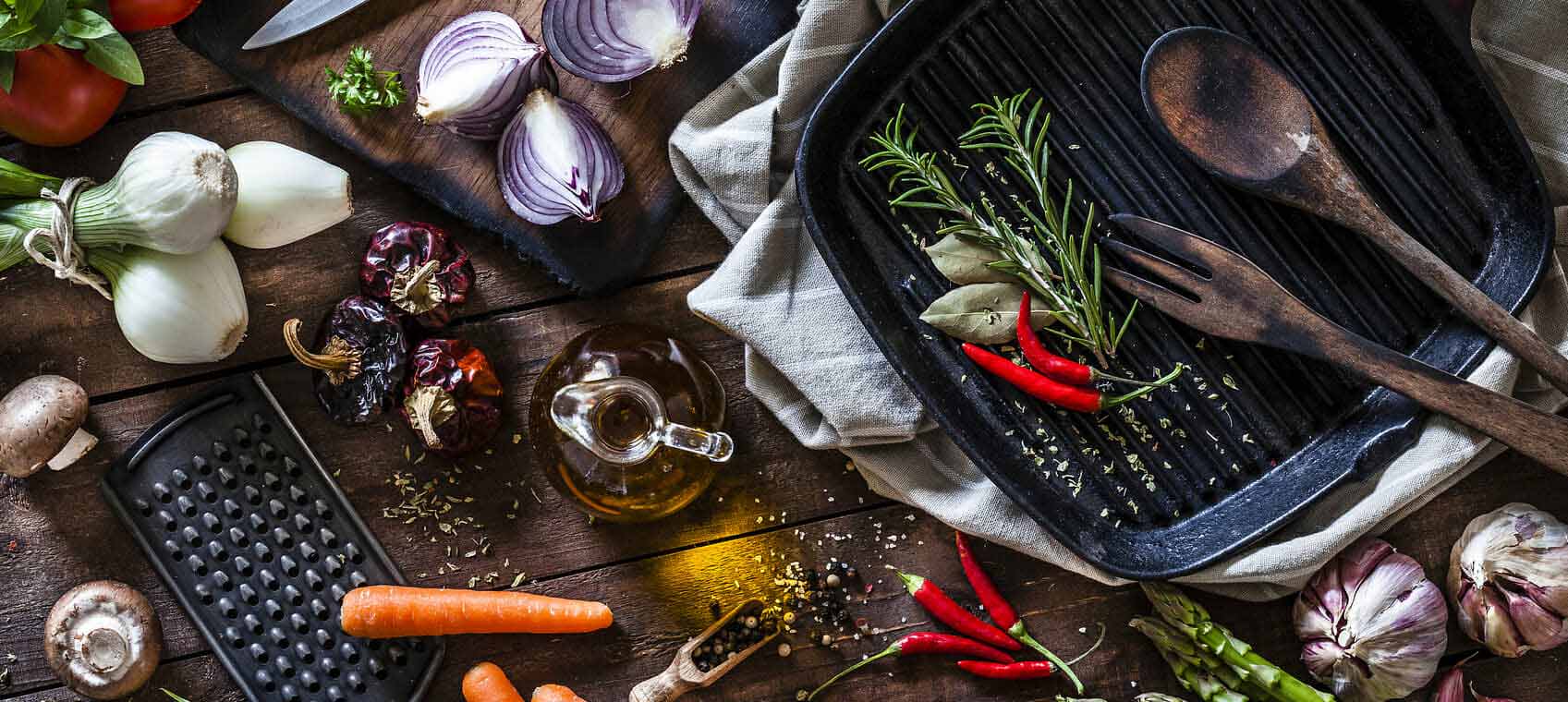 When you're pressed for time, it can be tempting to get fast food or to pick up a processed meal at the grocery store. But many of those foods are loaded with too many calories, trans fats, and sodium, which can set you up for weight gain and heart disease. The thing is, heart healthy cooking doesn't have to mean spending hours in the kitchen, or buying expensive ingredients.
10 Secrets You Need to Know About Heart Healthy Cooking:
1. Keep Olive Oil On Hand: Need an easy way to add flavor to a quick meal or leftovers you're reheating? Keep olive oil in your pantry, because it is a key ingredient in many heart healthy meals. I always have extra virgin olive oil ready to drizzle on salads and vegetables, and light olive oil for low-heat cooking or sauteeing. Olive oil contains monounsaturated fatty acids and phenolic compounds, a few of the nutrients that make it a perfect anti-aging functional food. Plus, it's an easy way to perk up any dish, fast!
2. Serve Salad as Your Main Course: Want to put dinner on the table in 10 minutes or less? Pour a bag of salad greens or spinach into a bowl and toss with feta cheese, sliced, boiled organic eggs, or add fruit instead: oranges, raisins, or berries. You might also consider adding almonds, walnuts, or chia or flaxseeds to your salads. One of my favorite salads is quinoa with apricots, pine nuts, and ginger. Be careful to avoid store-bought dressings. Instead, use extra virgin olive oil. Try making an easy heart healthy balsamic vinaigrette by whisking together 2 Tbsp. extra virgin olive oil, 1 Tbsp. balsamic vinegar, and 2 tsp. Dijon mustard. Salads make for simple and delicious heart-healthy meals.
3. Double Up When You Cook: One of my top time-saving tips is to cook in large quantities and refrigerate or freeze the leftovers. For example, steam enough fresh asparagus or green beans for a side dish one night and a salad the next night. Beans, vegetables, and lean ground meats all lend themselves to delicious leftovers.
4. Stock Your Freezer with Heart Healthy Meats for Heart Healthy Meals: If you don't have meat on hand, you may be tempted to stop for fast food or get take-out. So, keep your freezer stocked with heart healthy meats. Go grass-fed or organic as much as possible. Some of the best heart healthy choices are beef, bison, and lamb. Instead of buying fatty hamburger meat, have your butcher grind up free-range, top round steak into burger meat.
5. Kabobs or Stir-Fry Makes an Easy "Fast Food" Meal: Heart healthy cooking is possible even if you are going to have a hectic evening. Just try marinating chicken or beef in the morning for a quick stir-fry or kabobs. To create your own low-sodium, heart healthy marinade, just combine 2 Tbsp. low sodium soy sauce, 1 Tbsp. honey, 1 Tbsp. dry sherry, 1/2 cup unsweetened canned pineapple juice, and 1 tsp. fresh ginger (grated); add your meat, cover, and refrigerate for at least one hour. When you're ready to create your kabobs or stir-fry, add a variety of your favorite vegetables such as onions, tomatoes, zucchini, or broccoli.
6. Avoid Heating Up the Kitchen By Using the Grill: What's nice about the grill is that it heats up quickly, and clean-up is much faster and easier than scrubbing pots. But before grilling beef, be sure to trim all the visible fat away. When grilling chicken, leave the skin on because it protects the chicken from carcinogens during grilling. Once you grill the chicken, remove the skin before you eat it. When it comes to fish, wild Alaskan salmon and Atlantic halibut are two good choices. Stay away from larger fish such as tuna, swordfish, and shark, which can be laden with mercury.
7. Oatmeal is a Great Heart Healthy Breakfast Idea: But switch out regular oatmeal for steel-cut Irish oats, which are the least processed of all oats. I also substitute fresh berries for frozen, since frozen berries can be high in sugar. Consider fine-tuning the garnish by adding healthy nuts: walnuts, pecans, macadamia nuts, or almonds.
8. Skip the Meat and Go Vegetarian a Few Times a Week: Many vegetarian entrees are quick, delicious, and and easy to make. For example, prepare an egg omelet (yes, eggs are good for you, particularly organic eggs), or make a vegetarian salad with roasted or steamed vegetables. Also try high protein, gluten-free red lentil pasta with a vegetarian marinara sauce.
9. Make Vegetables the Centerpiece of Your Heart Healthy Meals: Vegetables are best steamed, sautéed, broiled, or roasted. I particularly love steamed vegetables. To cook them, place water in a wok or frying pan and use a steaming rack or tray if you have one. Place the vegetables into the wok or pan and heat and steam for a few minutes until the vegetables are tender, stirring frequently if not using a rack. When tender, sprinkle extra virgin olive oil over the veggies and add garlic/salt/pepper to taste. You also can sprinkle cheese and chopped parsley over the veggies. Be sure not to overcook the vegetables. They should be al dente (cooked firm but not hard).
10. Make Heart Healthy Cooking Tastier With a Variety of Heart Healthy Seasonings: The right heart healthy seasonings can perk up any dish, in seconds. Try adding fresh garlic and ginger to a vegetable stir-fry, or topping steel-cut oatmeal with cinnamon. Oregano, garlic, and fresh ground pepper make a delicious rub for chicken or beef. When it comes to seasonings, don't be afraid to experiment.