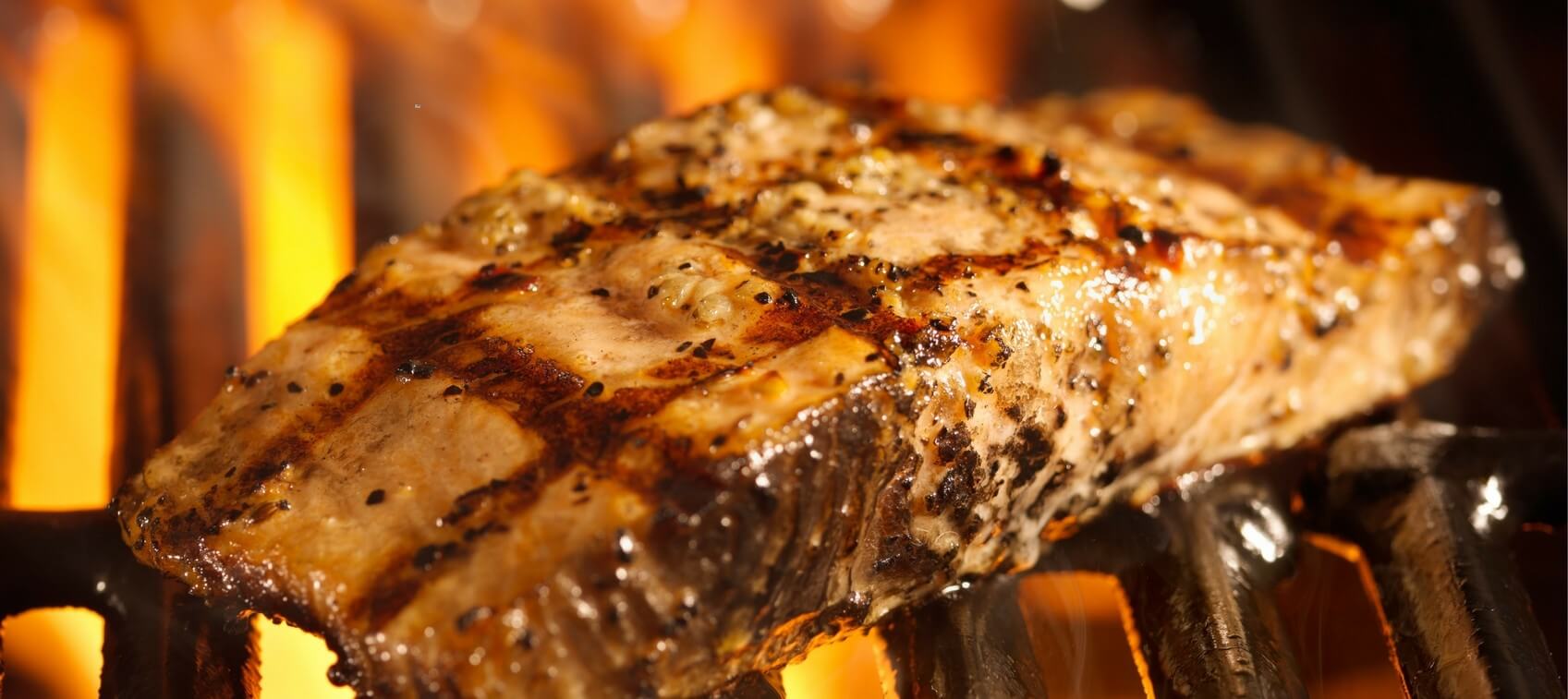 No doubt grilling can be fun. But it can also be hazardous to your health if you're not careful.

The first step to safe grilling is to not use charcoal, which can release carcinogenic agents called PAHs (polycyclic aromatic hydrocarbons) and HCAs (heterocyclic amines) into your food.
A far better option is to use a propane-fueled gas grill. Unlike charcoal that "burns dirty," releasing sooty particles that produce natural hydrocarbons, gas grills burn clean. But even with gas, you can end up with advanced glycation end products (AGEs) in your food. AGEs act like harmful free radicals in your body, creating oxidative stress and resulting in premature aging.
Here Are My Top Tips for Safe Grilling
Clean Your Grill: Before cooking, make sure you remove all food particles on your grill so you avoid eating any burned skin or fat.
Use a Rosemary Rub: Rosemary helps to prevent the buildup of toxic carcinogens in meat, and even contains compounds that prevent skin cancers. You can add a drizzle of light olive oil to aid in the rosemary rub. Grape seed oil is even better because it does not break down with high heat as much as olive oil can.
Add the Right Mix-Ins to Your Meat: Research shows that adding tart cherries, red grapes, or plums (all good sources of pigmented antioxidants) to hamburger meat can cut HCA formation by 94%.
Grill Chicken Bone Side Down: This tip ensures that the bone, not the meat, absorbs a lot of the heat from the grill. Just take the chicken meat off the bone, and remove the skin (which protects it from the high heat) before eating. Plus, remember to never dine on the burnt fat, as good as it may taste!
The Right Marinade Can Also Help

A marinade consisting of 10% soy sauce and 1% sugar has been found to cut the production of COPs by more than 60%. Plus, additional research shows that adding tart cherries, red grapes, or plums (all good sources of pigmented antioxidants) to hamburger meat can cut HCA formation by 94%.
While it's easy enough to mix some soy sauce or a handful of crushed cherries or grapes into a pound of lean hamburger or ground turkey, I prefer to use a marinade for my favorite fish. Not only do you get delicious protection from the potentially harmful side effects of grilling, but you get the heart-healthy benefits of omega-3s, including increased HDL cholesterol and LDL cholesterol levels, improved blood circulation, and reduced risk for heart attack and stroke.

So eat up and enjoy how delicious healthy heart nutrition can taste!
A Taste of the Orient
This taste delight combines the protection of soy sauce with the essential fatty acid and fiber benefits of nuts. I find this marinade works best with a mild fish such as halibut.
Ingredients
1/2 cup organic almond butter
1/3 cup low sodium soy sauce
2 tablespoons lime juice
1 tablespoon raw honey
1/2 teaspoon powdered ginger
1/8 teaspoon cayenne pepper
Preparation
Warm almond butter in small saucepan over medium low heat. When slightly softened, add soy sauce and remaining ingredients and blend well. Remove from heat and pour into large, shallow bowl. Add your fish and marinate in refrigerator for one to three hours before grilling.