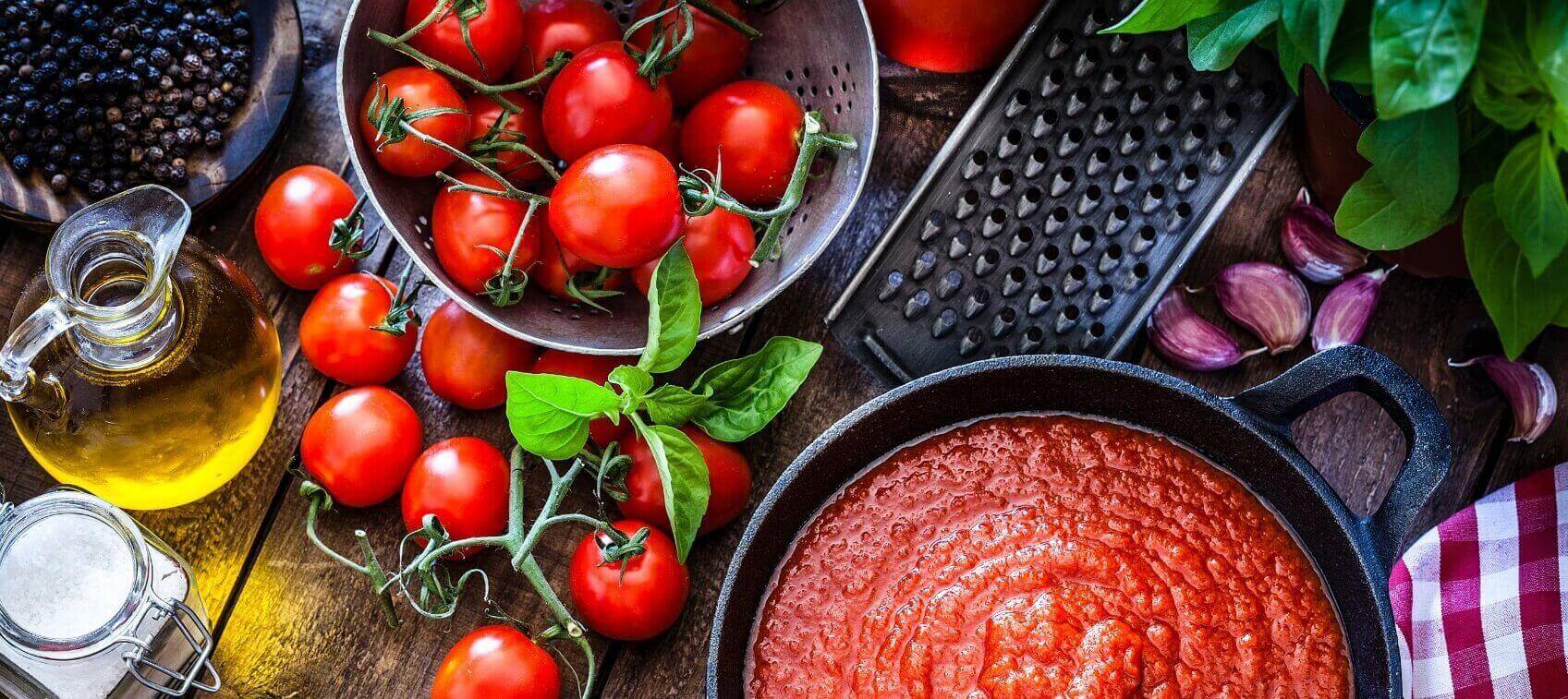 One of my favorite relaxation-promoting activities at home is to make a big vat of my own tomato sauce. As you can imagine, having the last name of Sinatra means perfecting the art of the red sauce. It's been a rite of passage as well as a center of family life for me. It's also been a real boon to my health since tomato health benefits include the red carotenoid, lycopene.
The benefits of lycopene's antioxidants have been documented for many years, but we continue to learn more about this carotenoid's positive health effects.
In particular, lycopene has been shown to:
Protect against cancer

Inhibit the oxidation of LDL cholesterol
Promote eye health
How Lycopene in Tomatoes Supports Your Health
Did you know 10 servings of tomatoes a week, whether raw or in sauces, can reduce the risk of prostate cancer by more than 40%? In addition, a study out of the Department of Epidemiology at Harvard's School of Public Health identified a lycopene deficiency as the strongest dietary factor for prostate cancer.
Plus, lycopene protects women from breast cancer. In one study, seven micronutrients were evaluated in 289 women with confirmed breast cancer and 442 women without cancer. Breast cancer risk was inversely related to lycopene level. In other words, the lower the lycopene levels, the higher the risk for breast cancer, and vice versa.
Lycopene has also been shown to lower heart disease risk due to its impact on LDL cholesterol. Specifically, lycopene prevents LDL cholesterol from oxidizing, which is the process that initiates heart disease. In one study, researchers found that men with the lowest levels of lycopene in their blood were three times more likely to have a heart attack than those who had more. And finally, the benefits of its antioxidants have been linked to boosting eye health, particularly reducing the risk of developing cataracts.
Sliced, Diced, Stewed Or Off The Stem
Cooked tomatoes are a particularly concentrated source of lycopene, which is why I am such a big fan of tomato sauce. Enjoy it regularly in your cooking and over a higher-protein lentil or chickpea pasta. Low-sodium tomato juice is another potent—and delicious—source of lycopene.
Another thing to keep in mind is that dietary oils like olive oil, as well as the carotenoid beta-carotene (abundant in vegetables such as peppers), can actually promote lycopene absorption. So, try recipes that combine tomatoes with other heart-healthy ingredients to achieve the greatest tomato health benefits. And simply make it a habit to add a few fresh tomato slices to all your salads, omelets, and more.